Planning a Trip to Snowshoe Mountain West Virginia?
If you're looking for some serious family fun this winter…you should definitely consider planning a vacation to Snowshoe! There are so many fun things to do in Snowshoe WV, you will not be disappointed!
We love Snowshoe!! It's seriously one of the best ski resorts in the southeast and one of the most beautiful places in West Virginia to visit. But sadly, it's been a few years since our last visit. So…I recruited some help from my friend Jen at Go Family Adventure, and together we're sharing with you some of the best crazy fun things to do in Snowshoe WV with your family this winter!
Where is Snowshoe Mountain?
It is no surprise that Snowshoe WV makes it to the top of the list when it comes to best family vacations for winter. This perfectly situated mountaintop is located due west of Shenandoah National Park, making it an easy winter weekend spot on the east coast. With plenty of activities for the kids, fantastic restaurant choices, and plentiful lodging options, your family will not want to miss this exciting US winter destination.
Getting there will be the only tricky part. The mountain is in…well, the mountains. Make sure to do pre-planning on your route before you hit the road as GPS and cell service are not completely reliable. Also be sure to check the weather forecast before you set out on the mountain and be prepared for potentially difficult driving conditions.
The Greenbriar Valley Airport is only about an hour and a half away and offers daily non-stop flights from Chicago and Washington D.C. Snowshoe is also an easy road trip from North Carolina and Virginia. Once you arrive at Snowshoe there is ample parking and super convenient shuttle service to get you everywhere you need to go!
Road tripping is our favorite way to travel right now! Grab our road trip essentials checklist before you head out the door!
This post contains affiliate links which means I could earn a small commission, if you make a purchase, at no additional cost to you. As an Amazon Associate, I earn from qualifying purchases. For more information, read my full Disclosure HERE.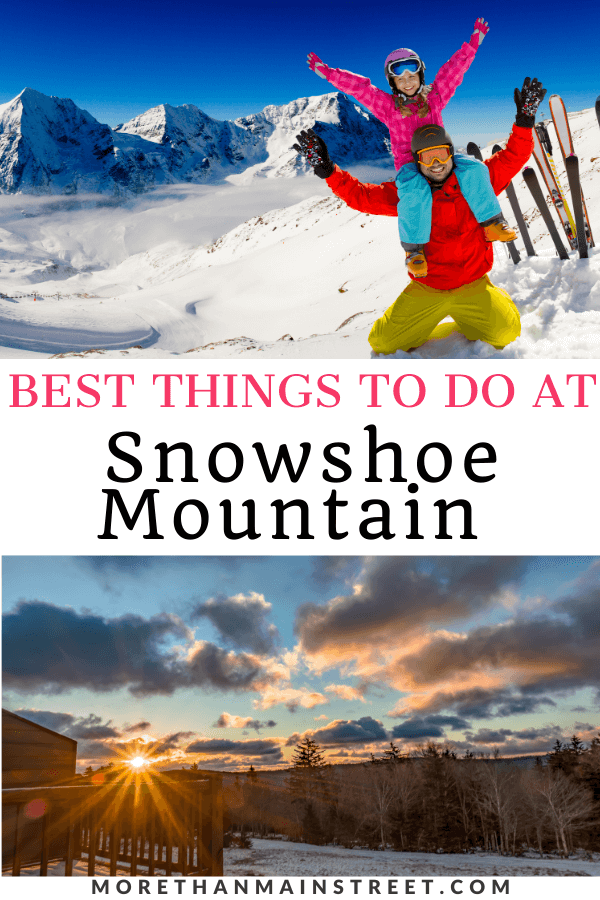 The Top 10 Family Friendly Activities at Snowshoe Mountain
1. Snowshoe Mountain Skiing!
Snowshoe began as a ski mountain with the grand idea of become a full-fledged ski resort. Now there are 43 ski runs at Snowshoe AND nearby Silver Creek consists of an additional 18 runs. Both ski areas offer a variety of skill level runs, sure to meet the needs of the entire family. You can also level up your Snowshoe adventure by trying out some of the rails, boxes, and jump line at the Mountaineer Terrain Park. Night skiing is another way fun and unique way to experience the slopes, which is available at Silver Creek.
Both areas at Snowshoe even have a snow guarantee, "We guarantee we'll have more skiable terrain open here at Snowshoe from December 18, 2020 to March 14, 2021 than any other ski mountain in the Southeast, or your next day of skiing is FREE."
There is a ski and snowboard school for all levels and abilities starting at age 4 with group or private lessons available.
INSIDER TIP: I strongly recommend lessons for any new skiers or snowboarders no matter what your age. Your experience will be so much better with a little guidance before hitting the slopes on your own!
2. Snowmobiling!
If you have older kids (tweens/teens) and are looking for the ultimate adventure activity, be sure to plan a few hours for a snowmobiling tour. The tours include a guide through special trails that wind all through the resort amongst the 11,000 acres of wild lands.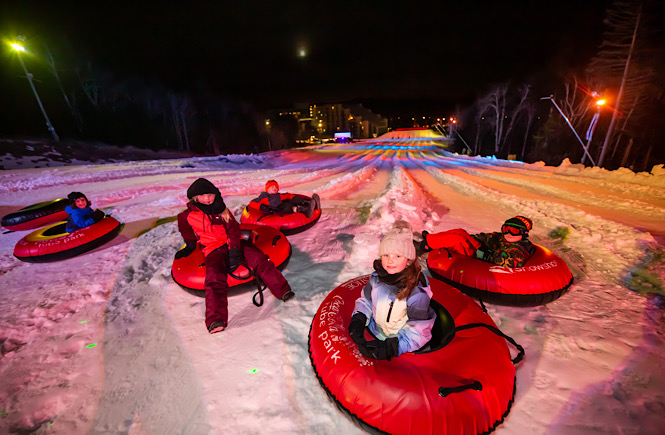 3. Snow tubing!
Spectacular fun for the whole family awaits at the Coca Cola tube park. The 6 story, 8 lane tubing hill is available for daytime or nighttime fun. There is a special LED light show for certain night events that is totally worth looking into as well! This is without a doubt one of our family favorite things to do in Snowshoe WV!
4. Offroad RZR tours!
Hour long guided tours will take you across the 11,000 acres of the resort for a thrilling rush of fun. 4 seater RZR's are available to accommodate the whole family. (Know Before You Go: Driver must be 18, minimum rider age is 12. $199 for a 4 person RZR.) Once you get to explore some of the back country, you'll see why we think Snowshoe is one of the best places in West Virginia to visit!
5. The BigTop!
When you've had enough of the slopes and the cold, head inside to the indoor inflatable slides, Eurobungy, climbing wall, bounce houses, art & crafts, and more. This huge indoor playground is sure to keep everyone in the family happy.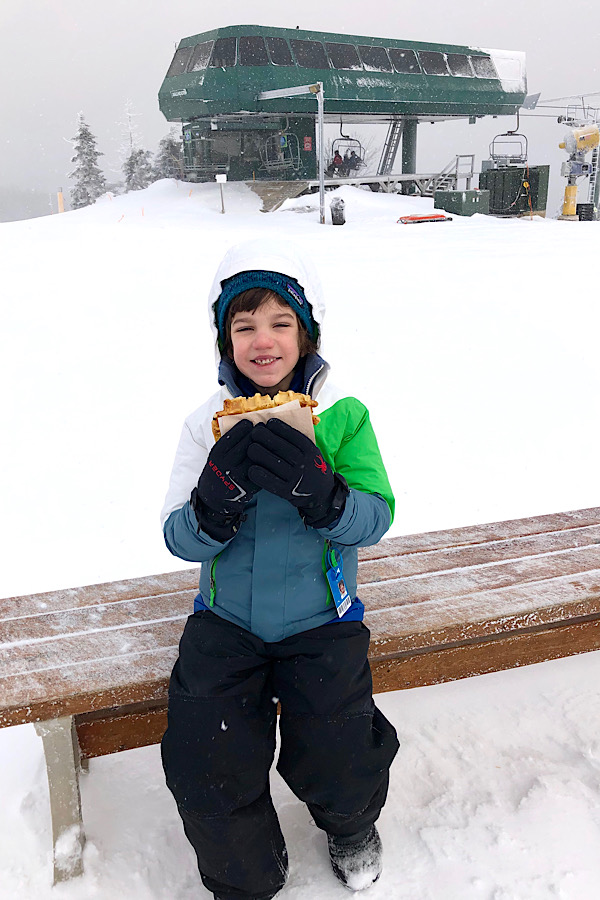 6. An Escape Room Adventure!
This has got to be the ultimate escape room experience around. Included is a RZR ride to a remote hut where you and your family will work to solve an escape room puzzle. After you solve the puzzle you will be treated to a lunch in the backcountry hut.
7. Snowshoe!
Imagine that…snowshoeing at Snowshoe. Traverse the 17 square miles of backcountry trails in the pristine serene winter conditions. There are trails available for all ability levels. This has to be one of the coolest and most unique things to do in West Virginia!
8. Check out the Snowshoe Village!
Worn out from a day on the slopes? Or maybe skiing really isn't your thing? Need new snow gear? Any way you cut it, the Snowshoe Village has even more ways to entertain the whole family! Shop, dine, and find more fun at the super cute European style mountain top Village. Both kids and adults will love the Split Rock pools complete with slides and hot tubs. But if you need me, I'll be at the ultra luxurious Spa at Snowshoe!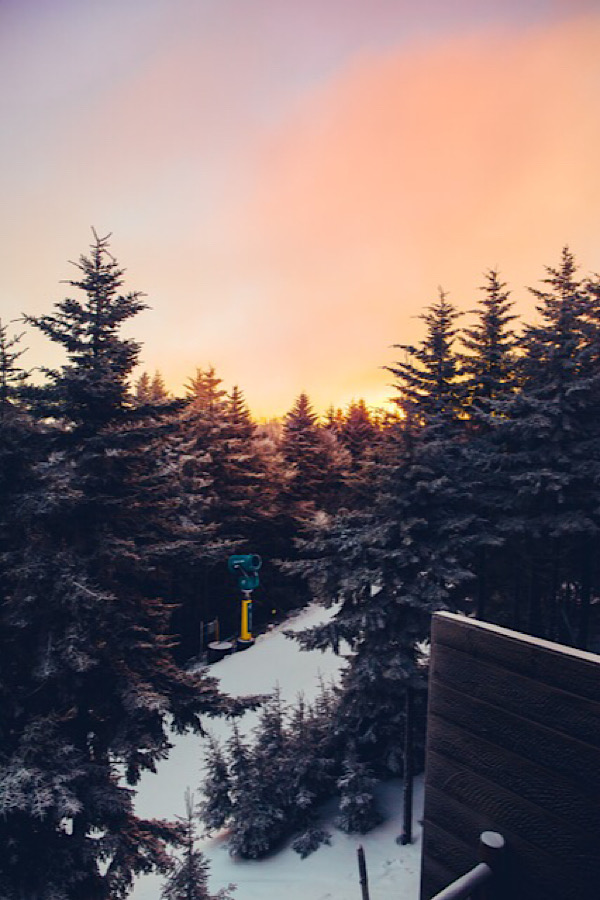 9. Try adventure dining!
Want a unique Snowshoe experience? Make reservations to try adventure dining. You and up to 14 of your closest friends and family can take the RZR's two miles from the Village to the Backcountry Hut for a fun and different dining experience. (Know Before You Go: only available for children ages 12 and up.) Overnight options available too!
10. Make time for a little R & R!
Cozy up by the fire with a hot cup of cocoa. Play cards with your kids. Read that book you've been carrying around for months. Sometimes the best memories are made during the small moments. Soak them in.
Need more winter travel inspo? Check out these awesome places to visit in December!
Snowshoe Mountain Lodging
Trying to figure out where to stay at Snowshoe?
Finding the right type of lodging for your family should not be difficult at Snowshoe. Everything from private mountain homes to condominiums in the heart of Snowshoe Village to an inn at the top of a chairlift is available. Large groups and small families can find accommodations to fit their needs. Expedition Station is a favorite for avid skiers because it's located directly adjacent to the slopes and has a rental shop in the building-studio, 2 & 3 bedroom condos available there.
For lodging information through the resort, click HERE. There are also a lot of great AirBnb or VRBO options on and off the mountain.
Snowshoe Restaurants: Family Friendly Places to Eat
The food scene at Snowshoe is surprisingly good!! There are tons of options for every taste. These are just a few of our favorite Snowshoe restaurants.
What to Bring to Snowshoe
Preparation is key to a successful Snowshoe vacation! Plan as much as possible in advance. You'd never realize just how much time it takes to rent snow gear and actually get it on!! You don't want to come home and have spent half your time finding the rental location, standing in line, filling out forms, and putting stuff on.
Here are some things to consider:
The appropriate cold weather gear can make or break your Snowshoe vacation. Being cold and wet is no fun.
Find quality snow gear to keep you dry!!
Here are a few other items that we personally can't go without:
Keep in mind that there is also a grocery store available (Wildcat Provisions) that is stocked with staples and more for your convenience. We typically only eat out one meal a day while we are adventuring, but that's entirely up to you! One of our favorite budget saving tricks is to bring a lot of snacks or small breakfast items from home!
One of the best family vacation ideas for winter
Snowshoe continues to remain the perfect winter weekend getaway and for good reason. The whole family will return home with memories (and sore bodies)! Long holiday weekends book up quickly so if you are considering Snowshoe as a new family friendly destination, we highly suggest booking early. With the snow guarantee and the partnership Snowshoe has with Red Sky Insurance as a protection for your family trip, you won't want to hesitate booking.
Big thanks to Jen from Go Family Adventure for helping to get you this awesome info on Snowshoe West Virginia. Make sure to check her out over on Instagram.
So what do you think? Have we convinced you to visit Snowshoe? We think Snowshoe is one of the best attractions in West Virginia. As you can see, even if you're not into outdoor winter activities, there is literally something for everyone at Snowshoe!
Save this post on the best things to do in Snowshoe WV for later!!