What Brings You Joy?
Have you ever taken time to intentionally think about the simple pleasures in life that bring you joy?
You know…those little things that just make your day…that make you smile…that stay with you but you can't really explain why…the things that you look forward to each day.
Those simple pleasures in life, they're pure magic.
Simple Pleasures in Life Meaning
Enjoying the simple pleasures in life simply means becoming more aware of and being grateful for the good things around you. I was recently introduced to the mindfulness concept of savoring. By taking notice of the things around you that make you feel good, and taking a moment to pause and appreciate those things, one can reap big rewards.
You can apply the concept of savoring to things that have happened in the past, things happening now in the present, and anticipating things to savor in the future.
People who practice savoring can often feel more:
joyful
present
mindful
postive
relaxed
creative
resilient
and even happier!
I don't know about you, but if savoring the simple pleasures in life can bring me more of that, I'm in!!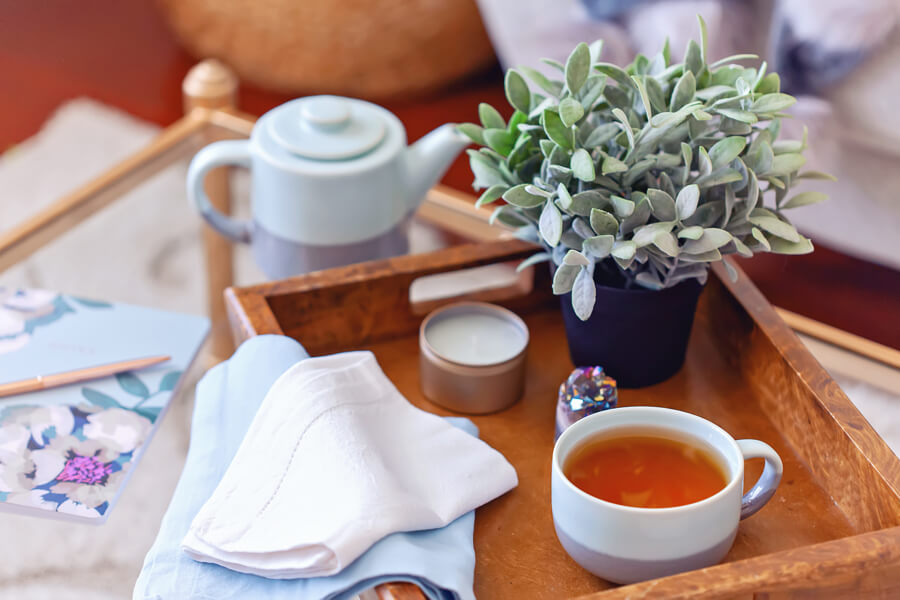 How do you notice the simple pleasures in life?
Have you ever stopped to think about what brings you joy? The best way to practice savoring is to stop and think about some of the simple pleasures in life. Set aside ten minutes before bed, at lunch, or whenever is convenient to pause and think about the good things in life. Then take a moment to be grateful for those little things.
Still not sure how to notice the simple pleasures in life? Try using your five senses.
What is something beautiful you've seen lately?
Something you smell that brings you calm?
Something you hear that brings a smile to your face?
Something you feel that makes your heart happy?
Something you've eaten that makes your mouth water just thinking about it?
One of the best ways to notice the little things in life is to SLOW DOWN.
Taking notice of the simple pleasures in life goes hand in hand with practicing gratitude. Grab my fun Thankful Thursday ideas or try out my 30 day gratitude challenge. Or simply get started with my best tips on how to cultivate a more grateful heart.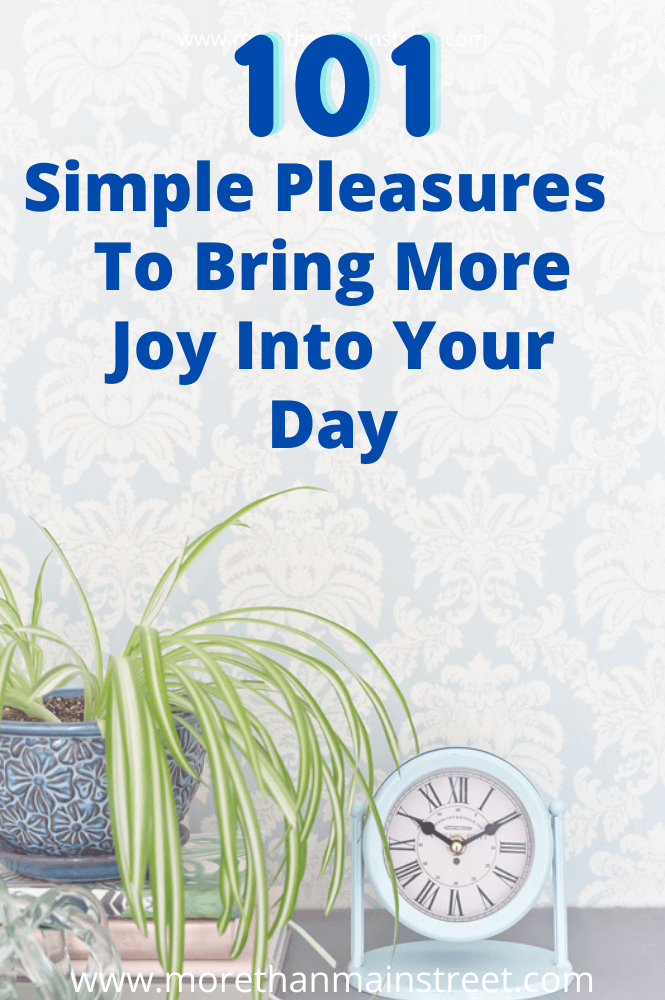 PIN THIS POST WHEN YOU NEED A REMINDER TO PAUSE AND SAVOR THE LITTLE THINGS IN LIFE!!
101 Simple Pleasures in Life
Of course the little things that bring me joy each day are going to be different than your list of simple pleasures in life. And I don't actually believe that making a huge list like this is particularly effective. Instead, intentionally set aside a few minutes each day and take notice of a few specific things. Write them down in a journal, do a mini vlog or Instagram reel, or even make a note in your phone. Don't overcomplicate it!
With all of that, here's my list of simple pleasures in life:
Sunshine
The smell of freshly baked cookies
Exploring somewhere new
Puppy breath
Holding hands
Warm fluffy towels
Exclamation points
My favorite coffee creamer
Watching the sunset and sunrise
Baby smiles
Walking barefoot in the grass
A good book I can't put down
A perfectly cooked steak
Morning Wordle with my husband
Catching fireflies in the summer
The sound of waves crashing at the beach
Watching fireworks
Clean sheets
Thunderstorms
Fields of wildflowers
Children giggling
Clothes that fit perfectly
Being on time
Free parking
The feeling of sand between my toes
Finding money in a pocket of washed clothes
An unexpected text from an old friend
Freshly picked fruit
That feeling of calm and contentment
A great big hug
Movie theater popcorn
A clean house
A fresh haircut
Pie straight out of the oven with ice cream!
The sound of rain outside my window
Really good pizza
The feeling of freshly shaved legs
Random acts of kindness- both giving and receiving!
Fresh squeezed juice
A perfectly sharpened pencil
Vacuum marks on carpet
Rainbows
A good night's sleep
Videos of families reuniting
Looking back through old photos
Always having some lip balm handy
Cute animals videos
Laughing so hard I cry
Hearing my favorite song
Having a good hair day
Butterflies
Date night
Funny memes
Snuggling in a super soft cozy blanket
Checking everything off my to-do list!
Remembering passwords
Popping bubble wrap
The excitement from my dogs when I get home
Motivational captions or quotes that really resonate with me
Binge watching my favorite show (Ahem… The Bachelor)
A full moon and a sky full of stars
Relaxing in a hot tub
Inhaling the aroma of coffee before that first sip
A new recipe that turns out to be delicious
One on one time with my kids
Acoustic guitar
Sledding down a hill
A clean desk
A message from a reader that my post really helped them
Dad jokes
An old school jam that brings me back to my high school days
When I manage to keep a plant alive! 
Volunteering
Seeing my favorite band in concert
Sleeping in
An empty sink
Chips and salsa (and maybe a margarita too!)
Traveling planning
That feeling after a major decluttering session
Inside jokes with old friends
New car smell
Heated seats
Losing a few pounds
Good wifi
Receiving snail mail
Spontaneous adventures
Quiet
When leave change color in the fall
Christmas lights
Real maple syrup
Hand lettering
Warmth from a real fire
Singing at the top of my lungs to Taylor Swift
My favorite pen
Finishing a blog post
Discovering a great podcast
Spending time with good friends
S'mores
Pedicures
Playing in the rain
Need more ideas? Check out these unique things to be grateful for!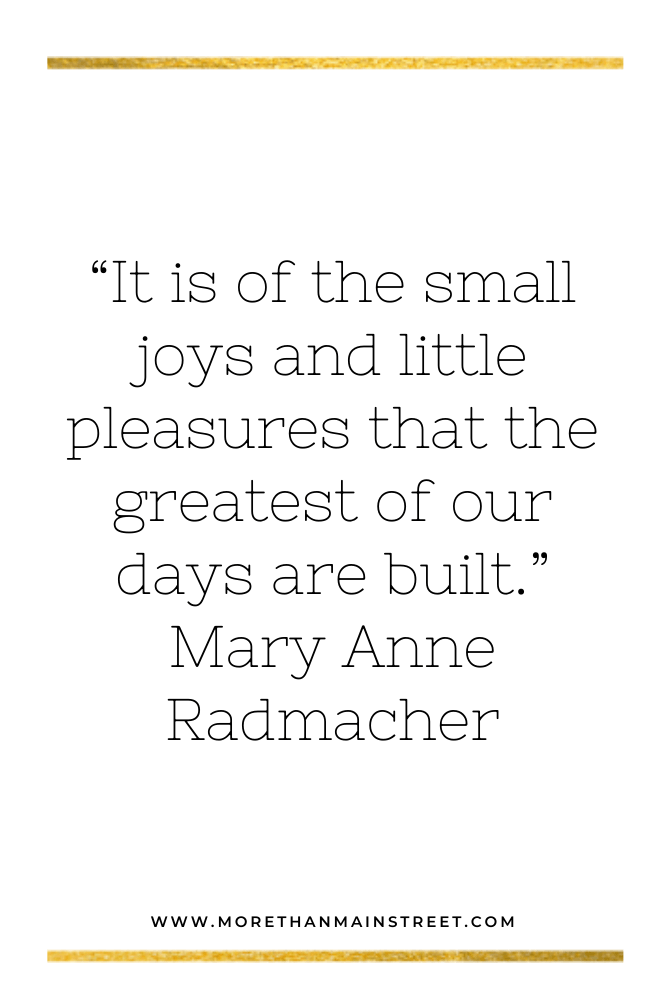 Simple Pleasures in Life Quotes
"It is of the small joys and little pleasures that the greatest of our days are built." –Mary Anne Radmacher
"Enjoy the little things in life, for one day you may look back and realize they were the big things." Robert Brault
"We cannot all do great things, but we can do small things with great love." -Mother Teresa
"Everyone is trying to accomplish something big, not realizing that life is made up of little things." -Frank A. Clark
"It's the little details that are vital. Little things make big things happen." -John Wooden
"In the sweetness of friendship let there be laughter, and sharing of pleasures. For in the dew of little things the heart find its morning and is refreshed." – Khalil Gibran
"Sometimes it's the little things that count most." -Alexandra Adornetto
"Enjoy the satisfaction that comes from doing little things well." –-H. Jackson Brown, Jr.
"The simple things are also the most extraordinary things, and only the wise can see them." -Paulo Coelho
Quotes are my jam. Want more? Check out my favorite gratitude quotes and quotes about intentional living too!
Why are simple pleasures important?
Noticing the simple pleasures in life is so important! Heck, I'd even go as far to say savoring the little things in life is a form of self care.
Stopping and recognizing the simple pleasures in our days is also one way to reduce overwhelm. When we focus on what's going right, we have less time to dwell on what's going wrong. And we can all use a more positive outlook on life, right?
It's so easy to get caught up in the big picture that we can often forgot to take notice of the little things in life. When we slow down and really take a look at the small moments, we often can see how they aren't so insignificant. As a matter of fact, you may find many of these little things turn out to be big things.
Want to dig a little deeper? Start your journey of intentional living with these self discovery journal prompts!
PIN THIS POST WHEN YOU NEED A REMINDER TO SAVOR THE LITTLE THINGS IN LIFE!!