Gratitude Challenge: Are You Ready?
Being grateful has been a huge part of my intentional living journey. Gratitude journal prompts, simple gratitude challenges, and even fun little Instagram story templates seem so simple, yet they can have a big impact.
If you're trying to add a little daily gratitude to your life, simplify, slow down, or work on your mindset, hopefully some of these tools will help!
For some reason, we've all adapted November as the time to express our thankful hearts…but I'd like to challenge you to make this part of your daily self care routine! Trust me, I think you'll see a difference!
So are you up for the challenge?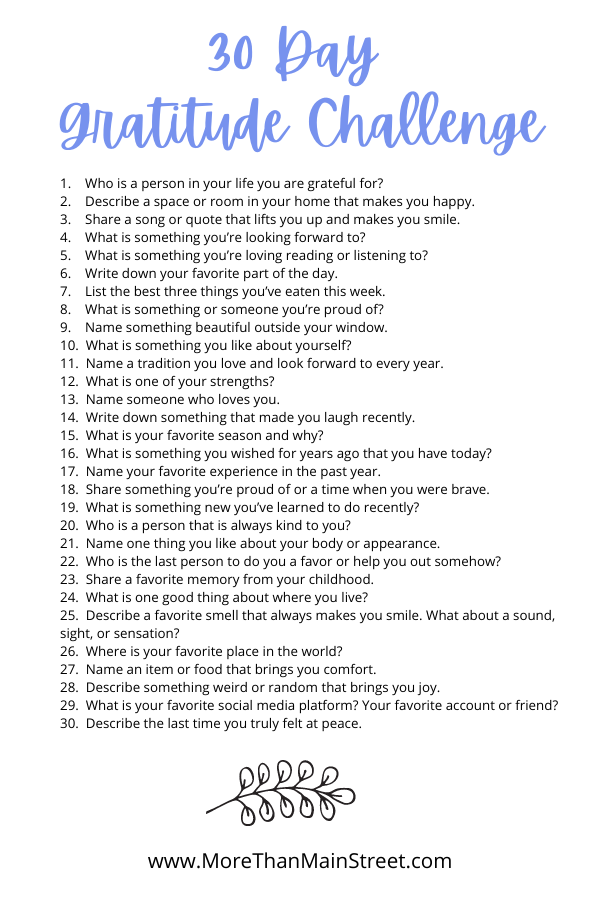 30 Days of Gratitude Journal Prompts
Gratitude journaling may seem daunting, but it is a really effective way to shift your mindset. You can go from "oh poor me, I don't get to do this or that" to "wow, look at all these amazing things I get to do!"
Here are 30 gratitude journal ideas to get you started:
Who is a person in your life you are grateful for?
Describe a space or room in your home that makes you happy.
Share a song or quote that lifts you up and makes you smile.
What is something you're looking forward to?
What is something you're loving reading or listening to?
Write down your favorite part of the day.
List the best three things you've eaten this week.
What is something or someone you're proud of?
Name something beautiful outside your window.
What is something you like about yourself?
Name a tradition you love and look forward to every year.
What is one of your strengths?
Name someone who loves you.
Write down something that made you laugh recently.
What is your favorite season and why?
What is something you wished for years ago that you have today?
Name your favorite experience in the past year.
Share something you're proud of or a time when you were brave.
What is something new you've learned to do recently?
Who is a person that is always kind to you?
Name one thing you like about your body or appearance.
Who is the last person to do you a favor or help you out somehow?
Share a favorite memory from your childhood.
What is one good thing about where you live?
Describe a favorite smell that always makes you smile. What about a sound, sight, or sensation?
Where is your favorite place in the world?
Name an item or food that brings you comfort.
Describe something weird or random that brings you joy.
What is your favorite social media platform? Your favorite account or friend?
Describe the last time you truly felt at peace.
Tips on Journaling Gratitude
My best tips on working with gratitude journal prompts:
Be creative- there is no right or wrong way to do this! Go with your gut.
Be consistent- you will derive the most benefit from doing your gratitude practice daily.
Don't make this a chore. Use a beautiful notebook or simply use the notes section on your phone. Make it easy to do. It can be a few words or a full paragraph- whatever feels right to you.
Fit in gratitude journaling when it's convenient. Do it before you start your day, during your lunch hour, or before bed.
Just feeling stuck? Sometimes it becomes easier when you read other people's ideas on what they are grateful for. There's no shame in my game. We all can use a little inspo from time to time. Here's a list of 100 things to be grateful for today!
Instagram Story Templates
Instagram stories are a fun way to spread gratitude! Feel free to screen shot these templates and share the love! Make sure to tag me @morethanmainstreet!!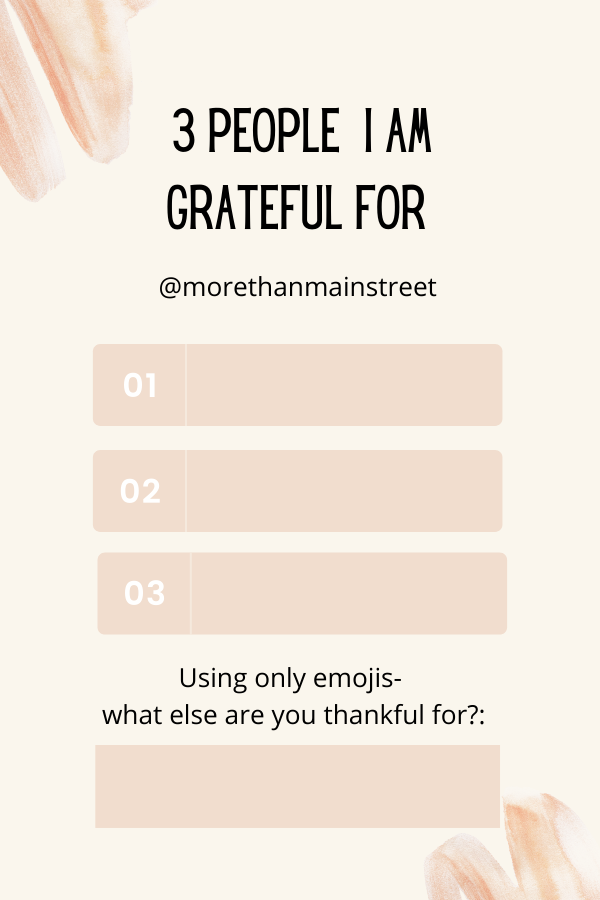 21 Days of Gratitude Challenge Templates
Do one of these templates each week for a fun 21 day gratitude challenge.
The Benefits of Gratitude
There's actually quite a bit of scientific research that shows huge benefits to a gratitude practice. What seems like a bunch of Woo-woo silly stuff actually can improve your mental health.
And I mean, hey…who doesn't want to feel better?!?!?
Gratitude has been shown to improve:
our physical health
our mental health
our sleep
ability to empathize with others
self esteem
our relationships
friendships
happiness
Don't forget, change certainly won't happen overnight. But with consistency, you might just be glad you gave it a try!
So…what do you think?? Willing to give one of these gratitude challenges a go? Let me know if you do!!