Day Trips From San Diego Your Family Will Love
Fun Fact! I was born in San Diego, California! Yep! Perks of being a military brat.
There are so many fun things to do in San Diego, but if you have more time, there are some spectacular San Diego day trips within a short drive of the city too. So pack up the car and take a ride because you're going to love these day trips from San Diego!
6 Best San Diego Day Trips!
I truly love San Diego! It's a great USA family destination and I whole heartedly believe it should be on every family bucket list!
Although I've been to San Diego numerous times over the years, I decided to recruit my friend Agnes, from Travel on the Reg, to share all her local and current knowledge on the best day trips from San Diego. So…c'mon! Get ready to explore more of beautiful, sunny Southern California with all her insider tips and tricks!
There is plenty to do in San Diego that is very family-friendly, from that world-famous zoo to the city's world-class beaches and walking tours of your own making in some of San Diego's best neighborhoods. But just beyond the city are some incredible places you're definitely going to want to explore too!
Not only are these the best San Diego day trips but arguably some of the best things to do in California!
Julian
Anaheim
Borrego Springs
Carlsbad
Idyllwild
Joshua Tree National Park
Note: You will definitely need to rent a car to tackle any of these family friendly day trips from San Diego. The city has a network of buses and trolleys, but those won't get everywhere you'll want to be once you're outside of the city limits. 
This post contains affiliate links which means I could earn a small commission, if you make a purchase, at no additional cost to you. As an Amazon Associate, I earn from qualifying purchases. For more information, read my full Disclosure HERE.
Any successful travel day requires some planning! Grab our FREE travel resources below!
1. Julian, California
A visit to Julian is an annual pilgrimage for many San Diego locals, particularly when apple season hits in the fall and the leaves begin to change. Julian has a number of apple picking opportunities like the Volcan Valley Apple Farm if you're traveling with kids who'd like to pick their own. You'll have access to several varieties in the orchards, with reasonable pricing per bag of the apples you decide to pick.
For a more indulgent visit, head into town for a tour of Julian's best pie shops. The Julian Pie Company and Mom's Pie House are the most popular, and their varieties of apple pie are the star. If the family is feeling adventurous, try some pie with a slice of melted cheddar cheese on top. It works!
Finish off a visit paying homage to the town's roots as a gold mining town and have the kids pan for gold at the Eagle Mining Co.
Julian is a little over an hour northeast of San Diego. You'll be driving through some winding roads on the way up, so speed limits decrease outside of the city.
Is one of your goals to travel more? Try using these powerful travel affirmations!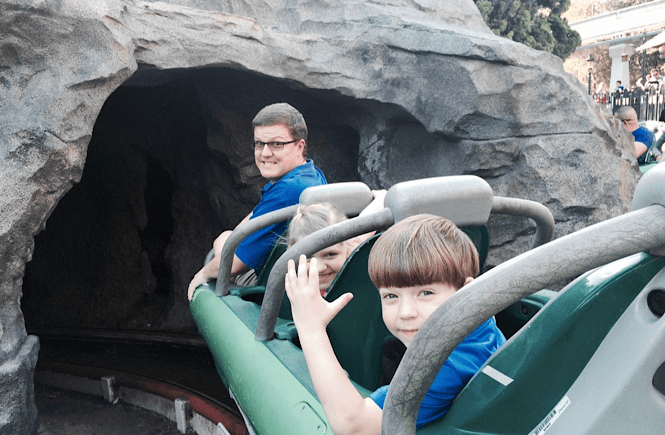 2. Anaheim, California
The kids have likely already mentioned this one, but in just around two hours, you can be at the front door of the ultimate kid-friendly destination: Disneyland. 
Plan ahead for your visit to Disney, whether you're spending the day in the main park or adding the Disney California Adventure Park to your trip. You'll want to reserve tickets ahead of time for both, especially if you're interested in the very popular Star Wars: Galaxy's Edge. 
Drive times from San Diego can be reduced if you leave early in the morning, which you'll likely want to do anyway if you only have one day for Disney. All of the effort will be worth it when you see the smiles on the kids' faces as you announce, "We're going to Disneyland!"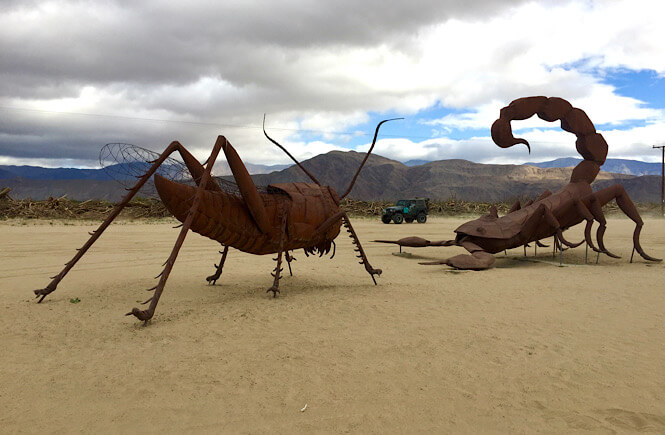 3. Borrego Springs, California
Borrego Springs and Anza-Borrego Desert State Park make for an excellent adventure in the desert, especially if you're lucky enough to be visiting during a super bloom season with wildflowers blanketing the landscapes there. For the best flower spotting, head to the state park and colorfully-named trails like the Hellhole Canyon and the Borrego Palm Canyon. You'll find hikers of all ages on both trails, looking for hidden oases in this special place about an hour-and-a-half from San Diego.
You'll find a variety of refreshments back in town, but you won't want to miss the bronze sculptures on the way in. Scorpions battling grasshoppers, dinosaurs on the verge of attack and serpents climbing out of the sand are just a few of the scenes you'll be treated to. There are maps online for you to pick and choose which sculptures you'd like to photograph, but it can be just as fun to plan a scenic drive of your own and pull over when you can hear the passengers yell, "WHOA!"
Borrego Springs is a super close and fun day trip if you're looking for the desert near San Diego!
4. Carlsbad, California
Carlsbad is known for its beautiful beaches, including the very picturesque Carlsbad State Beach, but if you're traveling with the kids, you may want to look into a visit to the LEGOLAND theme park here. The park rides trend younger, but even adults will be delighted to see the attention to detail at the park, just 40 minutes' drive from the city.
There are two additional attractions as part of the LEGOLAND resort that you may be interested in, depending on when you've timed your travel. The SEA LIFE Aquarium is a small but mighty series of exhibits of all kinds of sea creatures, including interactive touch zones. If you're visiting in the summer, the LEGOLAND Water Park promises a full day's worth of water activities. There are tickets available that combine all three parks, depending on the season.
If you're traveling with a budding horticulturist and have timed your San Diego visit for the spring, you'll want to add the The Flower Fields at Carlsbad Ranch to the agenda. Every spring, the fields are awash with color and the blooming ranunculus flowers. 
Have time for a weekend getaway from San Diego? Check out these fun places to stay!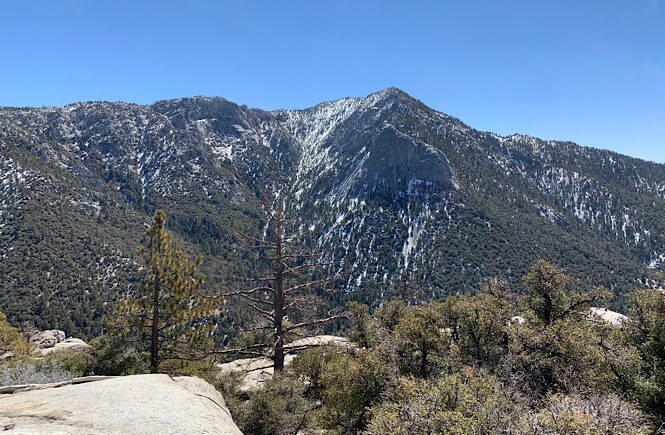 5. Idyllwild, California
Idyllwild is San Diego's closest mountain town for those looking to get away from it all. Book a cabin in the woods and disconnect for a bit.
Hiking in the San Jacinto Mountains can be challenging, but there are a number of trails that are kid-friendly while in Idyllwild. Start with the Discovery Nature Trail, a 0.6-mile interpretive loop that winds its way through the forest. The Desert View Trail is a 1.5-mile loop with just 50 feet of elevation gain and rocky bits that are always fun with older kids.
The Idyllwild Nature Center offers opportunities for learning, including introducing everyone in the family to the local flora and fauna. There are great views of the surrounding mountains from this spot as well.
Idyllwild is about 2 ½ hours from San Diego, depending on the weather. Keep in mind that at these elevations, it does get chilly. It is fairly common to see snow in Idyllwild well into March.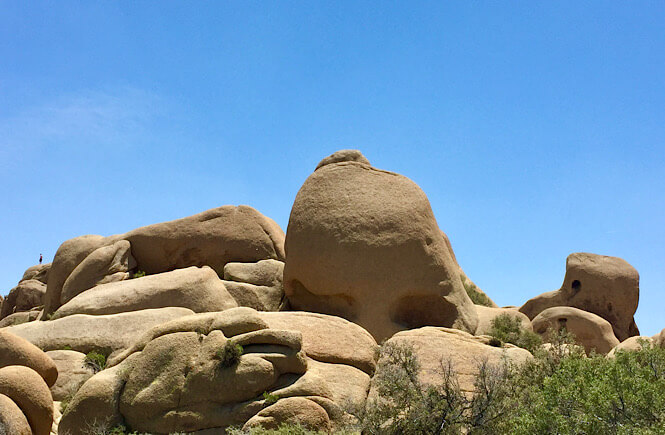 6. Joshua Tree National Park
California is spoiled with national parks, including the rugged desert with those very unique scraggly trees at Joshua Tree National Park. It will take you around two and a half hours to get to this desert destination near San Diego. But don't worry, it's absolutely one of the best things to do outside of San Diego!
With a variety of treks available, the kids will love the opportunities to climb onto the large boulders, or observe the experts here for the more challenging bouldering. One of the most interesting features in the park is Skull Rock, a rock that resembles exactly what you think it does that is accessible as a roadside stop. The hike from here is easy, too, less than 2 miles roundtrip through this strange landscape. 
The best time to visit Joshua tree is the spring, when the wildflowers are blooming, and the fall, when temperatures are still cool during the daytime but not as frigid in the evenings. If you're able to stay overnight, you're in for a treat. There isn't any light pollution this far out into the desert, so the skies twinkle with stars and constellations. 
Joshua Tree is also a great addition to any Southwest USA road trip!
Getting the most out of your San Diego vacation!
San Diego is one of my most favorite cities in California! If you're in the middle of your San Diego trip planning, you'll likely want to extend your trip to include at least one of these fantastic day trips. But you're not going to want to miss out on all the fun in the city itself either!
Fun Things to Do in San Diego for Kids & Families
San Diego Zoo
La Jolla
Old Town
Mission Bay Park
Coronado
Old Point Loma Lighthouse
Catch a San Diego Padres game
Enjoy the views from Mount Soledad Cross
Cabrillo National Monument
Gaslamp Quarter
We love California! Make sure to add San Francisco (one of our other fave Cali cities) to your USA bucket list– they both definitely deserve a spot!
The Hardest Decision
A huge THANK YOU to Agnes from Travel on the Reg for sharing this awesome information on the San Diego area with us! Be sure to follow her on Instagram to see where she's off to next.
And now for the hard part…
Deciding what to do first! There are so many fun things to do in San Diego and nearby, I know you're going to want to do them all! So which San Diego day trip are you going to do first? Let me know in the comments below!