Wilmington NC Restaurants & Food Guide
Looking for the best restaurants in Wilmington NC?
We've got you covered! We've been on the hunt for the best Wilmington NC restaurants for over twenty years…because we LOVE good food!! And of course for research purposes!
Where is Wilmington North Carolina?
Wilmington North Carolina is a small coastal town located in the southeastern corner of the state. Located in between the Cape Fear River and the Atlantic Ocean, you can enjoy the city, downtown, Riverwalk, and the two beautiful area beaches, Wrightsville Beach and Carolina Beach. You can easily fly into the Wilmington International Airport (ILM) or make the easy two hour day trip from Raleigh. You will likely want a car to get around Wilmington, however Uber and Lyft are readily available.
What is there to do in Wilmington NC?
There are a ton of fun things to do in Wilmington! It's easily one of my favorite places in the USA and we happen to think it's one of the best vacation destinations in NC! This is where my husband and I went to college, got married, and now have a home. Some of our favorite things to do are to spend time on the water and at the beach, Airlie Gardens, hang out downtown, and EAT!
For all the details on what to do in while you're in town, read my family friendly guides to Wilmington NC and Carolina Beach NC!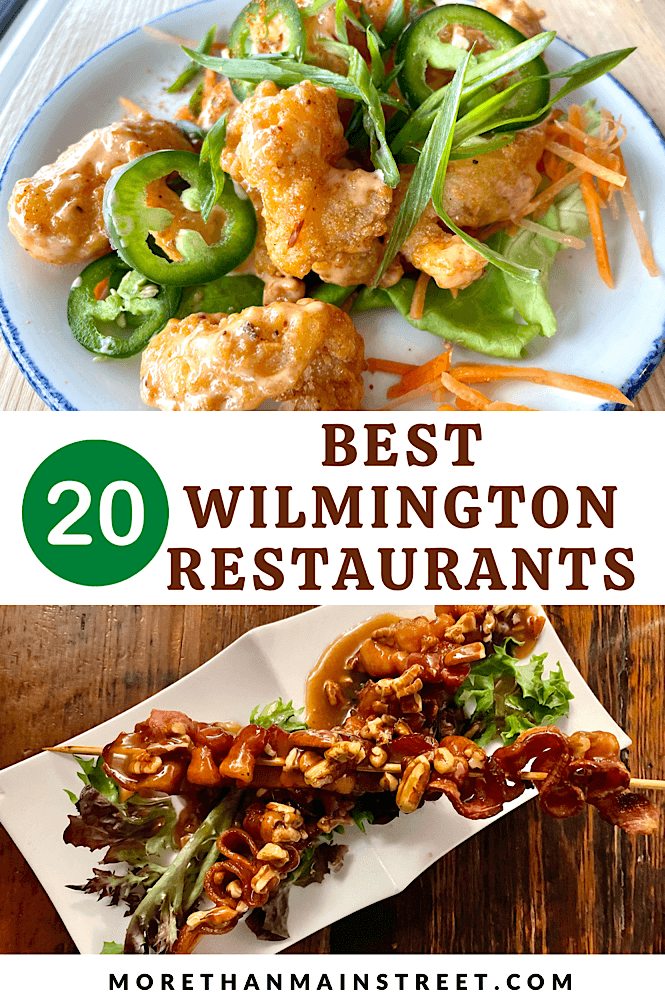 Our Favorite Places to Eat in Wilmington NC
This list is of course subjective…and you might be surprised by some of my choices. These may not be the big name restaurants you have heard about. Some of them are newer restaurants in Wilmington and some have been around for over twenty years. Most of these restaurants are locally owned but there are a few smaller chains that we feel have earned their spot on the list.
Unfortunately, restaurants come and go, so I will keep this list updated as well as add to it as we find new places to eat in Wilmington that you need to know about!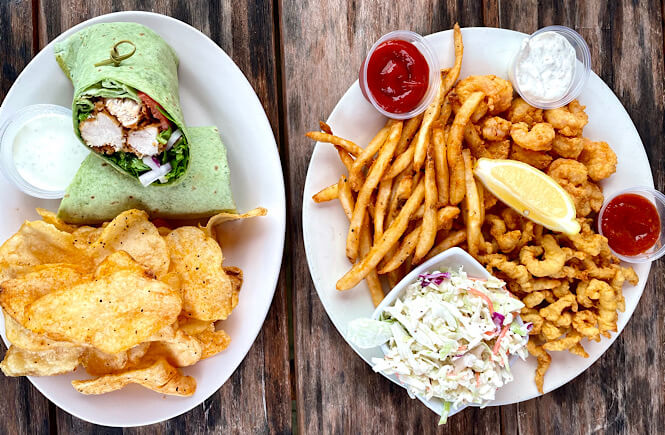 Fish Bites Seafood– Fish Bites is our go to restaurant for seafood. It's not fancy. As a matter of fact, it's in a strip mall in between and Urgent Care and a gas station. But everyone we take to this restaurant raves about how fresh and delicious the seafood is! (And no worries, there are plenty of non seafood options too.)
Benny's Big Time Pizzeria – Benny's is owned by local NC restauranteur Vivian Howard. You may know her from her TV show or cookbooks, but her food is legit. We love both Benny's and her other fantastic restaurant The Chef and the Farmer in Kinston, NC.
Fork N Cork – With two locations, this is a great family friendly restaurant with good food! You will not leave hungry. We recommend the Nashville hot chicken sandwich with a side of mac n cheese. And they make a mean margarita!
Indochine – Indochine is truly a Wilmington treasure. This one of a kind restaurant has had a loyal following for over twenty years! No joke, everyone loved this place when I was in college and people loved this place now. Their unique blend of Thai and Vietnamese food in a beautiful setting makes this one of the best restaurants in Wilmington, hands down.
True Blue Butcher & Table – We love this place! Make a reservation and prepare to be delighted. Not only are the steaks pretty bomb but everything else is too! Even dessert. One of our newer favorites!
Saltfish – Locally sourced with a Caribbean flair, this is a local's favorite. We highly recommend the lettuce wraps, crab cakes, and pork chop!
Nori Asian Fusion & Sushi Bar – Nori is our go to for classic Chinese food. We've literally tried every Chinese restaurant in Wilmington and this is our favorite. (We don't do sushi…Gasp! I know, I know, but I've heard it's very good, so I can't vouch for that!)
The Basics – The Basics always delivers traditional southern food with quality ingredients. We really love their pulled pork sandwich and burgers. But this is also a great brunch option!
Britt's Donuts – Britt's Donuts is pretty much an institution. It's become quite the tourist attraction too….and for good reason. There are literally two things on the menu at Britt's. Donuts and coffee. And these melt in your mouth treats will have people lined up around the Carolina Beach Boardwalk waiting. (Britt's is only open seasonally- usually mid April they open on weekends only then open up full time in the summer.)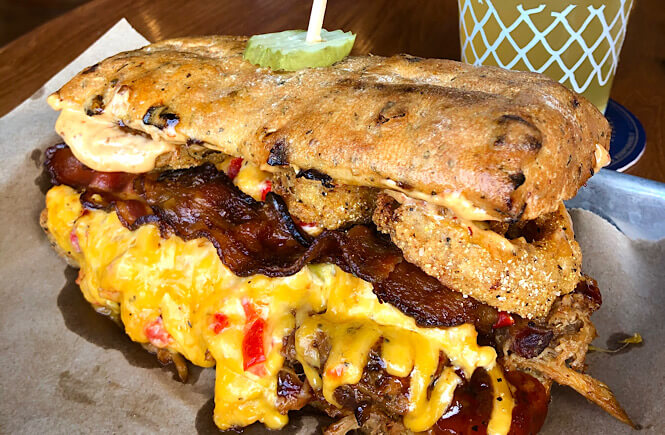 Mac's Speed Shop – Remember when I told you there might be a chain restaurant on this list. Well, Mac's is it. The food is delicious, the beer options are endless, and the vibe is laid back and fun.
Epic Food – Remember when I told you that you may not expect some of my choices for best restaurants in Wilmington NC? Well, here you go. A small little spot with delicious REAL food options. You won't ever leave here feeling guilty that you've just spoiled your diet. You also won't leave feeling hungry! We love this place for a quick and healthy lunch!
End of Days Distillery – End of Days isn't a restaurant but rather the coolest place in town to grab a drink. The vibe is one of a kind and the drinks are superb. But don't worry if you get hungry, there are usually food trucks around!
The Keg & the Egg – This is definitely a local hole in the wall we have fallen in love with over the years. We are particularly fond of their brunch although their entire menu is delicious.
Cape Fear Seafood Company – When we're looking for a restaurant in Wilmington that takes reservations, this is usually it. Great food, great drinks, and a wide variety on the menu to suit just about anyone!
Mess Hall – Best burger in Wilmington!! Yep, I said it. Make sure to get the special sauce!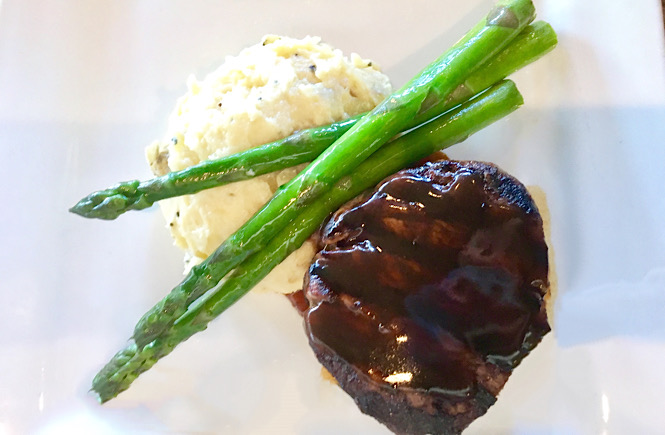 FAQ on where to eat in Wilmington
What are the best restaurants in downtown Wilmington NC?
Here are a few more restaurants downtown we really like:
Savorez – Mentioned above, this place is outstanding. It's located a little outside the hustle and bustle of downtown, but still easily walkable if you're staying in the area.
Rebellion – A great spot for delicious food and a perfect old fashioned.
Hells Kitchen – If you're looking for wings, a beer, and a place to watch the game, this is the perfect spot. They say award winning wings and they mean it!
Platypus & Gnome – If you love a unique menu with items like ostrich steak, wild boar soup, or elk burgers…then this is the place for you! Don't fret if those type of things don't appeal to you. This super fun downtown Wilmington restaurant has other yummy options too.
Tarantelli's – Best Italian food in Wilmington, hands down.
TacoBaby – This is new to the downtown food scene but got our attention real quick. (Plus tacos are life!)
The Copper Penny – there's almost always a line but we think it's worth the wait!
Fine dining in Wilmington NC?
We like Manna, Pinpoint, Bridge Tender, and True Blue Butcher & Table.
Best Pizza in Wilmington NC?
We like Benny's Big Time Pizzeria, Pizzeria Il Forno, and for delivery Michaelangelo's!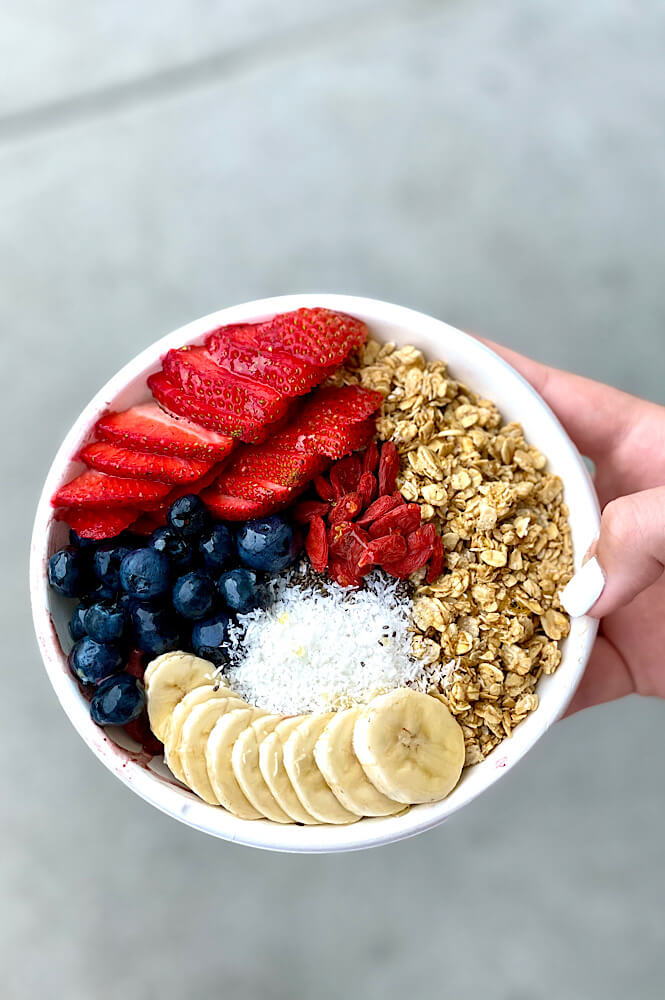 Best Breakfast & Brunch in Wilmington
Brunch is my favorite meal!! Some good options are Dixie Grill, Brunches, and Our Crepes and More. The Famous Toastery is a chain but we've always been impressed with their food. And The Keg & The Egg is our fave hidden gem for brunch! And if you love an acai bowl, then the best in town is Adapt Kitchen and Juice Bar on Wrightsville Beach.
I'd be crazy not to mention Cast Iron Kitchen. Not exactly super convenient to all parts of Wilmington, this is a VERY popular place! But it is sooooo worth it! Featured on Diners, Drive-Ins, and Dives go early to avoid a long wait!
Local Insider Tip: Brunches has mimosa flights. You're welcome.
Favorite Place for a Good Steak?
We love a good steak. If you're looking for the best steakhouses in Wilmington, here are our personal favorites: True Blue Butcher & Table and Cape Fear Seafood Company.
Best waterfront dining in Wilmington?
It's no secret that everyone around here wants to eat by the water! Our go to spots on the Intracoastal Waterway in Wilmington are Fish House Grill, Dockside, and Bridge Tender. At Wrightsville Beach we love the Oceanic and downtown we think Anne Bonny's is a fun but casual waterfront option. Any waterfront dining in Wilmington is bound to be busy so always plan accordingly since many of these restaurants don't take reservations.
Looking for a sweet treat?
We love Brit's Donuts! Who doesn't? But they are only open seasonally. Next best is Wake N Bake Donuts– delicious!! There is also a Crumbl Cookies near the college (which is a chain, but are to die for) and some awesome choices in Wilmington for ice cream too!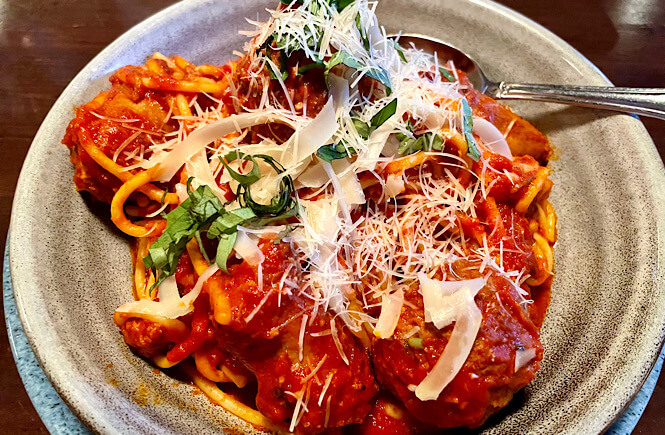 Best date night restaurant in Wilmington?
Best date night restaurant in Wilmington really depends on the kind of date! Fancy and special date night I'd go to Manna, Dram Yard, or Oceanic. First date? Maybe go to Rebellion or Indochine. Want the best spot to watch the sunset – go to Smoke on the Water. Tarantelli's is also a great date night restaurant downtown!
Best places to grab a drink?
We love End of Days Distillery, Wrightsville Beach Brewery, and The Fortunate Glass Wine Bar. Stay tuned for entire featured posts on the best breweries and coffee shops in Wilmington!
Best Food in Wilmington NC
So there you have it! All our top recommendations on where to eat in Wilmington!
I want to know: where would you eat first? What would you add to this list? Let me know in the comments below!