Easy Southern Chicken Salad Recipe
My husband was raised in the South, while I, was not. So, when we got married, I had to learn how to make his mother's southern chicken salad recipe. And STAT.
I also learned very quickly that there are many, many, versions of homemade chicken salad. Turns out, my husband only approves of a certain Dukes Mayo chicken salad recipe. (He's not really that high maintenance, I promise!) Thankfully, my mother-in-law graciously gave me her southern chicken salad recipe. Of course, I had to tweak her recipe just a teeny tiny bit. And guess what?…It is still "husband-approved"!!
Here in the North Carolina, we eat a lot of chicken salad. It's pretty much a southern staple. We have it as a meal, as a snack, for tailgating,for parties…you name it, someone will bring it!!
Do you have recipes specific to the area where you live?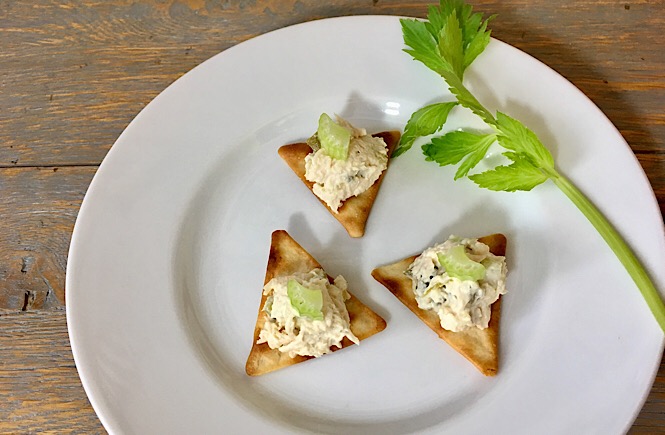 How to Make Homemade Southern Chicken Salad
Chicken salad is really quite easy to make. I'm all about simplicity. So, if I can make this southern chicken salad recipe, you can too!
I am a white meat chicken salad eater only. I don't know why, but to me, dark meat gives it a weird flavor. I always ask my server in restaurants before I order if their recipe is white meat chicken salad, dark meat, or both. I also don't like raw onion or hard boiled eggs in my chicken salad either, but now I may be really too controversial for y'all. So now that you know what I don't like…let me tell you how I do it!
My main tweak to my mother-in-law's recipe is that I use my crock pot to cook the two chicken breasts. She would cook two bone-in chicken breasts on the stove top and boil it for an hour. Instead, I love the way the chicken gets so soft and tender when cooked in my crock pot…it shreds so easily and has a great flavor. I often cook a huge batch of chicken this way and use it for enchiladas, soups, dips, bbq chicken…so many different recipes!
In addition, the two other secrets to her southern chicken salad recipe are sweet salad cubes (you find these next to the pickles in the grocery store) and sugar. Gotta use something to sweeten things up! Next, I add in a little celery chopped finely for some crunch. Finally, we are religious Duke's Mayonnaise people around here. It's one of the few grocery items my husband has an opinion about. I think it's definitely a southern thing! Mix all the ingredients together, and let chill in the refrigerator for awhile, and you got yourself some pretty darn good, husband approved, southern chicken salad!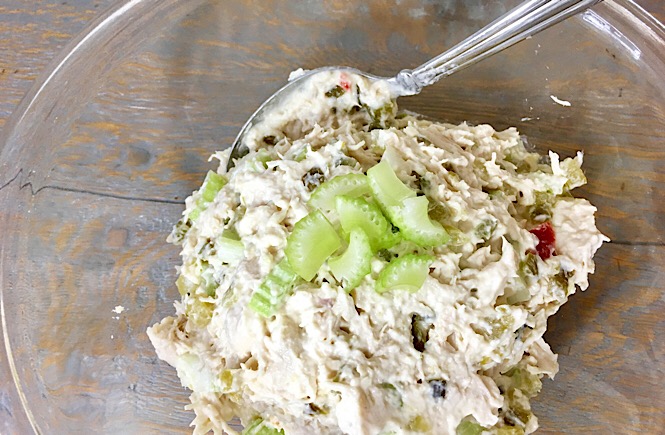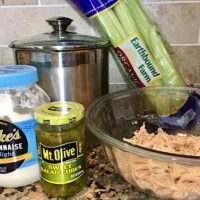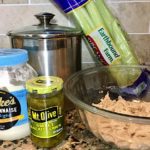 Easy Chicken Salad Recipe
Ingredients
2

chicken breasts shredded

1/2

cup

Duke's mayonnaise

1/2

cup

sweet salad cubes with its juice

1-2

stalks

celery finely chopped

1

teaspoon

sugar

salt and pepper to taste
Instructions
Mix shredded chicken, mayo, sweet salad cubes, celery, and sugar together in a bowl. Chill for at least an hour. Serve on a sandwich, on crackers, or on a salad… whatever makes you happy!

**Side Note: The cooking time listed in this recipe is 10 minutes prep, 50 minutes to chill. If you plan to cook your chicken in the crockpot, like I do, I typically set mine on High for four hours.**
Our entire family loves this recipe. It really is very easy to make and is definitely a crowd-pleaser. You can easily tweak this recipe to have a little more sweet salad cubes or a little less celery depending on your preferences. Play around with it and see what works for your family!
What about you? Does your husband/ partner have any funny preferences? What is your favorite chicken salad recipe? Let me know what y'all think in the comments below and pin to save for later!