The best ice cream shops in Wilmington NC!!
Craving ice cream in Wilmington NC? Don't worry!! I've got you covered!!
We have spent a lot of time sampling and researching this very important topic so that we can help YOU find the best ice cream in Wilmington NC. (It has nothing to do with the fact that we really LOVE ice cream. Haha.)
Wilmington is one of our favorite North Carolina destinations. It truly has something for everyone. They also have an amazing foodie scene. But when that sweet urge hits, an ice cream cone always hits the spot!
For more ideas on fun things to do read my family friendly guides to Wilmington and Carolina Beach NC.
So…onto the important stuff right?? Where can you find the best ice cream shops in Wilmington?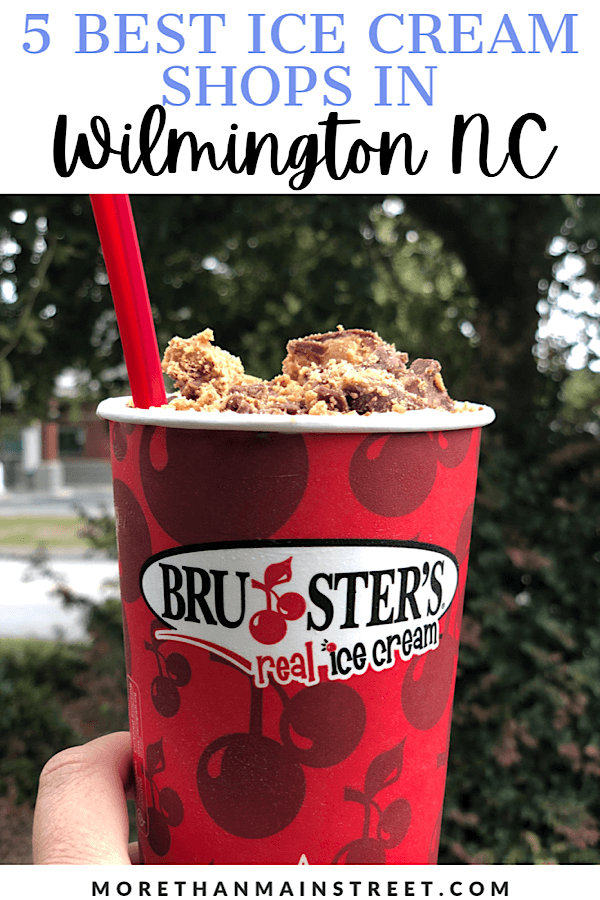 I scream, you scream, we all scream for ice cream!
Bruster's Real Ice Cream
Location: 4414 S 17th St, Wilmington, NC 28412
We love Bruster's ice cream. While I almost always support local businesses first, I just have to be honest, Bruster's ice cream is the bomb.com. Not only does it taste amazing, but it's super affordable too. Bruster's Real Ice Cream always has at least 24 flavors and is made fresh daily on site. This location also has a drive-thru and rewards program- win!!
Bruster's also falls first on the list for their allergy policy. While they can't guarantee anything 100%, they describe in detail how they make and handle nuts in their stores. This is super helpful info for allergy mamas like me.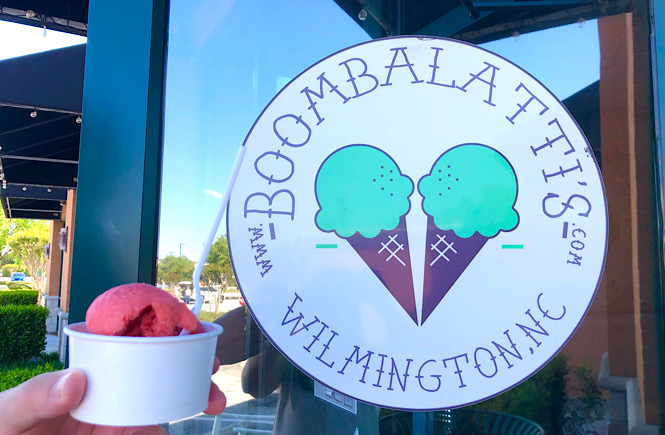 Boombalatti's Homemade Ice Cream
Location: 1005 N 4th St, Wilmington, NC 28401
Want to support local small business? Try Boombalatti's Homemade Ice Cream.
Seriously, they're family owned and operated, stay away from the artificial junk, and use milk from local NC grass fed cows…AND the ice cream is fantastic. Need I say more? They're a winner in our book if you're looking for great ice cream places in Wilmington and you love supporting local small businesses like we do.
BONUS: They also have vegan ice cream!!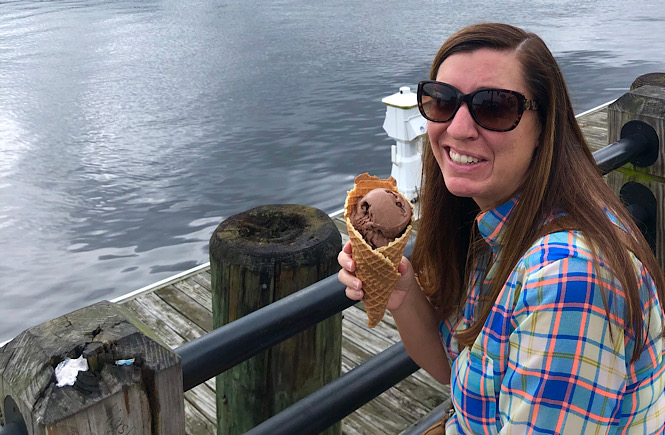 Kilwin's
Location: 16 Market St, Wilmington, NC 28401
Looking for ice cream places in downtown Wilmington? Let your nose lead the way. The wonderful aroma will take you straight to Kilwin's Ice Cream. Again, it is a chain. But, it's also kind of a classic. One of my favorite things to do in downtown Wilmington is grab an ice cream cone from Kilwin's and watch the sunset over the Cape Fear River. Kids will also love watching them make homemade fudge, waffle cones, and candy apples through their storefront windows too.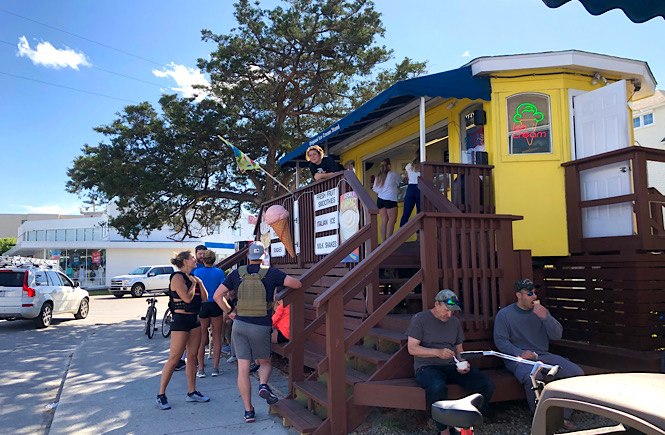 The Original Ice Cream Stand
Location: 3 N Lumina Ave, Wrightsville Beach, NC 28480
Want ice cream in Wrightsville Beach? Go to The Original Ice Cream Stand.
For us, getting ice cream at The Original Ice Cream Stand is mostly about the experience. YES, the ice cream is delicious, we've always been fans of Hershey's ice cream! But it's also such a fun part of visiting Wrightsville Beach. As you can see, it's a busy spot. So don't be in a rush when you go. Make plans to meet up with friends, grab a cone and take in the slower island life! Not feeling ice cream? They have smoothies, sundae's, and italian ice too.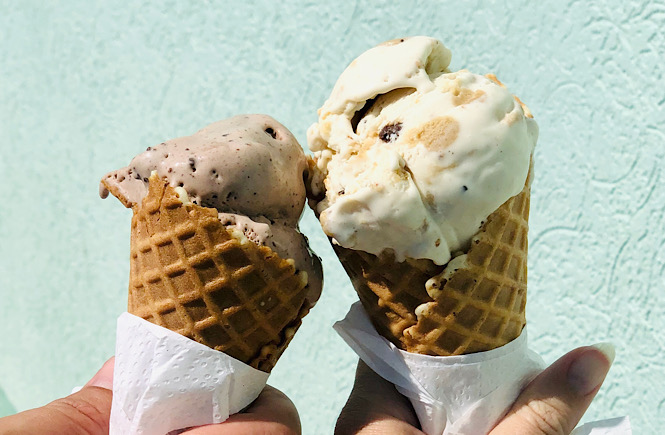 Celtic Creamery
Location: 201 N Lake Park Blvd, Carolina Beach, NC 28428
Spending the day at Carolina Beach? Try Celtic Creamery. Ireland meets NC? What? A small family owned shop serving amazing homemade Irish ice creams. Choose from 14 different flavors with locally sourced seasonal ingredients plus a few little bonuses from Ireland. I don't know what makes this ice cream different, all I know is that it tastes amazing. Go and check it out!
Bonus Sweet Treats!
So these aren't technically ice cream…but since they're the same genre and seriously delicious, I felt the need to share!
Need a meal before your sweet treat? Check out our favorite places to eat in Wilmington!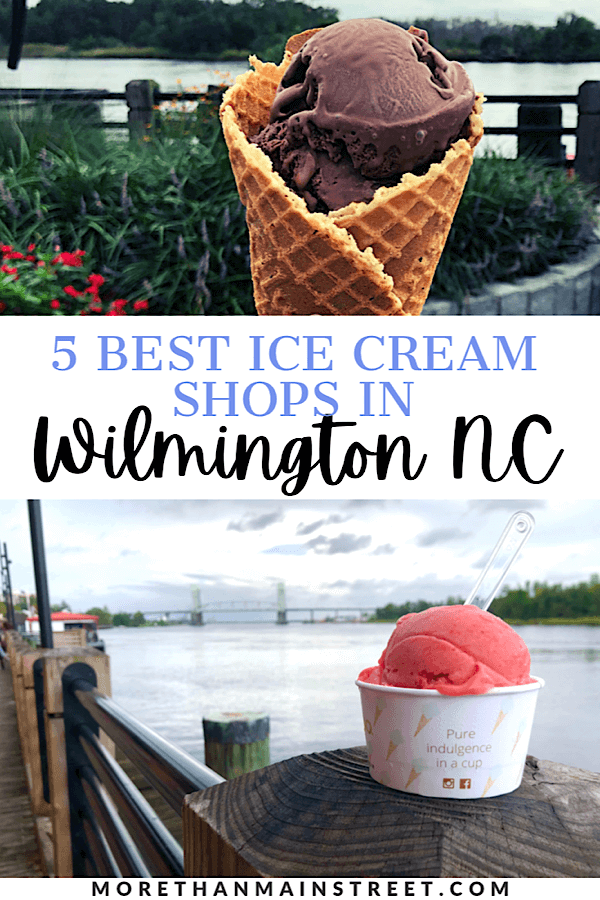 Always ice cream!
When you need a sweet treat…ice cream always hits the spot! And now you know where to find the best ice cream in Wilmington NC! Have you been to any of these ice cream places? Have I forgotten any? Let me know in the comments below!