Visiting Carolina Beach and Kure Beach NC
Where is Carolina Beach? Where is Kure Beach?
Located in the southeastern corner of North Carolina between the Cape Fear River and the Atlantic Ocean, Carolina Beach and Kure Beach make up the Pleasure Island area about 15 minutes south of Wilmington NC. After you cross the bridge into Carolina Beach, just keep driving south to get to Kure Beach. You likely won't even realize you're technically in a different town. For that reason, we're grouping these two adorable NC beach towns together.
You are gonna absolutely love the laid back vibe and the huge variety of family friendly things to do in Carolina Beach NC.
Be sure to incorporate Carolina Beach into your NC road trip or summer vacation. If you're planning a weekend visit to the Wilmington area or longer, make sure to read my family friendly guide to Wilmington first…but don't skip out on including theses awesome Carolina Beach things to do- you won't regret it!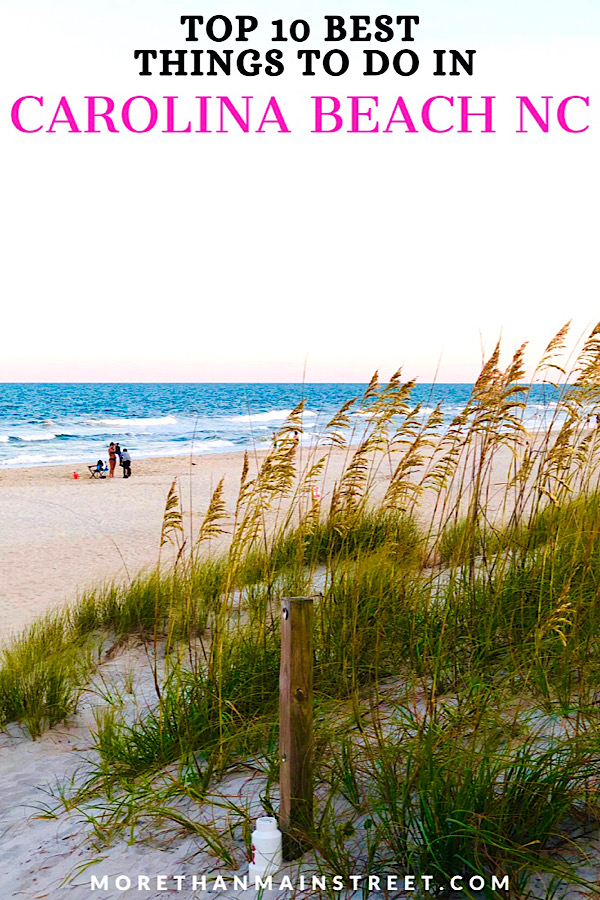 This post contains affiliate links which means I could earn a small commission, if you make a purchase, at no additional cost to you. As an Amazon Associate, I earn from qualifying purchases. For more information, read my full Disclosure HERE.
Best Carolina Beach Things To Do
1. Go to the beach!
Carolina Beach is one of our all time favorite beaches. We visit every summer and several times during the rest of the year as well. We love that it's not overly busy, you can almost always find a parking space, there are public restrooms and lifeguards along most of the beach. If you're looking for even less crowds head further south to Kure Beach. Both beaches are super family friendly!
Freeman Park is one of the most unique Carolina Beach attractions. This area of Carolina Beach is only accessible with a four wheel drive vehicle and you must have a day pass or annual pass. Visitors come from all over to enjoy driving onto the beach, setting up for the day and swimming, fishing, shelling, and more in Freeman Park. Camping overnight is available too if you're into a little more rustic experience.
Don't forget a thing with my ultimate beach day packing list!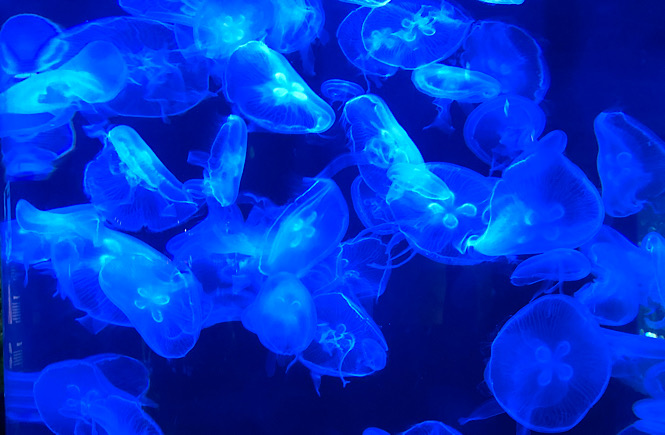 2. North Carolina Aquarium at Fort Fisher
The North Carolina Aquarium at Fort Fisher is one of the best things to do with kids in Kure Beach! Learn about the NC ecosystem, get up close and personal with marine life in the touch tank, and learn something new from the free daily shows at the Aquarium. Whether you're into sharks, sting rays, or turtles there's bound to be something to catch your interest. Young children will love the outdoor maritime garden, playground, and changing exhibits. During our last visit there were dinosaurs along the outdoor trail!
PS. Don't forget to pay a visit to the resident albino alligator!
3. Carolina Beach State Park
Carolina Beach State Park is definitely unlike most state parks in North Carolina. While you can (and should) explore many of their cool hiking trails, what makes this park stand out is their water access. Located directly on the water, try fishing, kayaking, renting a boat or camping at Carolina Beach State Park. Bonus! Carolina Beach State Park is also home to several carnivorous plants including the rare Venus flytrap.
Insider Tip: Go with a guide to find the elusive Venus flytraps- they're very hard to spot on your own. OR you can venture into Wilmington and go to the Stanley Rehder Carnivorous Garden- they are much easier to spot here!!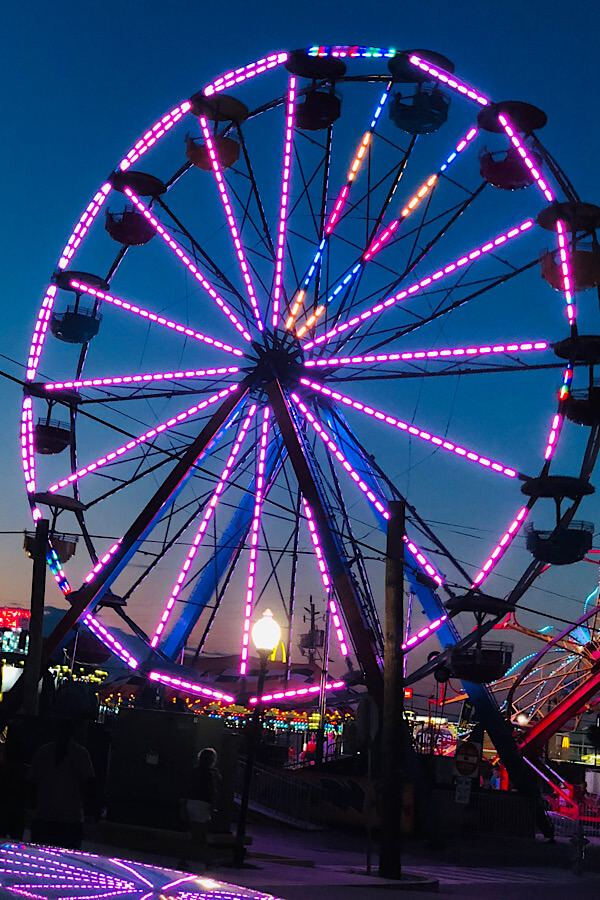 4. Carolina Beach Boardwalk
For some serious family fun, check out the restaurants, shopping, and amusement rides at the Carolina Beach Boardwalk. Not too big and not too small, the oceanfront boardwalk is the perfect place to spend the evening. If you visit during the summer, you might even catch seasonal live music or the weekly fireworks display!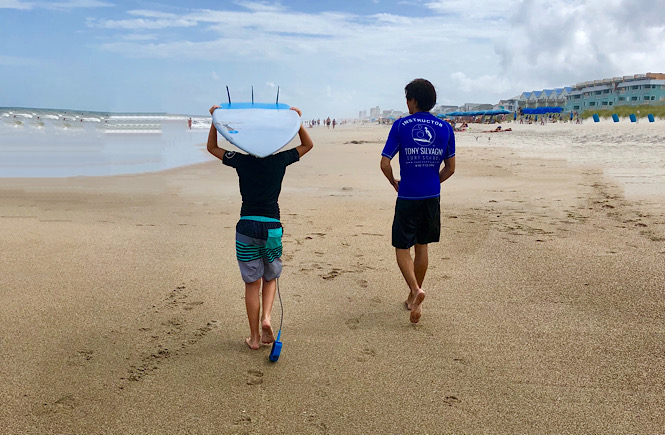 5. Get out on the water!
Whether you're into surfing, kayaking, stand up paddle boarding or boating, get outside, get active and enjoy the water!
We can highly recommend Tony Silvagni surf school! Both of our children have learned to surf and taken lessons from Tony for several years now. They ask to go back every summer. BONUS: This is also the place to go for your beach rentals. Chairs, umbrellas, surf boards, he's got it all…oh and he'll deliver it right to you!
Not into surfing? Look into Kayak Carolina for guided tours of Zeke's Preserve or Masonboro Island. Masonboro Island one of the area's most beloved natural treasures. With over 5600 acres of beach, marsh, tidal flats, maritime forest and NC Coastal Reserve this is an incredible experience only accessible by boat.
6. Fishing!
Fishing is a big deal down here! Fish off the recently renovated 711 foot Kure Beach Fishing Pier, right in the ocean, or sign up for a chartered fishing excursion. Whatever you prefer, there's options for everyone.
Know Before You Go: Make sure you have the proper NC fishing licenses before you go.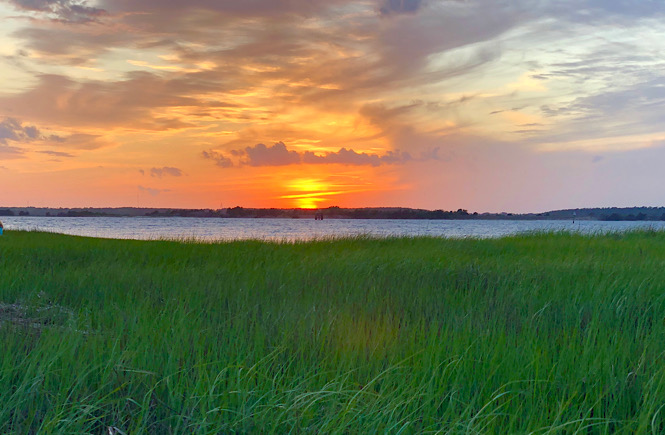 7. Catch an always epic sunset.
I have a slight sunset obsession. And watching the sunset over the water is always a win in my book. Historic Fort Fisher and the ferry terminal are my two favorite places to watch the sunset in the area.
Read my guide for more epic places to watch the sunset in Wilmington NC.
8. Visit Historic Fort Fisher.
If history is your thing, make sure to visit historic Fort Fisher, home of the largest land and sea battle during the Civil War. The Visitor's Center and shop has some fantastic exhibits, artifacts and videos to learn more about the history here too.
But Fort Fisher is more than just a historical site. You'll also find six miles of beautiful beaches, walking trails, and the perfect area for birders, wildlife seekers, and photographers too. Dive enthusiasts are attracted to the area as well to explore sunken ship wrecks right off the coast.
BONUS: This area is super dog friendly too as long as your pup is on a leash!
9. Eat at Britt's Donuts.
Britt's Donuts are legendary and deserve their very own spot on a list of best things to do in Carolina Beach. Visitors and locals both rave about Britt's and rightfully so. This award winning donut shop is super popular in the summertime and will often have a long line down the boardwalk in the evenings. (But don't worry, the line goes pretty fast.) Don't expect to have a hard time making a decision on what to order, the menu only consists of glazed donuts, coffee, and soft drinks. Also important to keep in mind: they have limited days and hours during the off season.
Insider Tip: The secret to Britt's Donuts is you must eat them right away, when they are fresh and warm. They aren't anywhere near the same the next morning. The biggest challenge will be not going back over and over!
Bonus: Like something a little more creative than a glazed donut…head over to Wake and Bake Donuts…they're insanely good too!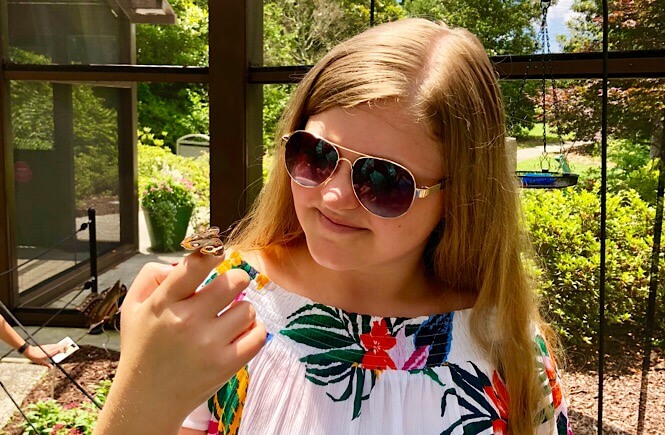 10. Venture off the island.
While you can fill an entire week with fun activities just on Carolina Beach, it just wouldn't be fair not to share all the fun things to do in Wilmington NC too. My top picks would be a visit to the NC Battleship, a trip downtown to the Wilmington Riverwalk, and spending a morning in the ever so lovely Airlie Gardens.
Another fun and exciting option is to take the Fort Fisher ferry to Southport, NC. Just about a thirty minute ferry ride and you can spend the day in one of the cutest small coastal towns in North Carolina! Definitely worth checking out!
Planning Your Visit to Carolina Beach NC
Carolina Beach Restaurants
There are a ton of touristy restaurants in CB, but there's some really good places to eat in Carolina Beach too. Some of our top picks are:
Looking for something special? Try local favorite Saltfish.
Looking for Mexican? Try Nollie's.
Thai food in Carolina Beach? Try Ida Thai.
Casual American? Go to Fork N Cork.
Best hole in the wall? Island Burgers & Bites (Y'all this place is in a gas station…but it's oh so good!)
Want seafood? We actually go off the island (not by much though) to Fish Bites for the best fresh AND affordable seafood.
Craving ice cream? Find out our top 5 favorite ice cream shops in the area!
Still hungry? Check out my complete list of the best restaurants in Wilmington NC!!
Carolina Beach Hotels
We highly recommend the Courtyard Carolina Beach Oceanfront. We're big Marriott fans, they never disappoint! Beach house rentals through VRBO or Airbnb are probably the way to go if you're looking for a place to stay in Kure Beach.
Best Cities to Visit in North Carolina
So have I convinced you to visit Carolina Beach? I sure hope so! At minimum it makes a great North Carolina day trip…but we think it deserves longer trip if you can make it happen. We always love visiting and truly feel Carolina Beach is one of the best cities to visit in North Carolina!
What's the first thing you're going to do when you get to Carolina Beach NC?