The Ultimate Guide to the Best East Coast Beaches for Families
Looking for the best family beaches on the east coast?
Well, you're in luck! The beach is my happy place. I truly never get tired of a beach vacation and I'm happy to go regardless of the season. It always lifts my spirits and refreshes my soul. And I think it's safe to say, it does the same for my family.
So, together with fellow travel bloggers, we are bringing you an ultimate guide to over 20 of the best family beaches on the east coast in the USA!
"A beach day is always a good day."
Family Friendly Beaches on the East Coast
If you've been searching for epic east coast vacation ideas, consider one of these family friendly beach destinations:
Old Orchard Beach, Maine
Acadia National Park, Maine
Nantucket, Massachusetts
Martha's Vineyard, Massachusetts
Newport, Rhode Island
Coney Island, New York
Fire Island, New York
Cape Henlopen State Park, Delaware
Ocean City, Maryland
Virginia Beach, Virginia
Outer Banks, North Carolina
Topsail Island, North Carolina
Wilmington, North Carolina
Myrtle Beach, South Carolina
Hilton Head Island, South Carolina
St. Simons Island, Georgia
Amelia Island, Florida
South Beach, Florida
Cocoa Beach, Florida
Clearwater Beach, Florida
West Palm Beach, Florida
Islamorada, Florida
Titusville, Florida
Not sure when you'll be traveling next? No worries…just add these east coast family vacation destinations to your USA bucket list!
This post contains affiliate links which means I could earn a small commission, if you make a purchase, at no additional cost to you. As an Amazon Associate, I earn from qualifying purchases. For more information, read my full Disclosure HERE.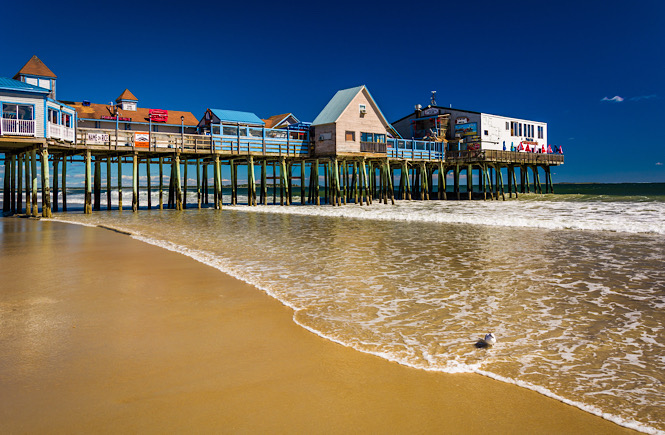 Old Orchard Beach, Maine
If you are looking to plan the best beach vacation for your family, look no further than the quaint town of Old Orchard Beach in Maine. Old Orchard Beach is located in Maine along a lovely seven mile stretch of sand and one of the best beaches in the USA. The city itself houses around 9,000 annual residents, but when the summer months come along, the city can see as many as 75,000! The beach is just that popular and people from all over love to enjoy its beauty. There are lifeguards on duty and bathrooms can be located on West Grand Avenue.
One of the best things to do on the beach is visit the Old Orchard Beach Pier! There is a ton of shops and you can get fresh lobster at some of the restaurants. If you are feeling like a kid (or have kids) another visitor favorite is Palace Playland. This amusement park is beachfront!! There are rides for everyone from small toddlers to thrillers for adults.
If you are looking for a place to stay with your family, Old Orchard Beach Cottages are just lovely. You get the home for the duration of your stay and you get beach front access. 
Contributed by Nicole from EatLiveTravelDrink
Book a Portland light house tour while you're visiting one of the best east coast beaches for families!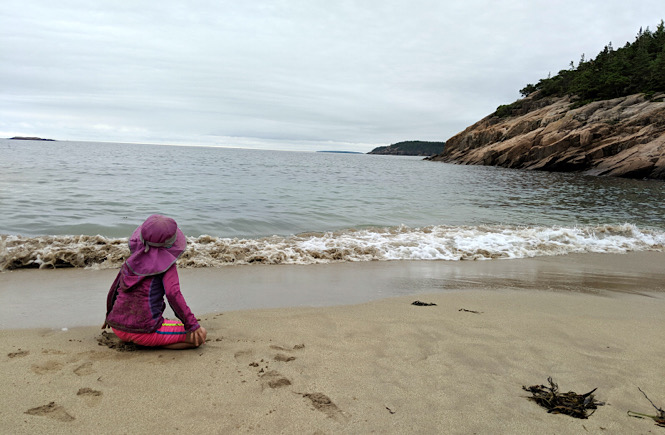 Acadia National Park, Maine
Acadia National Park isn't a traditional fun-in-the-sun beach experience, but it hosts two family friendly beaches for swimming and playing in both the ocean and a lake! Located in SE Maine on a large island, Acadia is home to Sand Beach along the ocean and Echo Lake Beach. Both beaches are staffed by lifeguards in the summer, have restroom facilities, and large parking lots. For both beaches there aren't any concessions or souvenir style shops nearby, and no dogs are allowed for the summer season. Sand Beach has rolling waves and beautiful rock cliff views, with brisk water rarely getting warmer than 55 degrees Fahrenheit whereas Echo Lake Beach provides a calmer, often warmer swimming space surrounded by lush trees.
After enjoying the beaches, visitors will enjoy renting bicycles and exploring the car-free carriage roads along the interior of the park. On two feet, the famous Ocean Path hike is an easy paved walk along the coastline with breathtaking views. Outside the park, don't miss the Bar Harbor Whale Museum for interesting wildlife displays and the Abbe Museum to learn about the local Native American culture, both past and present.
Where to stay: Bar Harbor Grand Hotel is a 5 star stay, providing comfy rooms and a quick drive to the national park.
Where to eat: Don't miss the famous popovers at Jordan House, a perfect place for a sit-down meal inside the park.
You might not think of National Parks when planning east coast vacations for families, but it's definitely something to consider!
Contributed by Stephanie from Explore More Clean Less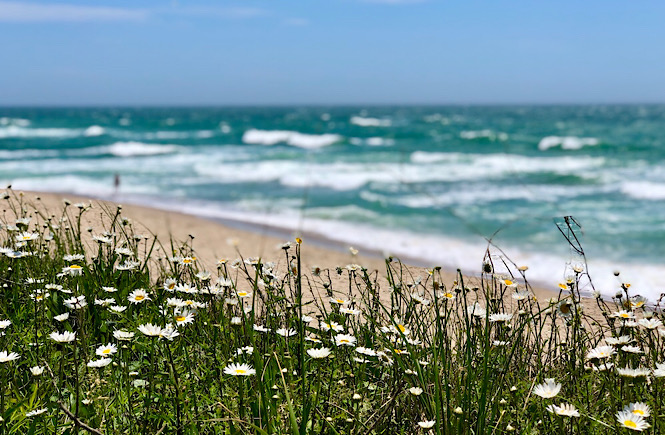 Nantucket, Massachusetts
Thirty-six miles off the coast of Cape Cod Massachusetts sits the charming island of Nantucket. This historic showcase of maritime history offers visitors a family friendly destination that's big on charisma. One of the biggest draws to this vacation paradise is the beaches. With over 80 miles of coastline, there are plenty of options for fun in the sun.
While there are many beautiful Nantucket beaches, two of the best choices for families are Children's Beach and the popular Jetties. Both have lifeguards and facilities. The larger Jetties also has a great on-site restaurant, The Sand Bar, with plenty of options for everyone's taste. Their fresh raw-bar is a favorite with parents and delicious burgers and sandwich options round out the menu selection.
The island offers many additional things to do. The Whaling Museum is an interactive experience connecting visitors with the island's past life as a whaling capital of the world. Kids love the 46-foot-long sperm whale skeleton suspended from the ceiling. Lighthouse fans will enjoy discovering the three lights on the island that for years have been keeping ships safe at sea. Hotels on Nantucket can be pricey, but one of the best values on the Grey Lady is the Nantucket Inn, complete with outdoor pool and restaurant.
Contributed by Alison from Green with Renvy
These best east coast beaches for families belong on your family bucket list!!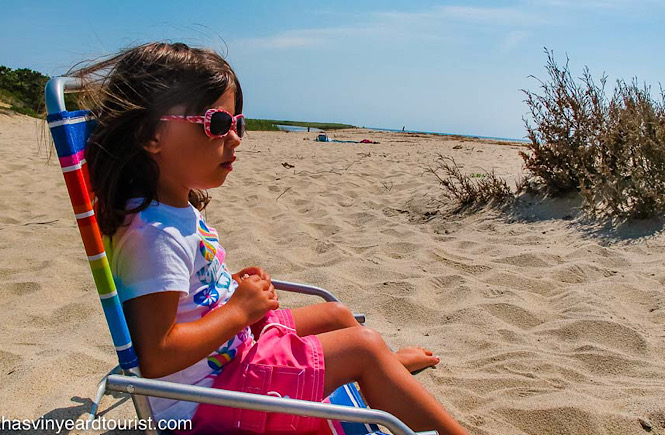 Martha's Vineyard, Massachusetts
There are approximately 20 beaches on the island of Martha's Vineyard off the coast of Cape Cod in Massachusetts. Many of these beaches are open to the public (or the residents of the town in which the beach lies).
Many of our favourite public beaches on Martha's Vineyard lie on the south coast of the island. Both South Beach and Long Point Beach have soft white sand onto the Atlantic Ocean so that you have great waves for boogie boarding. There are public life guards and restrooms at both beaches. The best place to stay nearby would be The Winnetu Resort which has an extensive kids' program and spacious multi-bedroom accommodation for families. Grab a picnic at the local favourite, Katama General Store, before you head to the beach.
Although Long Point Beach is a nature reserve that is further away from accommodation and restaurants, we love it because there is a sheltered pond on one side for younger children. The water is wading deep for a significant part of the pond and there are no waves. It's a perfect place for younger children who want to play in the sand and in the water. We usually set up near the pond side with the younger children and let the teenagers go play on the ocean side.
Another great beach on Martha's Vineyard is Menemsha Beach on the north side of the island. Although this beach does have some rocky parts, we love it for two reasons. My children love climbing over the rocks. Moreover, Menemesha beach is the best place to catch a sunset. Many families come with their children in the evening and set up a picnic on the beach. You can have dinner with a view of a glorious sunset while also entertaining the kids.
There are many places for take out dinner at Menemsha Beach like The Bite which is casual fried food (chicken tenders and seafood). In addition, there is a lifeguard stand yet we have never seen a lifeguard at Menemsha Beach. There are clean restrooms nearby. The closest place to stay would be The Beach Plum Inn nearby which has family-friendly cottages and a delightful restaurant overlooking Menemsha harbor.
Contributed by Shobha from Martha's Vineyard Tourist
Martha's Vineyard is one of our favorite east coast family vacations: Read more about why we loved our day trip to Martha's Vineyard!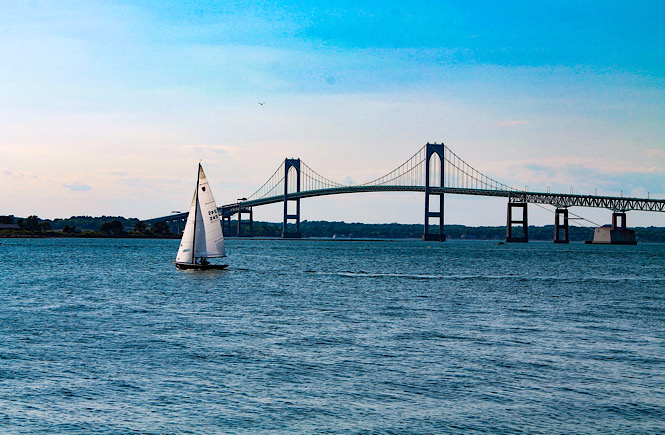 Newport, Rhode Island
The coastal Rhode Island town of Newport has something for every member of the family. If you are a history buff, this colonial town has the oldest synagogue in the United States and huge waterfront mansions of America's wealthiest families from the roaring 20s. 
It has bustling wharves full of stores and restaurants. If you are a fan of antique cars, be sure to visit the Audrain Auto Museum. The first tennis tournament in the United States was held at the Tennis Hall of Fame right near First Beach which still holds tournaments and has an informative museum. The Cliff Walk is a family-friendly trail running along Newport's rocky cliffs. And, of course, there are beaches, named First (Easton's), Second and Third Beach. Easton's Beach also has a small marine nature center. 
Where to stay? You can put yourself right in the middle of the action at the Newport Marriott or plan to stay closer to the beaches at the Newport Beach Hotel and Suites. Where to eat with a family? Brick Alley Pub. Are you ready to book your vacation to Newport, Rhode Island now?
Contributed by Jamie from Adventures in New England
Read more about our stop in Newport on our road trip from Boston to Niagara Falls, another one of our favorite vacations on the east coast!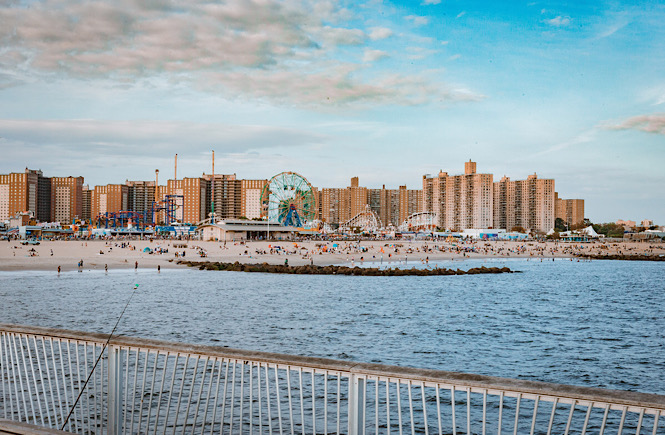 Coney Island, New York
When you think of New York City, you probably think of the stunning skyscrapers, Statue of Liberty, or Times Square. However, there is a part of New York City that a lot of visitors miss, such as the family-friendly beach in Brooklyn known as Coney Island. Beautiful soft sand stretches along the southern tip of Brooklyn, making Coney Island the perfect summer attraction in New York City. On a beautiful day, the beach is crowded with tourists and locals, all relaxing and having a good time.
Though the beach itself is impressive, the Coney Island Boardwalk is probably more recognized. Home to the Wonder Wheel (Ferris Wheel) and the Luna Park amusement park, kids will never have a dull moment here. Adrenaline-lover travelers will find their fair share of fun on their numerous rides, including the famous Cyclone roller coaster. With a combination of beach and amusement park, both parents and kids can have a good time in Coney Island.
If you are hungry, make sure you try a hot dog from Nathan's Famous, a popular fast-food chain that opened its first store in Coney Island. Their hot dogs are considered some of the best in New York City.
During beach seasons, lifeguards are on duty from 10 AM to 6 PM. Technically, you are not allowed to swim without lifeguards on duty but no one really abides by those rules. There are bathrooms located on the boardwalk but no public showers. If you are visiting Coney Island, it is wise to leave the area before sunset. Coney Island is not the safest place in New York City at night. 
Near New York City, this is one of the best east coast beaches for families!!
Contributed by Sean from LivingOutLau
While you're in the area, consider booking a tour of NYC! Read more about my recent girls trip to New York City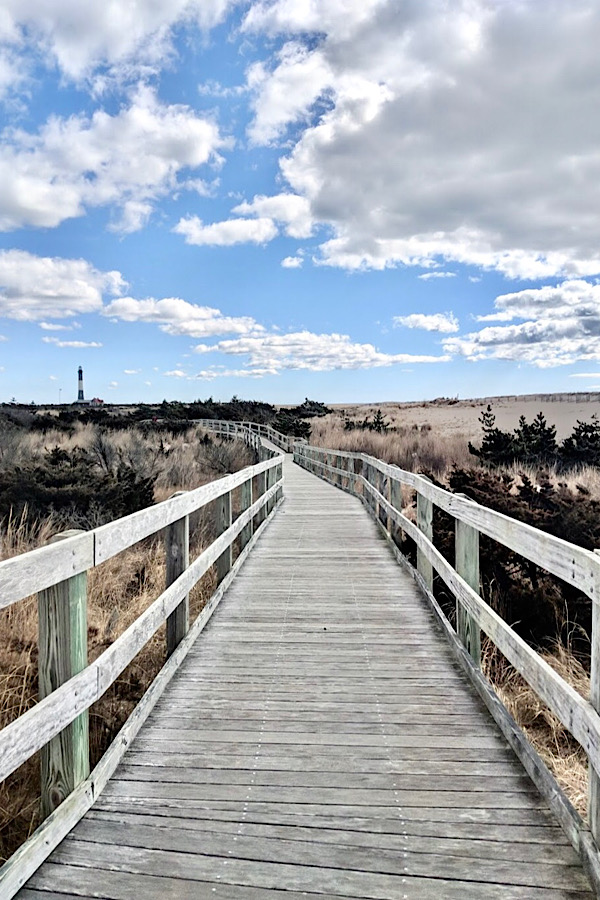 MAKE SURE TO PIN THIS POST ON THE BEST EAST COAST BEACHES FOR FAMILIES FOR YOUR NEXT VACATION!!
Fire Island, New York
One of the best family friendly East Coast beach destinations is Fire Island National Seashore, off the coast of Long Island, New York. With 26 miles of protected shoreline, there's plenty of beach, nature, and fun things to do for families.
In addition to shoreline dunes and beaches, the island is home to a true sunken maritime forest. Children will enjoy walking through and observing the wildlife. Additionally, families won't want to miss the iconic Fire Island lighthouse, which overlooks the beach and offers a fun, interactive museum. The path to the lighthouse from the parking lot is flat and stroller friendly.
Families can also enjoy visiting or renting a house on one of the beach communities, like Ocean Beach or Kismet. These small, no cars allowed towns, are family friendly and accessible only by ferry. There's no shortage of bathrooms, amenities, shopping, and dining, including the locally famous Maguire's, overlooking Fire Island's beautiful sunsets.
Travelers en route to Fire Island can also partake in the many fun things to do on Long Island with kids. With so much to do in a small radius, Fire Island makes for one of the best family vacation spots on the east coast.
Contributed by Tori from Tori-Leigh
These east coast vacations for families book up fast! Check current rates on rental homes HERE.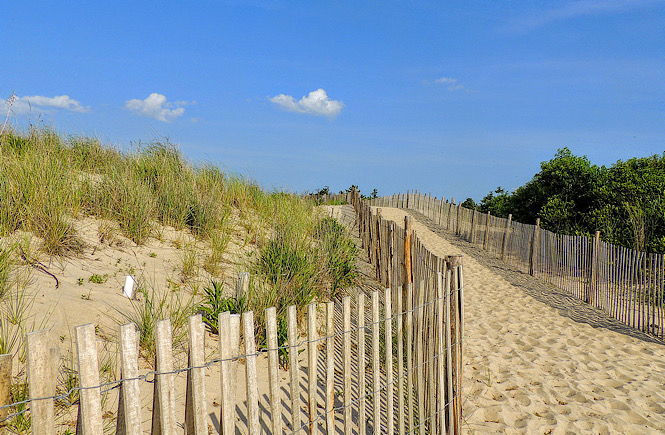 Cape Henlopen State Park, Delaware
Who knew that Deleware had such a wild side? Cape Henlopen State Park encompasses 5,193 acres of sandy beach, wild forests, and vast marshlands with more than 150 miles of hiking, biking, and horseback riding trails. While this is a popular park in the summer, it's massive size means that all you have to do is meander away from the bathhouse to find your little piece of paradise on the shore. 
There are two sides to Cape Henlopen State Park. Enjoy the crashing waves, frolicking dolphins, and perfect sandcastle-building right on the ocean, or head to the bayside for calmer waters, an abundance of horseshoe crabs, and a view of the Cape Henlopen Lighthouse. 
There is so much to explore here, that it's pretty much mandatory that you stay for at least a few days. While the Cape Henlopen beaches are some of the most popular in the state, there is so much more to this park than swimming in the ocean and perfecting your summer tan. We may be partial, but we'd say this is one of the best east coast beaches for families.
Free bike rentals make it easy to explore this massive park, and biking the Pinelands Nature Trail is a great way to spend the morning before heading to the beach for a swim. You can also climb the observation tower for a great view of the coast, rent kayaks to paddle around the bay, visit the World War II bunkers at Fort Miles, or spend a rainy afternoon at the nature center or aquarium. 
The camping at Cape Henlopen State Park is not super close to the beach (you have to drive or bike there), but there are great tent and RV sites, as well as cute cabins if you don't want to rough it. 
Cape Henlopen State Park is as lovely as any you'll find on the Atlantic Coast, and it's a perfect destination for beach-loving families.
Contributed by Tara from Back Road Ramblers
Delaware is definitely one of the more off the beaten path east coast vacations for families!! Check out current rates for somewhere to stay HERE.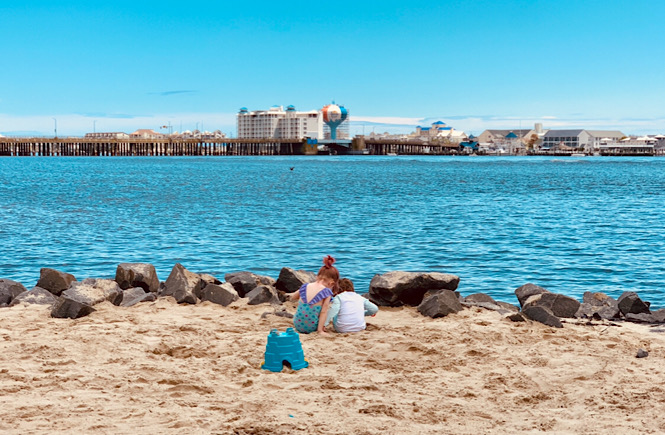 Ocean City, Maryland
Located along Maryland's Eastern shore, Ocean City, MD has been a popular east coast beach destination for families for years. OCMD boasts an expansive beach that spans about 10 miles.  There are ample facilities at the beach in Ocean City, MD with restrooms and lifeguards throughout. The 3 mile boardwalk also offers several quick service restaurants, shops and a few play areas for kids. Additionally, there's a large amusement park area right on the boardwalk, with dozens of family-friendly rides and games. If you want a more unique beach experience, Assateague Island National Seashore is filled with wild horses and is only 10 miles away from OCMD.
There are also several fun things to do in Ocean City, MD in addition to the beach and boardwalk. From deep sea fishing and jet skiing to shopping and museums, there's something for the whole family. If you're looking for family-friendly restaurants, de Lazy Lizard, Fishtales and Hoopers are all great options along the water. Ocean City, MD also offers hundreds of hotels and condos for every family size and budget. One of the best places to stay in OCMD is Bahia Vista Condos.  It's located on the bay side, just a few blocks from the ocean in a quieter area that's perfect for families. Between the nice beaches, great restaurants and family friendly things to do, OCMD is definitely one of the beast east coast beaches for families and can't be missed.
Contributed by Amanda from Toddling Traveler
Thinking of booking a condo? Places to stay book fast, check current rates HERE.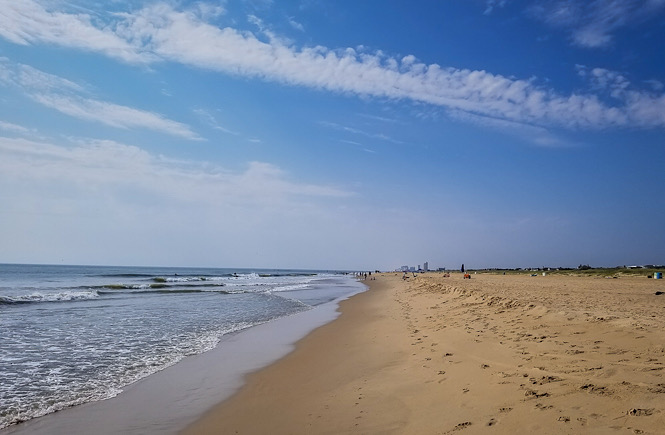 Virginia Beach, Virginia
No matter what kind of beach vacation experience you're looking for Virginia Beach has a little something for everyone. The main resort area features a 3 mile long boardwalk (perfect for exploring by foot or 4 person Surrey bike) with plenty of family friendly live entertainment and hotels. Locals and families with young children head to the Chick's Beach area, the gentle waters of the Chesapeake Bay are perfect for little swimmers. 
There are so many great Virginia Beach restaurants to suite every taste and budget (if you're looking to spoil yourself a stay at The Cavalier is family-friendly luxury at it's best!). Virginia Beach has the bounty of both the Atlantic Ocean and the Chesapeake Bay so fresh seafood is a must when you're in town (I highly recommend the softshell crab bloody Mary at Bay Local for Mom and Dad).
If you want more of the beach house experience Sandbridge near the North Carolina border offers a quiet retreat for families of every size. Near Sandbridge you'll also find Back Bay National Wildlife Refuge,  a beautifully wild beach area home to a number of birds, foxes and even a few wild horses. No matter which beach you choose be sure to get out on the water.  Whether you kayak, SUP or boat this is the best way to experience Virginia Beach.
Contributed by Brianna from Casual Travelist
Thinking of booking a room? Check current hotel rates HERE!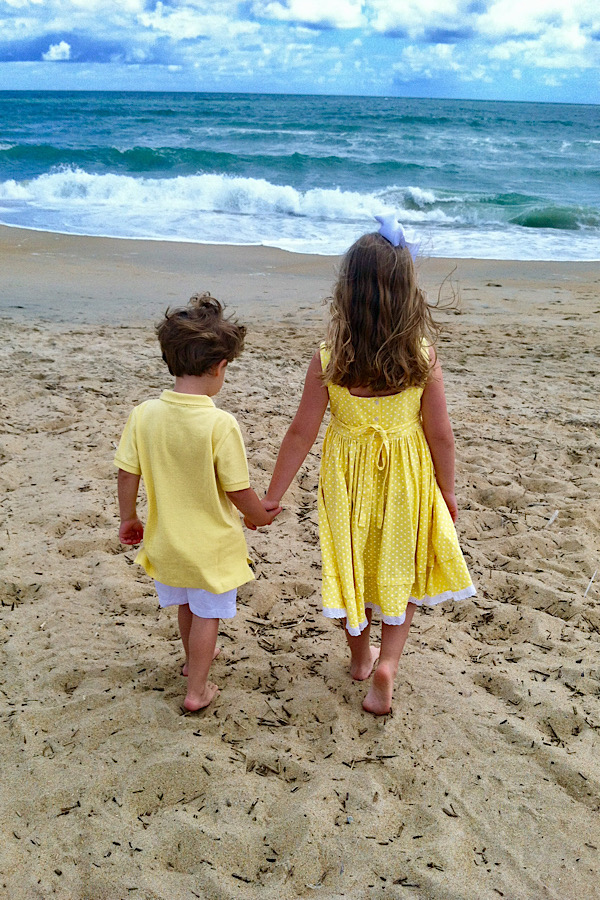 Outer Banks, North Carolina
The Outer Banks of North Carolina is another destination that's near and dear to our hearts and we'd place it high on a list of best family beaches on the east coast. We have vacationed on the Outer Banks every summer for almost fifteen years. With over 100 miles along the North Carolina coastline and a ton of family friendly things to do in the Outer Banks, you could spend weeks exploring these adorable beach towns.
Arguably the Outer Banks could certainly be considered some of the best beaches in North Carolina. What else is there to do beyond the beach? Check out the wild horses in Corolla, visit Jockey's Ridge, or try an adrenaline inducing adventure like hang gliding. History buffs will love the Wright Brothers Memorial and The Lost Colony. Need to entertain the kids? Visit the NC Aquarium, do a Pirate Adventure, or try flying a kite. Lighthouse hunting and fishing are big in Nags Head too. When it's time to eat, check out Outer Banks Brewing Station (Yes! It's child friendly!), The Black Pelican, or Sugar Creek Seafood Restaurant.
Duck and Corolla are our two favorite beach towns to stay in but honestly you can't go wrong anywhere in the Outer Banks. Looking for family friendly accommodations? Check out the Hilton Garden Inn Outer Banks/ Kitty Hawk or The Sanderling Resort in Duck. Without a doubt, whether you can spend an entire week or just manage a weekend getaway to the OBX, it will be one of your best vacations ever!
This is the perfect destination if your family is into adrenaline adventures– so many thrilling activities to do here! Make sure to add the Outer Banks to any North Carolina road trip itinerary!
Looking for a vacation rental? Check current rates HERE.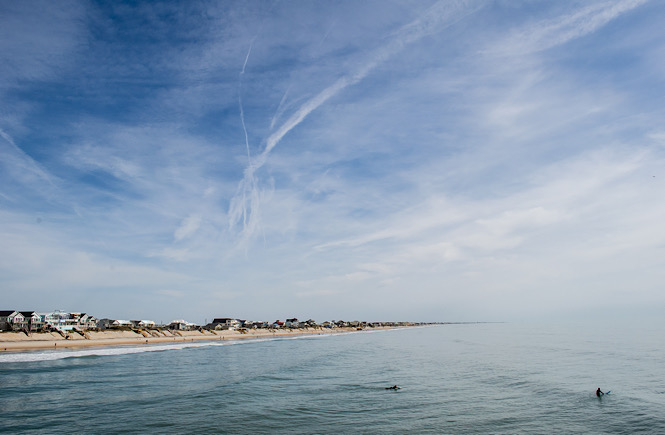 Topsail Island, North Carolina
Topsail Island provides 26 miles of incredible family-friendly ocean views. North Carolina is well known for their barrier island beaches, Topsail is one that promises a small town atmosphere. One of the best things to do on Topsail Island is search for seashells. The shoreline is speckled with shells providing lots of fun for children to search and collect as many unique ones as they can find. It also isn't unusual to find shark teeth along Topsail's shores! Because of it's small town feel, the beaches on Topsail are not as crowded and provide for restful and enjoyable beach time for families.
If you are staying in Topsail, there are plenty of fun activities for families! The Karen Beasley Sea Turtle Rescue and Rehabilitation center is the perfect place to learn about conservation efforts and the importance turtles play in ocean life. After working up an appetite, head to JM's Place for some locally caught seafood to take back to your beach house to cook up. Speaking of beach houses, there are plenty of oceanside or soundside rentals for you to rest your head. Check out Sound n'Sea through Yonder Luxury Rentals for a private house or Main Street Inn for an affordable hotel option.  
Contributed by Christina from NC Tripping
There's more to NC than just beaches!! Check out these other fun North Carolina weekend getaways too!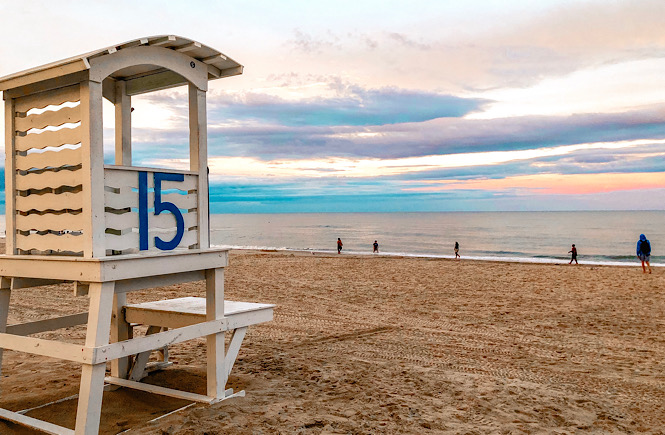 Wilmington, North Carolina
Whether you're looking for a low key quiet beach vacation or a jam packed week full of fun, Wilmington area beaches are one of the best vacation spots on the east coast. Located in the southeast corner of North Carolina between the Atlantic Ocean and the Cape Fear River, there are a ton of family friendly things to do in the Wilmington area. There are three area beaches open to the public: Wrightsville Beach, Kure Beach, and Carolina Beach.
Voted North Carolina's best beach, Wrightsville Beach is a perfect destination for sun seekers, surfers, and families. Start your day by walking or jogging "the Loop", followed by some fun in the sun, and finally finish up by indulging in some of the best fresh seafood at Dockside Waterfront Bar & Grill or The Oceanic.
Know Before You Go: You do have to pay to park and parking can be difficult to find. If you are not staying on Wrightsville Beach, be sure to arrive early! Looking for somewhere to stay? Check out the Holiday Inn Resort Wrightsville Beach.
Looking for some quiet family beach time? Consider renting a house at Kure Beach. Search for that perfect seashell, build an epic sandcastle, or walk for miles on Kure Beach. Once you've had your fill of sun, visit historic Fort Fisher and the NC Aquarium. This is also one of the best spots to watch the sunset in Wilmington!
We've been to a lot of beaches. If you're looking for the best family beaches on the east coast, my family's vote would easily go to Carolina Beach. This is where they've grown up swimming, boogie boarding, surfing, and spending many of their summer days. Parking is generally easy to find, public restrooms and showers are available off Hamlet Ave., and lifeguards man the beach during the summer months.
The Carolina Beach boardwalk amusements are always a hit with kids and the legendary Britt's Donuts are a tradition worth starting. Need somewhere to stay? Check out the Courtyard Carolina Beach Oceanfront. With literally something for everyone, there are a ton of kid friendly things to do in Carolina Beach.
Wilmington is a fantastic North Carolina day trip destination!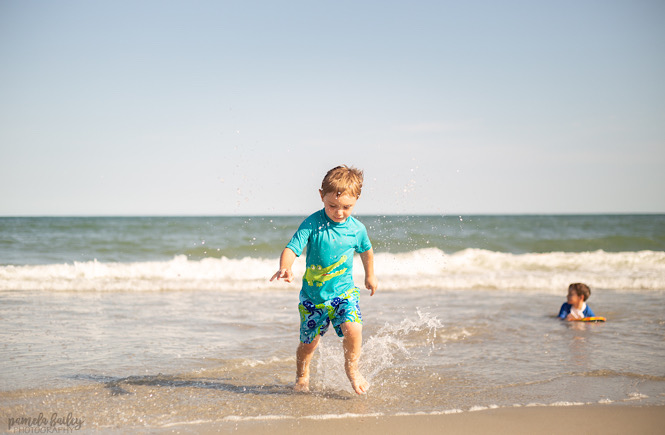 Myrtle Beach, South Carolina
There's a reason people come to Myrtle Beach from all over the US. Because it's one of the best family beaches on the east coast!! Not only are there beautiful beaches with endless opportunities for fun in the sun, but there are so many things to do beyond the beach! Love mini putt putt…don't worry there's a ton of choices. Love shows? Check out Pirate's Voyage or Medieval Times? Love shopping, go karts, water parks and great food? You can find all of those things in Myrtle Beach too! Broadway at the Beach is super fun. My kids always enjoyed the Aquarium and Wonderworks.
Know Before You Go: Myrtle Beach can be overly commercialized…your vacation is what you make it. We have wonderful family vacation memories from just spending days by the beach and pool. Avoid the tourist traps if that's not your thing or visit Myrtle Beach in winter to avoid the crowds.
Looking for somewhere to stay? We think Sheraton Broadway Plantation Resort Villas is one of the best east coast family resorts! Check current rates HERE!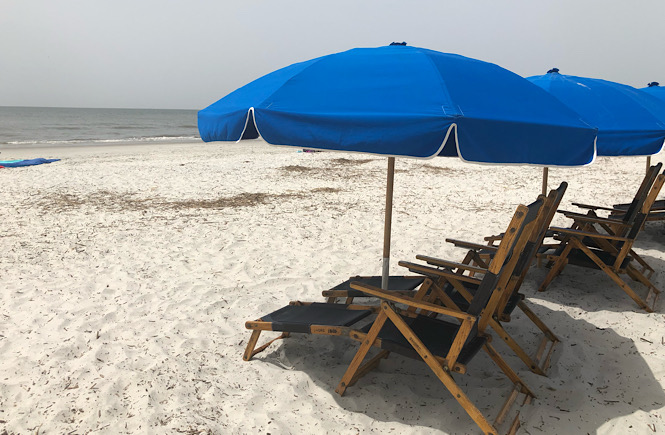 Hilton Head Island, South Carolina
Our family would agree. If you're looking for best family vacations on the east cost for families who love the outdoors, check out Hilton Head, South Carolina. From golf to tennis to miles upon miles of bike trails, Hilton Head is an outdoor lover's paradise. The beaches are fantastic for families with young children because the waves tend to be very gentle. Older kids (like my thrill seeking older child) may like bigger waves but they can spend their time stand up paddle boarding, kayaking, or beach bike riding.
Sea Pines Resort has practically everything you need all in one place- you almost don't even need a car. You can eat at restaurants in Harbortown with amazing water views, go shopping, and climb the iconic lighthouse all in one afternoon. When you've check these fun things to do in Hilton Head off your list, don't worry there's more. Ride horses at Lawton Stables, check out the wildlife (ahem…alligators aplenty!), forest preserves, and make sure to catch at least one epic sunset.
While Hilton Head may be most well known as a golf destination, we feel like it's also one of the best family beaches in South Carolina!
Love a road trip? Hilton Head Island would be a perfect addition to a southeast USA family road trip!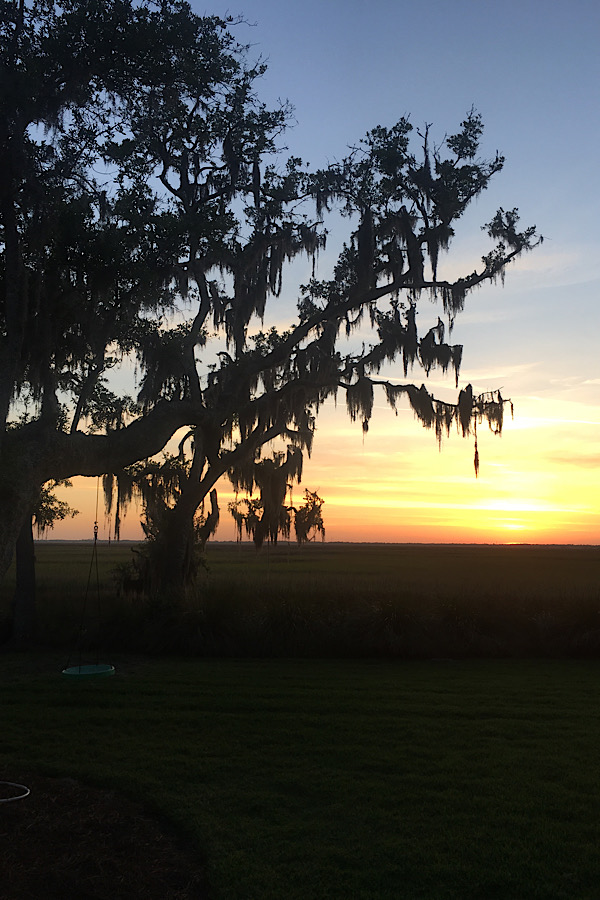 St. Simons Island, Georgia
About an hour south of Savannah and tucked away on the Georgia coast, St. Simons Island Georgia is a perfect place for families to get away, explore the outdoors, and eat some really good food.
Check in to the King & Prince Resort, the only hotel directly on the beach, and with multiple pools, tennis courts, and restaurants, this is the best place for a family vacation. The hotel is on one of the main public beaches and there are lifeguards present from Memorial Day-Labor Day. It is important to be mindful of the warning flag system in place to alert visitors to dangerous conditions. 
Play all day on the beach searching for seashells and watching for dolphins. If your fam loves the water, take a guided sea kayak tour with Southeast Adventures and learn about the beautiful tidal creeks, marshes, and coastal critters in the area. Don't miss the incredible view at the top of the historic St. Simons Lighthouse!  
When you need a break from the sun, rent some bicycles and cruise the miles of dedicated bike paths weaving through ancient oak trees. When you get hungry, get some delicious street tacos at Bubba Garcias in Redfern Village and the best margaritas for Mom and Dad. If you want to try some tasty BBQ, head to Southern Soul for a smorgasbord of smoked meats and Southern sides. When you're ready for dessert, head to The Village for some ice cream at Moo Cow and catch the sunset on the Pier. 
Contributed by Emily from Em's on the Road
You're sure to have a ton of photos from these awesome east coast vacations for families!! Find the perfect adventure caption for Instagram and share on social media!!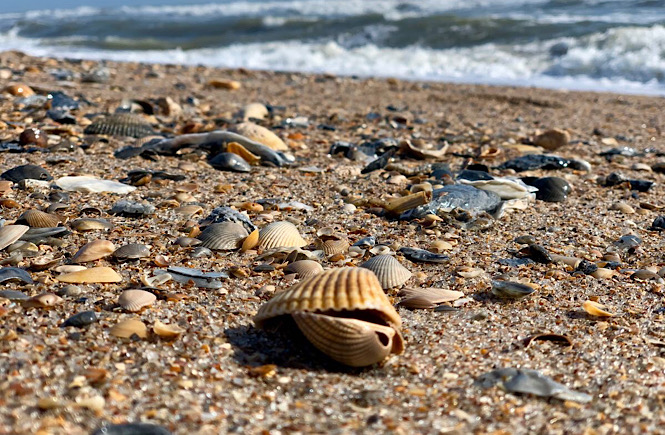 Amelia Island, Florida
Amelia Island is the northeasternmost spot of Florida with 13 miles of beautiful beaches that entice families from all over. 40 beach access points along Amelia Island invite you to have different experiences every day of your Florida vacation. The wide beaches are ideal for play days in the sun but you can also drive on the sand! Main Beach Park is a nice spot to try as they have restroom facilities with showers, picnic areas, play areas, and four lifeguard stands.
Besides the wonderful beaches, things to do in Amelia Island include searching for shark teeth at Fort Clinch State Park (on their three miles of beaches), exploring the oak-canopied bicycle trails, climb the giant driftwood trees at Boneyard Beach, seeing the largest sand dunes in Florida, and hearing and seeing history on guided or self-guided tours. Kids love learning the pirate history and about the seven flags that have flown over Fernandina Beach—one more than the famous amusement parks!
Common Amelia Island lodging choices are vacation home rentals (perfect for larger families) and the two resorts—The Ritz-Carlton Amelia Island and Omni Amelia Island Plantation. The Ritz Kid program is extremely popular, especially during Spring Break and school holidays.
Slider's is a perfect place for families to eat—for fresh seafood, burgers, Sunday brunch or any meal. Children love the playground in the beach sand and parents love the ocean view and relaxing setting. Salt Life Food Shack is another ideal family-friendly restaurant and convenient for Main Street beach visitors.
Contributed by Charles from McCool Travel
BE SURE TO SAVE THESE IDEAS ON THE BEST EAST COAST BEACHES FOR FAMILIES TO YOUR PINTEREST BOARD FOR HELP WITH YOUR FUTURE TRAVEL PLANS!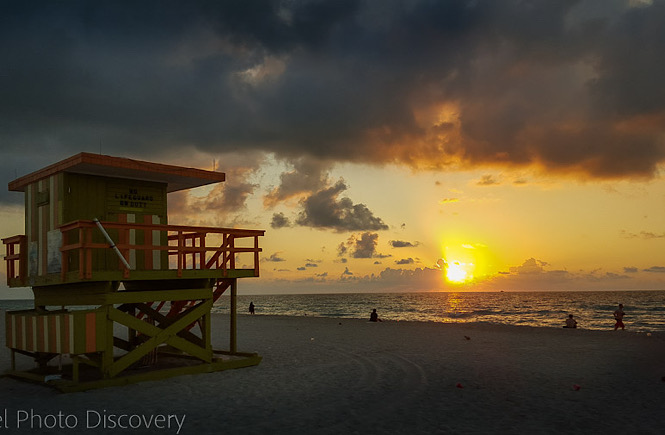 South Beach, Florida
Most people wouldn't think that a beach in Miami would be family friendly but in fact South Beach is a fun kid friendly place to explore and have fun at the beach. During the day time the beach is filled with families and different activities to keep kids happy with bike riding paths on the beach areas, grassy areas and a long wide beach to spread out. If you want to rent water play toys like floaters, boogie boards, surf boards and paddling equipment you can easily find many outfitters on the beach for some family friendly fun. What's really nice about South Beach is that the water is warm and fairly shallow for a distance which is perfect for children. The waves are not to big but do pick up later in the day with the winds so some adult supervision is always required.
Outside of the beach area there's a lot of other family friendly venues with beautiful art deco architecture, outdoor dining venues, visit Espanola way with the Mediterranean promenade and fantastic eating and strolling venues. Head out to South Point park for family friendly walking trails, playground and even Flamingo park with lap pool and water playground along with traditional soccer, tennis, softball and other sports facilities along with gorgeous views of the downtown area and coastlines. You'll enjoy visiting South Beach but make sure to include time to explore all the fun things to do in Miami too!
Contributed by Noel from Travel Photo Discovery
Need a room? Check current rates HERE.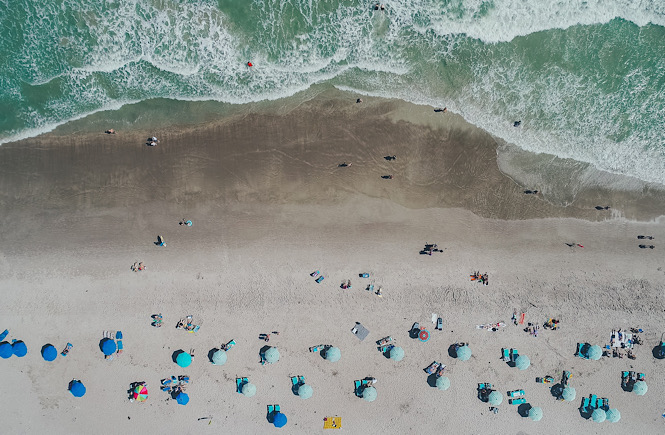 Cocoa Beach, Florida
Cocoa Beach, on Florida's Space Coast, is known for its fine sand, crystal clear water and fun pier which stretches over the ocean.
For kids who want to learn to surf, Cocoa Beach is ideal as the waves are consistently the right height for beginner surfers. Kayak hire is also available and you can take a tour to see manatees, dolphins and tropical birds.
For a bite to eat, take a walk along the historic Cocoa Beach Pier and enjoy a meal at the Atlantic Ocean Grille or one of the other restaurants on the pier.
Located on Cape Canaveral, Cocoa Beach is the perfect place for families to visit before taking a cruise from the nearby cruise terminal at Port Canaveral. The Kennedy Space Center is also nearby, or teens will love Cocoa Beach Skate Park which has a nice grassy area for parents to spectate.
For somewhere to stay, you can't go wrong with the Best Western Cocoa Beach Hotel which backs right on to the beach.
Contributed by Jenni from Cruise Mummy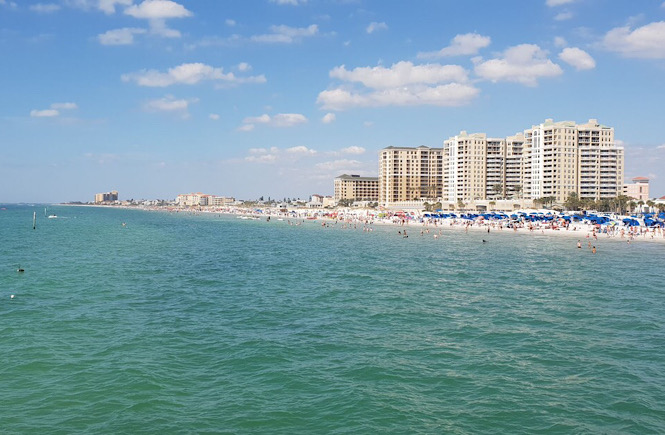 Clearwater Beach, Florida
When it comes to amazing beaches in the USA, Clearwater Beach sets the standard. 
Located about 30 minutes drive from St Petersburg and Tampa, Clearwater Beach was voted best beach in the continental USA in 2019. It's the perfect place to go with kids. 
The beach is 2.5 miles long which means that you will get plenty of space! The sand is white and the waters clear and shallow. You can walk with your little ones in the water, enjoying the small waves. There are many umbrellas and pop-up tents available for hire, making it very easy to make sure everybody stays in the shade. The beach is guarded every day of the year. There are several towers along the beach.
You can also go for a short walk on the promenade. There are many restaurants and ice-cream parlours there. Perfect for a refreshing break! You can also get take away food and enjoy a picnic on the beach. 
Finally, you can head to Pier 60. From there you will get wonderful views of Clearwater Beach, especially at sunset. You get to enjoy the view, your kids get to enjoy the beautiful dolphin statues. (It's also a very good photo spot!.) Clearwater Beach is sure to be one of your favorite east coast family vacation destinations!
Contributed by Pauline from Bee Loved City.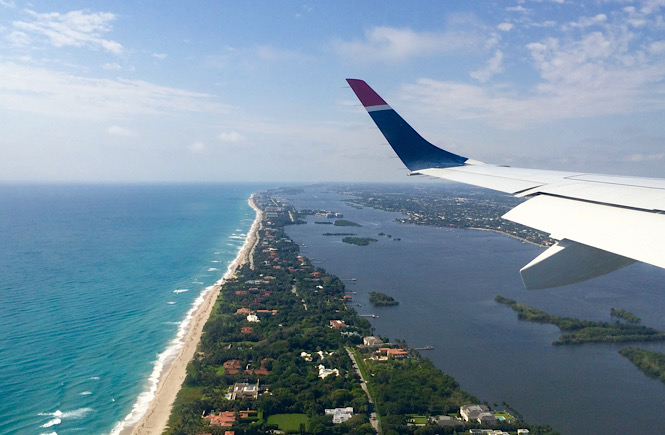 West Palm Beach, Florida
West Palm Beach is famous for the celebrities who come here to play, it's beautiful luxury hotels, and, of course, its wonderful beaches! These Atlantic beaches have warmer water than you'll find up north, and they're great for swimming. You can also try water sports like parasailing and surfing.
When you want a break from the beach, head to the Henry Morrison Flagler Museum, an absolute gem of an art museum located in Whitehall Mansion, a 75-room Gilded Age marvel. Come for the art and stay for the breathtaking American architecture.
You will also want to spend some time walking West Palm's beautiful Art Deco in the town center as well as the Pineapple Grove Arts District. 
If you feel like springing for a bit of luxury, you really can't beat a stay at the 5-star Four Seasons! Though if you choose not to stay here, you can still enjoy a lunch at the hotel restaurant Seaway and enjoy gorgeous ocean views. 
To get to West Palm Beach, you can fly into Palm Beach International Airport and take a taxi or you can fly into Miami. The drive from Miami International Airport to West Palm Beach is just over an hour and you can easily rent a car in Miami at the airport.
Contributed by Stephanie from History Fangirl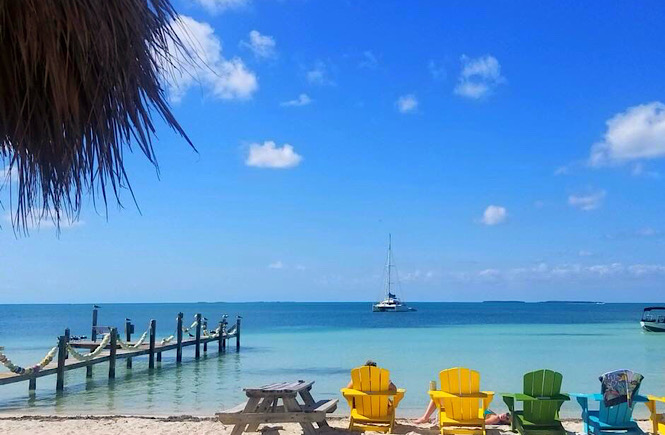 Islamorada, Florida
Islamorada, Florida is a laid back, family-friendly beach destination that's perfect if you're visiting the Florida Keys with kids. It's made up of several small islands, spanning from Plantation Key in the northern part to Lower Matecumbe Key in the south.  While the Florida Keys aren't necessarily known for their white, sandy beaches, there's a large public beach called Anne's Beach that's frequented by locals and tourists alike. Anne's beach includes bathroom facilities, a small boardwalk and covered picnic tables that were recently rebuilt after hurricane Irma. Given how shallow and calm the waters are, there are no lifeguards on duty at Anne's Beach.  
One thing that makes Islamorada unique compared to other parts of Florida is that most of the beaches are found at either private residences or beachfront resorts. Be sure to consider this as you search for a place to stay in Islamorada.  You'll find several house rentals available for one month or more. One week rentals in Islamorada require a little more digging as they require a special permit. There are also several great beachfront resorts in Islamorada, and Cheeca Lodge is popular for both families and couples. 
Islamorada is known for its casual, waterfront restaurants with fresh seafood caught daily. Some of the best places to eat in Islamorada include Morada Bay, Lorelei's and Lazy Dayz. Looking for things to do in Islamorada in addition to the beach? Theater of the Seas, tarpon feeding at Robbie's and deep sea fishing are among the most popular family-friendly things to do during an Islamorada vacation. 
Contributed by Amanda from Toddling Traveler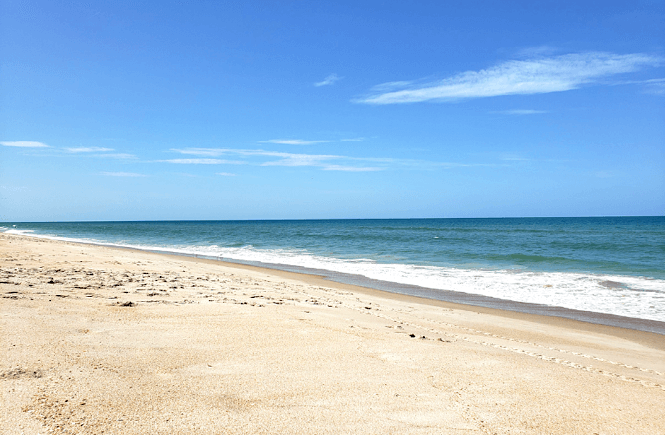 Titusville, Florida
Along Florida's Space Coast is the city of Titusville. Just off the coast on Merritt Island you can find Canaveral National Seashore. This park has the longest stretch of undeveloped beach in Florida; 24 miles of sand without any restaurants, shops, or condos.
The shore is actually divided into three beaches: Playalinda Beach to the south, Klondike Beach in the middle, and Apollo Beach to the north. Playalinda is the easiest to get to from downtown Titusville. This family friendly beach has plenty of parking lots and bathrooms at each parking lot, although there are no showers. Apollo Beach is further away, so although it will take you longer to get there, it will mean less crowds. Klondike Beach is inaccessible, unless you get a permit, because there are no kinds of services out there.
Nearby, you should also take your family to Kennedy Space Center and the Merritt Island National Wildlife Refuge. Kids will enjoy learning about the history of space and also seeing the natural side of Florida. If you get hungry after your day at the beach, head over to Pier 220. Located right on the water with great views of the Intracoastal Waterway, this is one of the many great seafood restaurants in Titusville. A couple of hotels in Titusville you could stay in are the Fairfield by Marriott Titusville Kennedy Space Center or the TownePlace Suites by Marriott Titusville Kennedy Space Center.
Contributed by Vicky from Buddy The Traveling Monkey
"Life is better at the beach."
Where is the best family vacation on the east coast that you've ever taken? For us, our best family memories almost all include some sort of beach.
Which of these kid friendly beaches would you choose to visit first? Have I left any amazing east coast beaches off the list? Tell me in the comments below!