Visiting New York City
Planning Perspectives
You could go to NYC ten different times and literally have ten totally different experiences. I remember the first time I visited NYC, I hit most of the big tourist areas and I went home feeling a little disappointed. But honestly, NYC isn't just a city…it's a little world inside itself. I knew my return trips needed to be planned from a more local perspective. For me, I like to try to find a good mix of one or two major tourist attractions and the rest of the time shoot for a more local vibe.
Girls Weekend NYC!
This past Fall, I went to NYC with four of my college girlfriends to celebrate one of our upcoming 40th birthdays. We had all been before, so we were looking for a more local experience which is why we decided to go with an AirBnb (This is my personal referral link for $40 travel credit off your first stay…if you've never stayed at an AirBnb before- Here are eight reasons why you should try AirBnB)! It was a great experience overall…but I spent a ridiculous amount of time searching for a clean and safe place for us to stay. We were looking to stay in the SoHo, Tribeca, or West Village neighborhoods, but accommodations in these areas can be astronomical! We found a great little two-bedroom apartment in SoHo, nothing fancy, but it was perfect for what we were looking for.
(Side Note: everything in NYC is small spaces…small restaurants, bars, stores, bathrooms, apartments. Space in general is at a premium.)
If you're trying to determine where to stay in New York City, make sure to do your research before you go! It can really make a difference in your NYC experience!
Where We Ate in New York City: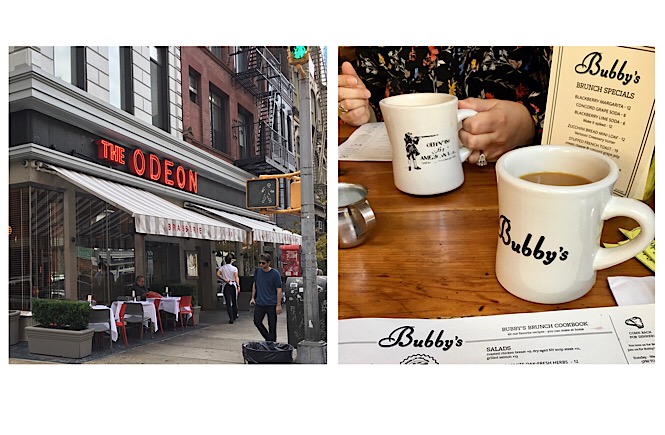 Hudson Clearwater– Local hotspot with new American cuisine…lovely seasonal salads, seafood, steak, pasta and my personal favorite…the gnocchi, oh and a great wine list…Get reservations!
Ballaboosta– Mediterranean fare…a lovely little lunch spot, but we did have to wait about 30 minutes at 2 pm on a Saturday. We ordered off the brunch menu…everything was so flavorful but my favorite was the labne on the Mediterranean Sampler. I feel like labne is one of those items I'd never heard of and then all of a sudden it was everywhere…really doesn't matter…because it's delish!!
Bubby's– We had brunch here on a Monday…we walked past this place several times over the weekend and they always had a line out the door…they do serve breakfast everyday until 4 pm! They try to source everything local which I love. I ordered the Bubby's breakfast which consisted of two eggs, bacon, home fries, and sourdough toast. Pretty classic I know but the homemade jam was the sweet little treat I didn't expect!
The Odeon– Considered a NYC classic, we had Sunday brunch reservations and I would highly recommend eating here. Everything was so yum…pancakes, croquet monsieur, omelets, and avocado toast. (Side Note: Although I did not have my kids with me…there were quite a few families in the restaurant.)
Where to Drink in New York City: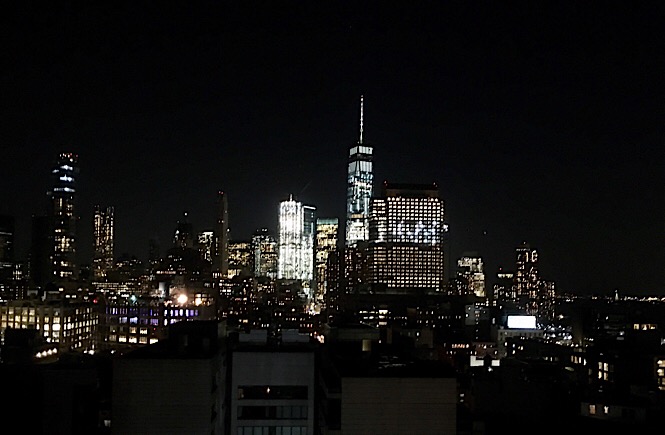 Lela Bar– A super cute little wine bar, not too fancy but a great neighborhood hangout. Not a touristy vibe at all and they had a fantastic charcuterie board- Bonus!
The Sky Terrace– Hudson Hotel Rooftop Bar- amazing views of the city and reasonably priced cocktails.
The Ear Inn– one of the oldest bars in NYC full of history. We actually ate dinner here too…the burgers and the cocktails were perfection!
What to do for a Girls Weekend in New York City:
Shopping in New York City
I love little boutiques…I don't want to shop at the big box stores I can shop at at home. Mulberry, Brooke, and Spring Streets were just what I was looking for!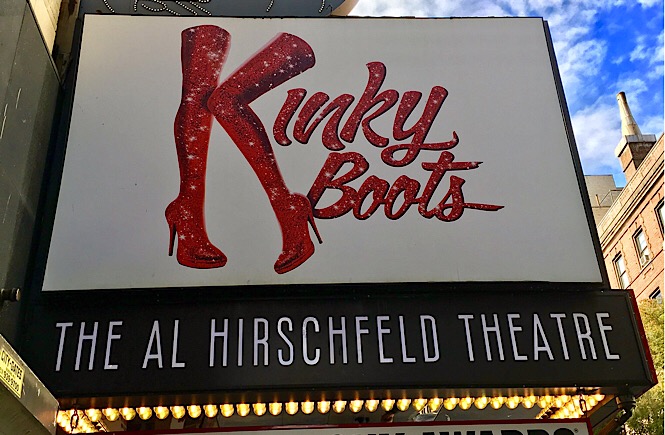 See a Show on Broadway
Now this is in the middle of the action and may seem like an obvious choice but you just can't see talent like this anywhere. We happened to see Kinky Boots which was phenomenal-and what a great message!!! Can't recommend it enough!!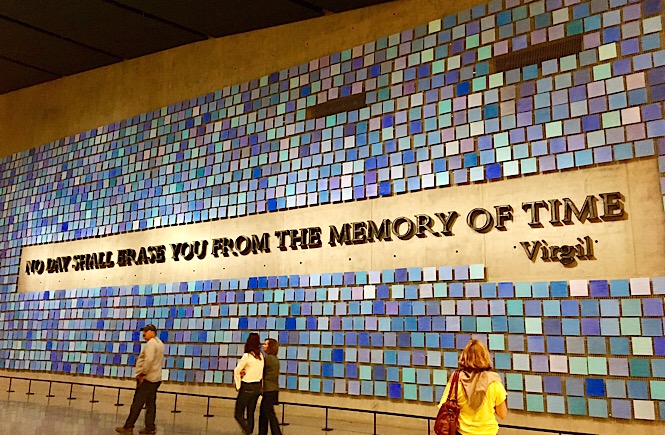 Visit the 9/11 Museum
Again this may be an obvious choice but it can not be missed. I'd recommend getting your tickets in advance online. Even if it's the morning of or day before, lines can get pretty long especially on the weekends. This is an event that most of us can remember, and it was probably one of the highlights of the trip, but it definitely puts you on emotional overload. For more details, be sure to check out my post on our visit the World Trade Center Memorial and 9/11 Museum.
The Highline in New York City
It seems like The Highline is one of the trendier spots to roam…a public park running from the Meatpacking District along the river to West 34th Street offering free events, activities, and just a great way to get outside in the city.
The MET
Visit one of the world's largest art museums! We popped in for a quick visit and didn't nearly see enough! For more info, check out this awesome guide to the 1st floor of the Metropolitan Museum of Art!
**For a few less touristy things to do, check out these off the beaten path locations in New York City!
How to Get Around New York City:
We ended up using a wide variety of transportation to get around: taxi, Uber, subway, and our trusty feet. Google maps is the bomb! But beware it uses so much of your phone battery. Try putting your phone in airplane mode when you're not using it to save battery or carry an extra charger.
The subway in NYC intimidates me. I don't know why it confuses me when I've been perfectly fine in other major cities on their subways. Anyhow, my advice if you're like me is to try it when you're not on a timeline (that lessens the pressure of messing up)! And google maps will even tell you which lines to take if you enter in your destination- just choose the little subway icon instead of the car.
But, there's no better way to see and experience the city other than walking…so be sure to bring some comfy shoes! One thing I also learned on this trip is to enter your destination when taking a taxi. We had a driver try to drive us around a little to increase his fare until I questioned what he was doing…he did offer to lessen the fare after that but seriously, not cool dude!
All in all, I love NYC!
Aside from the bars, you could do this weekend with your family or even as a couple's getaway. There's so much more to discover of NYC and I can't wait to go back!! If you have any "must- do's" or "must-eats" please share and let me know what y'all think!
SAVE & PIN FOR LATER!!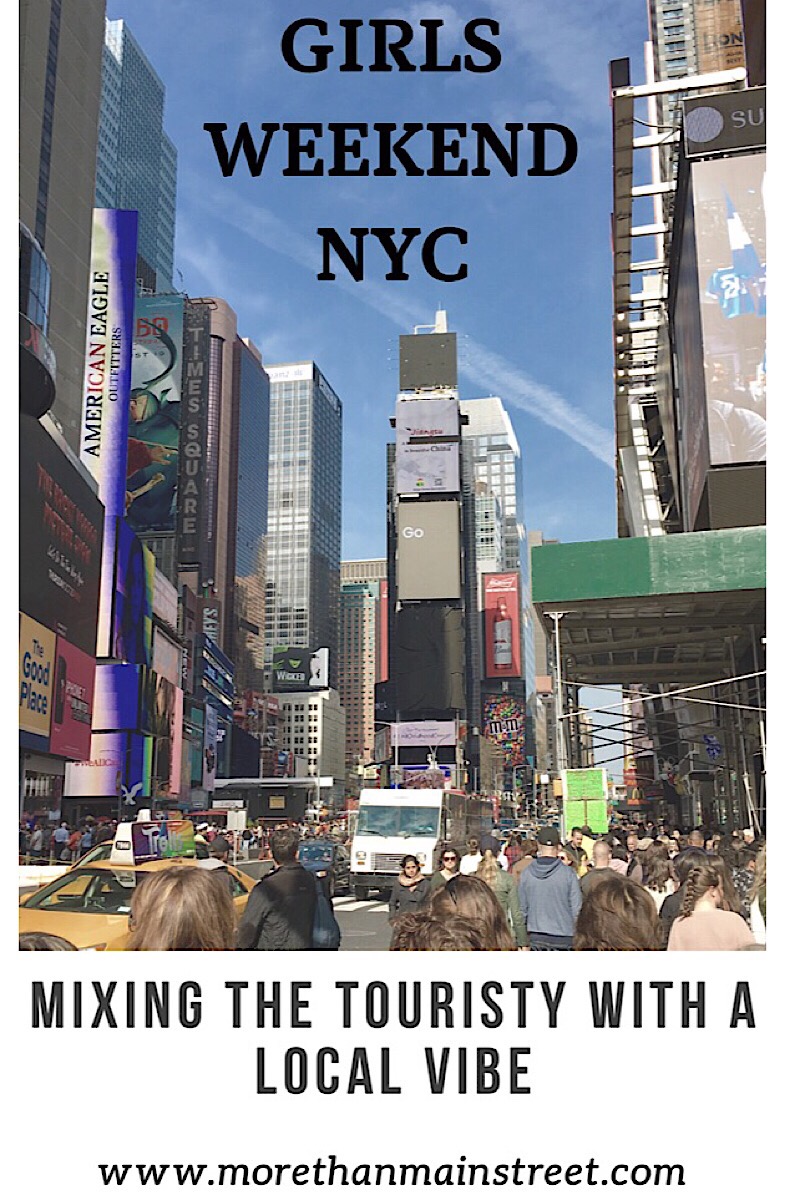 Don't forget to Subscribe! And Thanks!!