Bryce Canyon Glamping or Conestoga Wagon Camping?
Me: We're going to stay in a covered wagon.
Kids: What did you just say?
Me: Glamping in Bryce Canyon. In a covered wagon (or technically a conestoga wagon).
Kids: (Screaming) Dad… did you agree to this?? Mom's making us stay in some kind of wagon!
Me: Just trust me. It will either be your favorite night of the trip…or you'll hate it. Either way, you'll remember it!
Glamping, camping, covered wagon, conestoga wagon…whatever you want to call it…it's happening!
This post contains affiliate links which means I could earn a small commission, if you make a purchase, at no additional cost to you. As an Amazon Associate, I earn from qualifying purchases. For more information, read my full Disclosure HERE.
Glamping in Bryce Canyon: How this All Came About
Anyone who knows me, knows that I'm not into camping. Which in turn means my family is not really into camping. It's not necessarily that they don't like it, it's that they've never done it. And sometimes the unknown is scary. But glamping…now that's something I was willing to try.
I was searching for somewhere to stay on our southwest road trip. We would be in Utah at Bryce Canyon National Park for the afternoon and then heading to Zion National Park the following day. I wasn't finding a ton of hotels near Bryce Canyon so I started looking through VRBO and AirBnb.
Enter Whispering Pines Glamping Resort.
Once I started looking through the photos I became very intrigued. There was plenty of room for our family of four. It was in a great location right in between Zion National Park and Bryce Canyon National Park. All the reviews were great and it was super affordable!
I called my husband. We discussed briefly and booked it! What the heck…it was only one night. We ended up wishing it was more!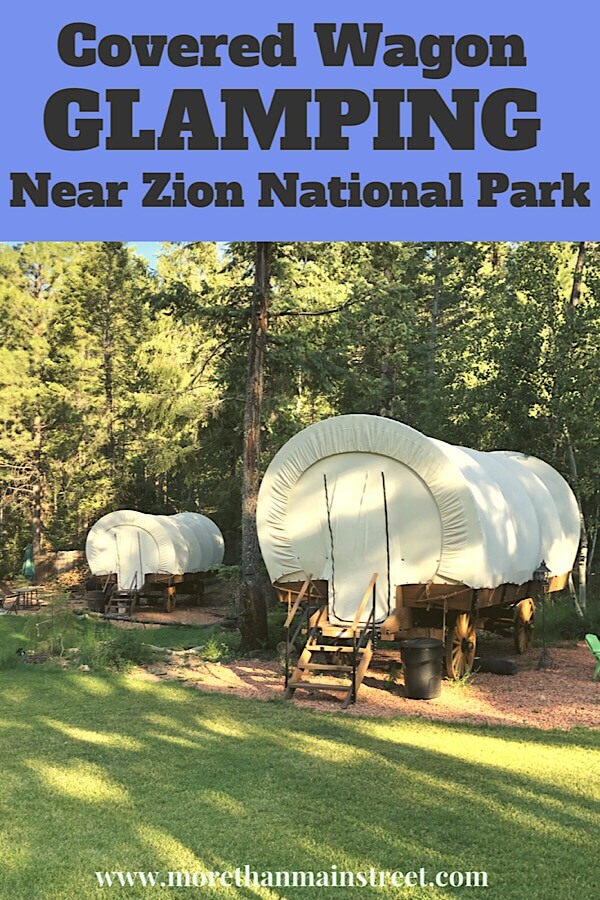 Whispering Pines Bryce Canyon Glamping Resort
The Conestoga Wagon
Located in Kane County, Utah, Whispering Pines Glamping Resort is about halfway between Zion National Park and Bryce Canyon National Park. If you're visiting either National Park in southern Utah, we think this is a great/ unique option for your accommodations.
There are four conestoga wagons currently set up and a bath house at Whispering Pines. We stayed in Wagon #1 with a king sized bed and two bunk beds. The wagon was actually quite spacious. They provided everything we needed and more! There is a mini fridge, microwave, coffee pot and coffee supplies, a small chair, and bench. One tiny detail we really appreciated was the huge jug of fresh water. We'd been traveling with our refillable water bottles so that was really nice to have the next morning before we left. Oh and plenty of outlets…that was a helpful touch too!
Being from the east coast of the USA, we were concerned that we would need air conditioning. We were totally wrong! The temperatures got down to 45 degrees Fahrenheit at night in the month of July! We used the heated blankets they provided on each bed and boy were we thankful for them! They did have a small propane heater in the wagon but we decided we'd be fine without it.
There is no running water in the covered wagons. There is a bathhouse about fifty feet from the wagons. Each wagon gets their own private full bathroom – that is heated! The bathrooms were really nice! And clean! They provided towels, soap, shampoo/conditioner, and even a hair dryer. I had originally not planned to wash my hair that morning thinking I'd really not want to shower outside of "our room." But the bathroom (and water pressure) were actually better than a couple of the hotels we stayed in!
Each campsite has it's own fire-pit, chairs, picnic table, trash can, and hammock right next to the wagon. We were the only ones staying at the wagons that particular night but I felt like they were spaced out enough you would have plenty of privacy. Each wagon had it's own parking space too.
The resort itself has quite a few amenities too! They had a common area with chairs, hammocks, and a fire pit. There is also a trampoline, horseshoe pit, huge grassy lawn with a volleyball net, basketball goal, and an adorable little fairy tree house and trail. They have a lovely waterfall feature they have set up as well.
The owners live in a cabin onsite and stopped to check on us not long after we arrived. They had sent us an email with instructions prior to our arrival and the cabin was open when we arrived. There was a key to the bathroom inside the cabin with other information for our stay. All in all, it was a very easy check-in/ check-out process.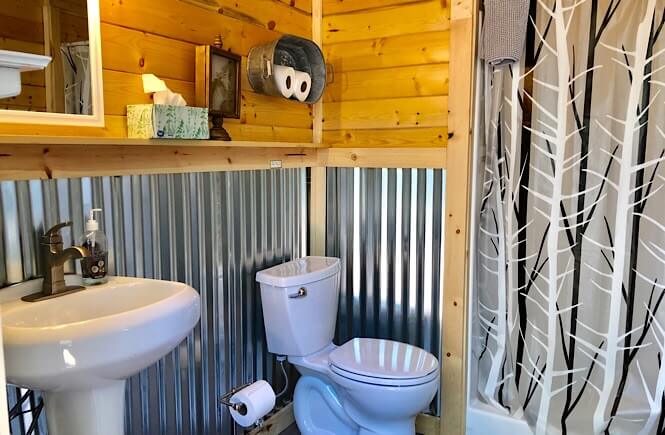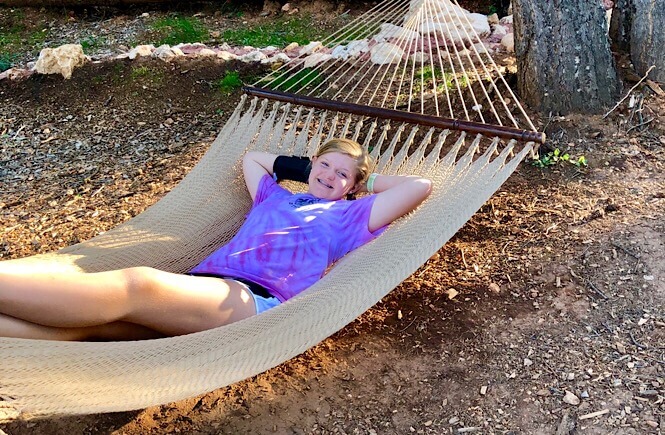 Conestoga Wagon Camping: What about Food?
Because we were only staying at Whispering Pines one night, we only had two meals at the wagon.We also wanted to make sure we arrived before dark (although it didn't even get dark until 9 pm) and had time to explore and enjoy our time at the wagon and resort.
We ended up picking up a pizza, wings, and a salad from a restaurant in the tiny town of Hatch, only about 15 minutes away. It was a perfect solution. We really didn't want to have to go back out to get any supplies or food once we arrived. As we were leaving Bryce Canyon National Park, we bought s'mores supplies at The General Store in hopes we could make them. Probably the most expensive s'mores of our life, but oh so worth it! Whispering Pines also happened to provide the metal rods for roasting marshmallows! YAY!! We also brought breakfast items with us for the next morning.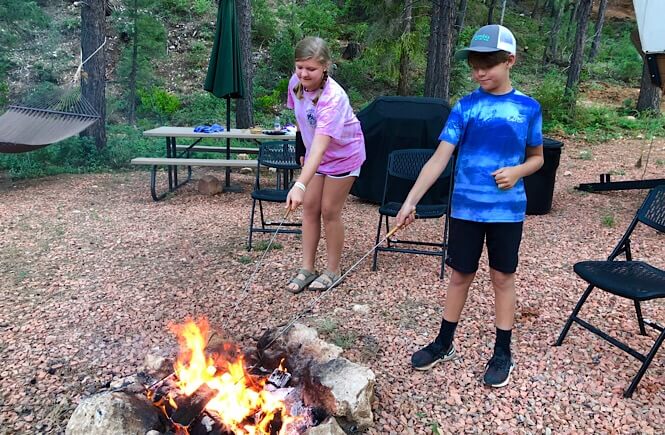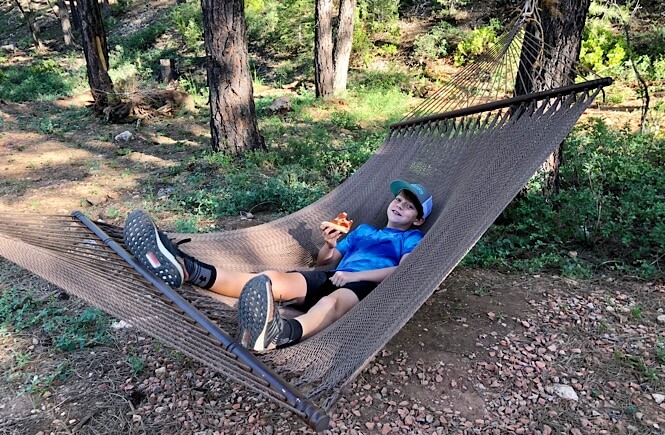 Why we Loved Bryce Canyon Glamping!
We absolutely loved glamping in Utah. It truly is an experience we'll never forget. We were able to really disconnect (there is no WiFi and we didn't have cell service) and do things we wouldn't typically do. My son loved building a fire with his father. We all loved sitting around the campfire in the evening and just being together with no agenda. Exploring the area, listening to the sounds of nature around us, and making s'mores are priceless memories that I am so grateful for!
We can't wait to do it again!
Tips for First Time Conestoga Wagon Camping at Whispering Pines
Prepare ahead of time…it's fairly remote.
There is no WiFi (yet). We also did not have any cell service through Verizon.
Print or screenshot your directions before you get there.
Prepare for your meals ahead of time.
Arrive before dark. In July it wasn't dark until 9 pm, but it would have been difficult to get ourselves settled in the dark. Plus then you can't enjoy the "resort".
We did not need bug spray in the evenings which was a huge bonus for our family!
It's about 40 minutes to Zion National Park and about 40 minutes to Bryce Canyon National Park.
Plan for cooler weather even in the summer- we all wore long sleeves in the evening and first thing in the morning.
Do prepare for walking outdoors to the bath house (but it truthfully wasn't that bad).
If you're looking for unique places to stay near Zion National Park, you should absolutely add Whispering Pines to your list of places to consider! Bryce Canyon glamping was a super fun experience and one our family truly loved.
Read about the rest of our road trip through Utah and Arizona: what we did, where we stayed, National Parks, hiking, the great outdoors, and more! You can find a little more road trip inspiration from these six Southwest USA road trips!
So…tell me, would you try glamping in a covered wagon?