Visiting Zion National Park
Only have one day in Zion National Park? Wondering what to do and see in Zion?
I can promise you you're going to wish you had more than just one day in Zion National Park, but sometimes, you have to make the most of the time you have available!
And you can pack a pretty good punch in just one day!
Zion National Park, located in the southwest corner of Utah, is a short 2.5 hour drive from Las Vegas, Nevada. Utah's first National Park and the fourth most popular National Park in the USA is definitely deserving of a place on your bucket list. In fact, I'm willing to bet it might just end up being one of your favorite National Parks! It certainly is one of mine!
Zion National Park is the perfect addition to a southwestern USA road trip. Read our Utah Arizona itinerary and grab our road trip essentials checklist too!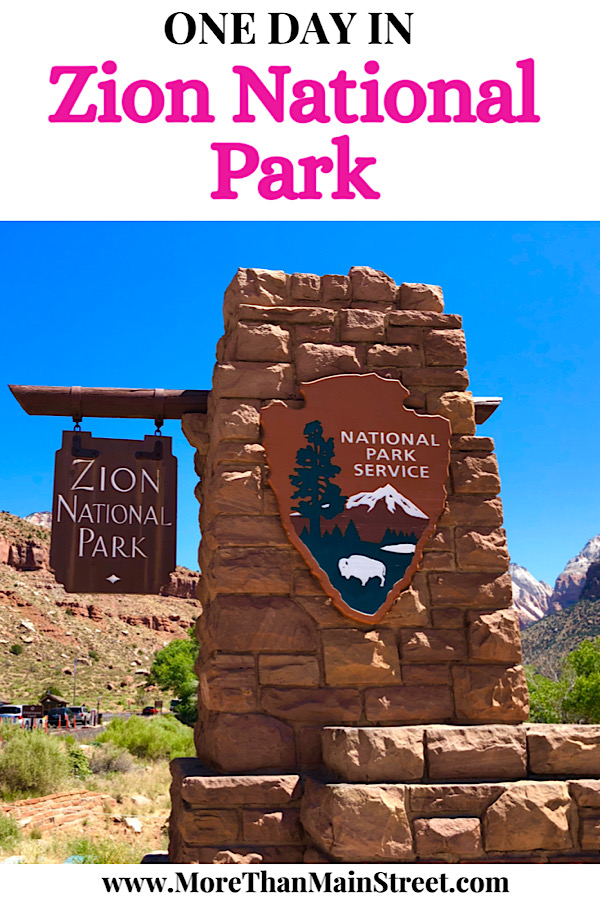 Zion National Park Hours
Zion National Park is open 24 hours a day. Facility and services hours vary depending on the season. At the time of our visit in July, the park facilities (store, museums, etc) were open from 8 am to 7 pm. Check the Zion National Park website for current hours of operation.
How Much Does Zion Cost?
My first recommendation is to get an annual National Park pass if you plan to visit more than one National Park in a year. With it's proximity to Bryce Canyon National Park, Arches National Park, and Grand Canyon National Park…it totally makes sense to do more than one park during your trip if you can swing it!
But, if you're only planning 1 day in Zion National Park, the cost is:
$35 per vehicle
$30 per motorcycle
$20 per person (bicyclists, pedestrians, and organized groups)
Active Duty Military- Free!
Zion Annual Pass – $50
If you have a 4th grader in your family, make sure to grab up your Every Kid Outdoors pass which grants not only the student but their families free entry to most national parks!
All park fees are valid for seven days.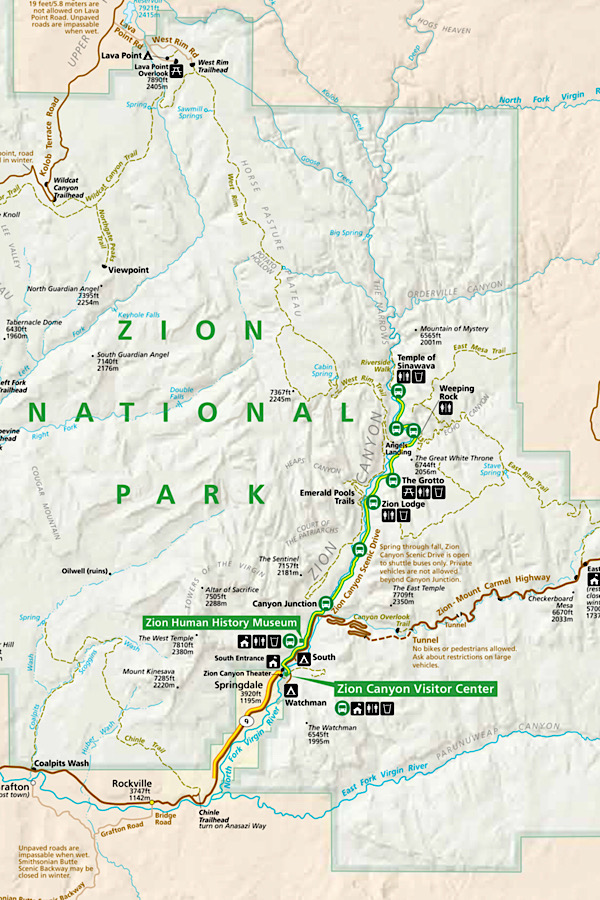 Zion National Park Map
Maps of Zion National Park can be picked up upon entry to the park or online at the official national parks website.
One Day Zion National Park Itinerary: Best Things to Do and See!
My recommended Zion National Park 1 Day Itinerary:
Enter Zion through the East entrance, drive the Zion Mt. Carmel Highway.
Pop in the Visitor's Center to check on current conditions.
Grab the shuttle to the Human History Museum and check out views of the Towers of the Virgin and Bridge Mountain.
Get back on the shuttle and go to the last stop: Temple of Sinawava.
Do the Riverside Walk Hike, and if conditions allow, do part of the Narrows day hike! Alternately if you're up for a challenge and don't mind heights, Angel's Landing is a difficult yet bucket list worthy hike!
Take the shuttle to the Lodge for a late lunch and a small break.
Hike either Weeping Rock or Lower Emerald Pools Trail…if you have time and energy, do both!
Make sure to practice Leave No Trace principles!
Say Goodbye to Zion and grab dinner in the nearby town of Springdale, Utah. Rosita's Santa Fe Kitchen was a quick and delicious end to our day!
Where to Stay at Zion?
There are many hotels and places to stay near Zion National Park in the nearby town of Springdale, Utah. We stayed a few miles further down the road in Virgin, Utah at the Fairfield Inn & Suites Virgin Zion National Park. (The hotel had a great laundry facility, awesome pool, and the rooms had 2 king sized beds!!) The night before our visit we tried something totally out of our comfort zone: glamping in a covered wagon! (Spoiler Alert: we loved it!!)
If you're looking to stay inside the park, you can choose from a room at The Lodge or good old fashioned camping! Plan as far in advance as possible, these options for where to stay at Zion National Park go fast!
Top 3 Things to Do if You Only Have One Day in Zion National Park
As I stated before, one day is certainly not enough time to see all of Zion's majestic glory! But…you can certainly still have an epic family adventure in just one day!
During our last visit we actually spent two half days in the park. We arrived around noon on day one and did the Narrows day hike after a short stop at the Visitor's Center. The following day we did Pa'rus Trail, the Human History Museum, Weeping Rock, and Lower Emerald Pools all by noon.
The time of year in which you visit will probably dictate some if not all of what you decide to do during your visit to Zion National Park.
What is the best time of year to visit Zion National Park? Zion is absolutely breath taking any time of year! The most popular months to visit are April through October and you should expect crowds to be higher. Late summer and fall are probably the best time of year to visit for hiking. Spring run off tends to affect some hiking often causing closures of some trails. Bottom line: there is no bad time to visit Zion National Park.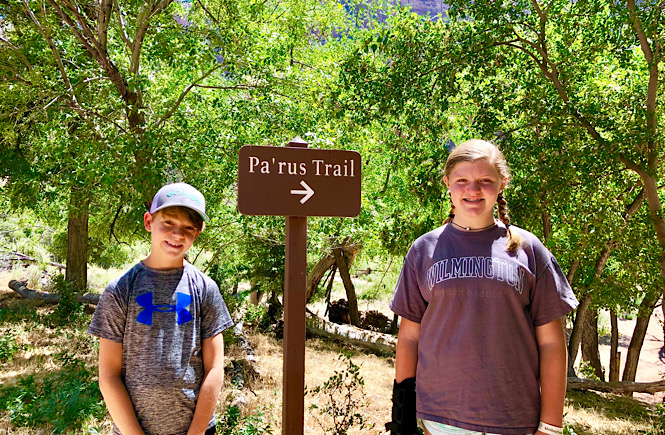 Here are my top 3 three things to do if you only have one day in Zion National Park:
1. Learn about Zion National Park.
Start your day at the Visitor's Center. Each day they have posted any trail closures, weather issues, and other important information for your the day of your visit. Rockfall and flash flooding are normal occurrences at Zion and will affect your daily plans.
PRO TIP: After you've evaluated the daily conditions, make a plan for the day. But, always have a plan B!
Before you head out on your Zion adventure, check out the Human History Museum. (You can either walk the Pa'rus Trail, drive your own vehicle, or take the shuttle to get there.) We love to watch the National Park films as they are typically well done and give you a greater appreciation and understanding of the history of the parks. The Zion orientation film takes approximately 22 minutes and is very informative. Make sure to walk outside before you leave to fill up your water bottle at the water refill station and for epic views of the Towers of the Virgin and Bridge Mountain.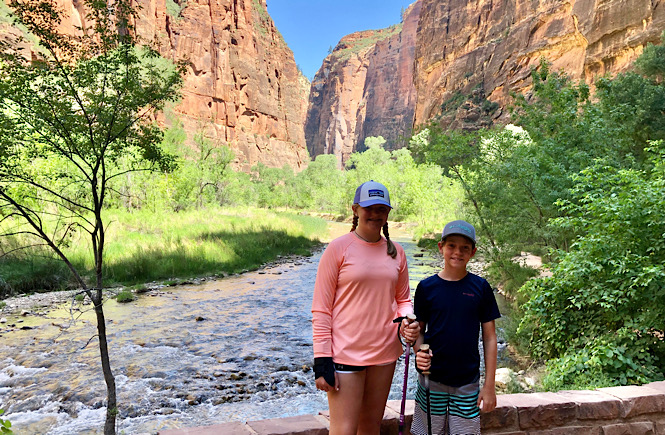 2. Drive the Entire Park.
Take time to see most of the park! During our Utah road trip, we entered Zion from the east entrance, coming in on the Zion Mt. Carmel Highway. The jaw dropping scenery begins from the very start while traveling the famous switchbacks and you'll pass through the historic Zion Mt. Carmel tunnel. Stop for a few photo opps and don't miss the very unique checkerboard mesa! Next take the shuttle or drive the scenic drive portion of the park.
KNOW BEFORE YOU GO: This area can get quite busy so be prepared for slow going traffic.
How to Get Around Zion National Park
The time of year in which you visit Zion National Park will determine how you will be able to drive the entire park. During most winter months you can drive your own vehicle through Zion. The shuttle starts running on weekends in February and daily in March. It takes around 50 minutes to ride the shuttle from the Visitor's Center to the last stop, The Temple of Sinawava. The audio tour on the shuttle provides a little more information on the history of each stop and geological background and explanations.
When the shuttle is running you CANNOT drive your own vehicle throughout the main canyon of Zion National Park. You must take the shuttle.
Parking at the Visitor's Center does fill up during busy months. There is parking and shuttle service available in the town of Springdale, just outside the park.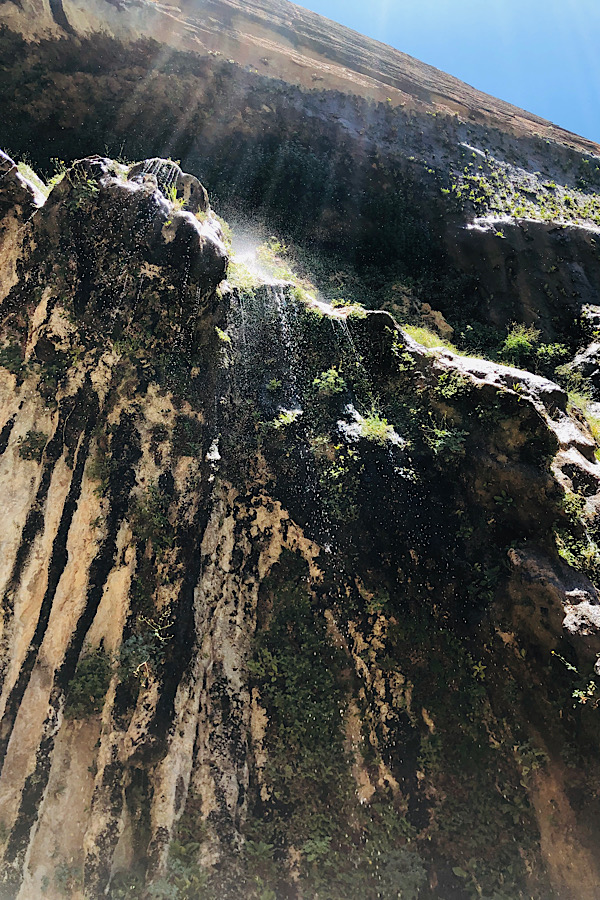 3. Zion National Park Hikes.
What are the best trails in Zion National Park? No one day itinerary for Zion National Park would be complete without a little hiking!
There are six different "easy" hikes at Zion:
*Riverside Walk – 2.2 miles round rip (entrance to the Narrows)
*Weeping Rock Trail – 0.4 miles round trip but VERY steep (temporarily closed at the time of this post due to rockfall)
*Lower Emerald Pool Trail – 1.2 miles round trip and moderately steep. KNOW BEFORE YOU GO: The waterfall flow varies at different times of the year- my son said it was the saddest waterfall he'd ever seen when we visited. LOL.
Pa'rus Trail – 3.5 miles round trip (we just did this one way!)
Archeology Trail – 0.4 miles round trip short but steep
The Grotto Trail – 1.0 miles round trip connect the Zion Lodge to the Grotto
(*Starred hikes were our personal favorites!)
The first four hikes were paved, but you still may have some difficulty with a wheelchair or stroller. The Pa'rus trail is probably the best accessible trail but is completely exposed to the sun.
PRO TIP: I don't necessarily consider myself good at hiking. We saw people of all shapes, sizes, and ages doing these hikes. While we may not have been the fastest or best at these hikes, I have to say I was proud of myself for completing them. (Side note: It was over 100 degrees during our visit in July!!)
There are five different moderate trails at Zion National Park:
Watchman Trail – 3.3 miles round trip
Sand Bench Trail – 7.6 miles round trip
Upper Emerald Trail Pool – 1.0 miles round trip
Kayenta Trail – 2.0 miles round trip
Canyon Overlook Trail – 1.0 round trip
There are four different difficult trails at Zion National Park:
*Angel's Landing – 5.4 miles round trip (I personally have not done this hike but my brother says it's the best hike in the United States…and he's a big hiker!)
Hidden Canyon – 2.5 miles round trip
Observation Point – 8.0 miles round trip
*The Narrows – 14.0 miles round trip.
* Although both starred hikes are "difficult" they should be considered no matter what you consider your hiking level. Both hikes can be partially done so that you can experience the hike to fit your ability level.
Considering hiking the Narrows? My recommendation: Do it!!! Seriously, it's one of the coolest things we've ever done! Read my first timers guide to hiking the Narrows for everything you need to know before you go!
PRO TIP: If you're an early riser or a night owl, definitely consider catching the sunrise, sunset, or starry dark skies at Zion! Some of the best sunrise spots at Zion National Park are Canyon Overlook Trail or the Human History Museum viewpoints. One of the most amazing sunset hikes at Zion National Park is the Watchman Trail!
Tips on Visiting Zion National Park in a Day
I know I've said it before, but I'll say it one last time for good measure. LOL. You're going to want more than one day in Zion. Not only are there are endless incredible things to do inside the park, but there are a ton of fun things to do near Zion too!
Zion National Park is actually divided into three different sections: The Main Canyon, the Upper East Canyon, and Kolob Canyon. For just 1 day in Zion, I recommend focusing mainly on the Main Canyon.
Stay hydrated! Bring a reusable water bottle. There are water refill stations throughout the park.
Wear good hiking shoes!
Bring snacks- snacks are always a good idea!
Wear sunscreen and consider wearing a hat!
Take the Zion pledge to protect yourself and protect the park!
So…do you feel prepared to make the most of your one day in Zion National Park?? Are you prepared for jaw dropping views, massive rock formations, and a grand adventure!! What are you most excited about doing during your visit to Zion? Have I left anything off the list? Tell me in the comments below!