How to Make the Most of One Day in Arches National Park
I have to admit, I didn't have very high expectations.
I did all the research and read all about Arches, but just didn't think our one day in Arches National Park would be a highlight of our road trip through Utah and Arizona.
But, boy was I wrong!
Arches National Park in the southeast corner of Utah turned out to be a huge surprise! In a good way. We LOVED it!!
The breathtaking scenery, unique landscapes, and family friendly activities at Arches attracts people from all over the world. You can have an epic adventure, hit all the must see stops, and create unforgettable memories all in just one day in Arches National Park!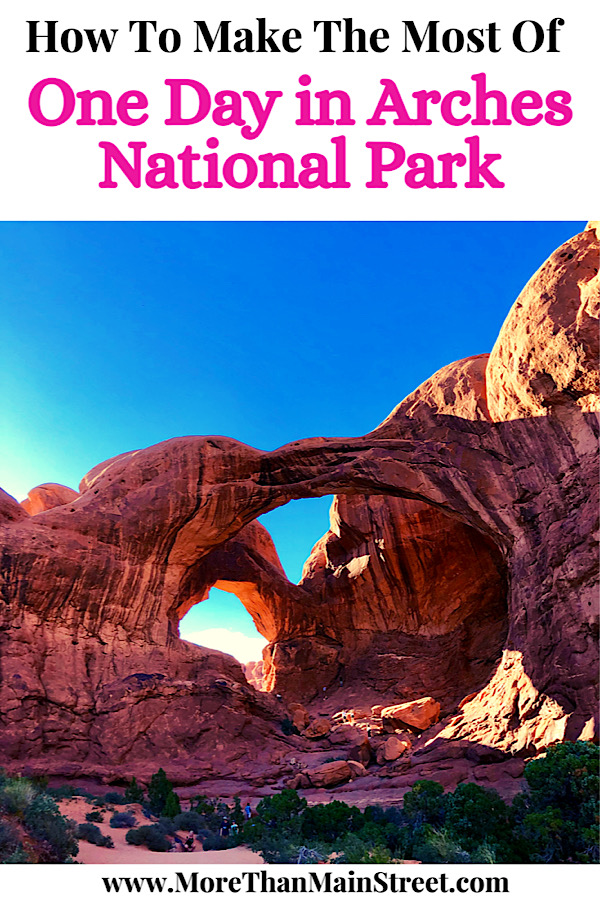 Arches National Park Hours
This was confusing to me. I know, I know…how can park hours be confusing?
The Visitor's Center at Arches National Park is open from 9 am to 4 pm every day. BUT, you can enter and exit the park 24 hours a day. If you want to get a map, use the restroom, get water refills, talk to a Park Ranger or go into the Visitor's Center, you need to come between 9am – 4pm. If you want to catch the sunrise, sunset or stay past closing, it's no big deal…you can come and go as you please.
How much does it cost to get into Arches National Park?
You can use your annual National Park pass– which I'd highly recommend, especially if you plan to visit any other National Parks during the next calendar year.
But, for a one time visit, the cost to get into Arches National Park is $30 per car, $25 per motorcycle, $15 for an individual (if you're hiking or cycling into the park), and free for youth 15 years and younger.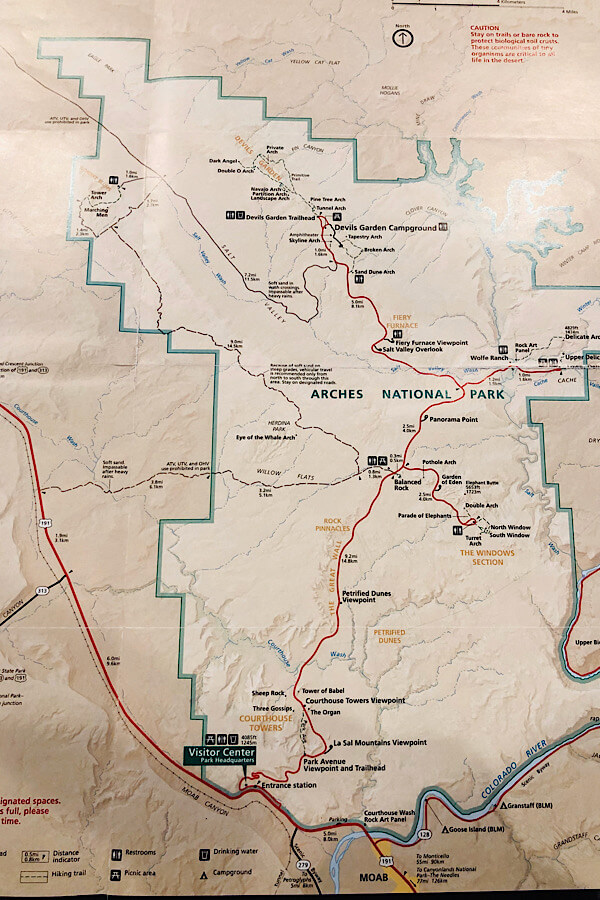 Arches National Park Map
You can easily drive the entire park and get out at several view points in just a couple of hours. There is only one entrance to the park.
Pick up a map to Arches National Park at the park entrance or grab one online before you go. I highly recommend keeping one with you as the map also has descriptions of each stop and difficulty levels of every hike.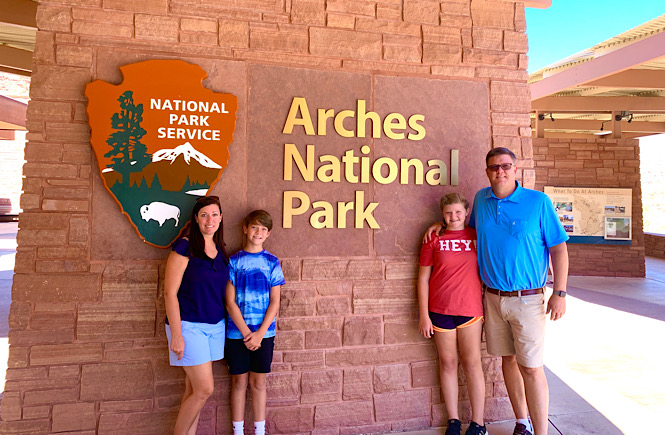 What You Must See if You Only Have One Day in Arches National Park
In reality, we spent two half days in Arches. We arrived in Moab around noon on a Saturday, grabbed some lunch and headed into the park for the afternoon and evening. Sunday morning we did a mountain biking excursion, had lunch, then headed back into the park for the rest of the day. So, we spent a total of one day in Arches National Park, but split up.
So, you're wondering what to see in Arches National Park in just one day?
My recommendations on and best things to do and what you must see in Arches National Park:
Drive the entire park from top to bottom. It's amazing how the landscape changes. Check out Park Avenue, Panorama Point, and many of the other incredible viewpoints.
Stop in the Visitor's Center – we always enjoy the orientation films at all National Parks. Plus you can ask Park Rangers any questions you might have.
Balanced Rock – you can view from the parking lot or get out and enjoy the easy hike.
Windows Sections – a great introduction to the beautiful red rocks of Arches.
Double Arch – my absolute favorite stop! Must See!
Hike to Delicate Arch or hike to the viewpoint – depending on your ability.
Check out one of the rock art panels (either near the Courthouse Wash Bridge or near Wolf Ranch).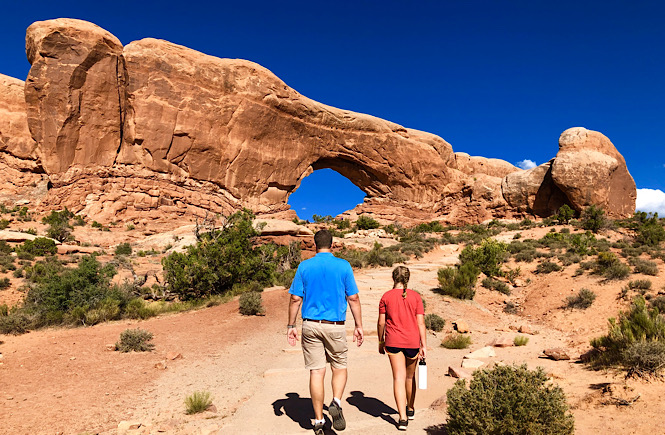 Hiking in Arches National Park
What are the best hikes for beginners in Arches National Park?
This is a tricky question for me. I've found that throughout the USA National Park system that easy, moderate, and difficult rating system for hikes to be fairly accurate. That being said, I don't exactly consider myself to be athletic or outdoorsy and always fear that "easy" may still be hard!!
PRO TIP: The biggest thing to take into consideration here is the heat and altitude. All the hikes at Arches National Park were more difficult because we were not accustomed to dealing with altitude.
There are nine different hikes that Arches lists as "easy".
Balanced Rock – 0.3 miles round trip
The Windows – 1 mile round trip
Double Arch – 0.5 miles round trip
Delicate Arch Viewpoints – 100 yards round trip
Sand Dune Arch – 0.3 miles round trip
Broken Arch – 1.3 miles round trip
Skyline Arch – 0.4 miles round trip
Landscape Arch – 1.6 miles round trip
Courthouse Wash – 1 mile round trip
Our favorite hikes in Arches were:
0.3 miles round trip and perfect for every ability. You can view Balanced Rock from the parking lot, but I'd highly recommend walking up and around Balanced Rock. This simple hike is a great introduction to Arches!
This was our second stop and a little more of a hike than the previous walk to Balanced Rock. We thoroughly enjoyed the views and Turret Arch. We took water with us and were surprised how thirsty we were!
This was our absolute favorite hike at Arches National Park!! While the park newspaper lists the hike as being 15-30 minutes, we easily spent two hours here. A relatively flat hike on a gravel/ sand trail leads you up to a red rock playground! Our family climbed and explored the area taking in the glorious views all around us.
We just had to see the most famous arch in the park. The lower viewpoint is a pretty flat accessible trail. The hike to the upper viewpoint is about a half mile and was definitely a bit more strenuous as it's a steep climb. KNOW BEFORE YOU GO – Delicate Arch is pretty small and we thought unimpressive from the viewpoints. However, we still really loved the hike. Here you can see for miles in many directions and how the landscape changes all around you. It was a great treat despite the disappointment of the view.
Other Hikes in Arches National Park
There is only one moderate trail in Arches: Park Avenue – 1 mile one way with a 320 foot elevation change.
There are five difficult trails in Arches National Park:
Delicate Arch – 3 miles round trip
Tower Arch – 3.4 miles round trip
Double O Arch – 4.2 miles round trip
Primitive Trail – 7.2 miles round trip
Fiery Furnace – ranger led hike through a maze of sandstone canyons.
Although we did not do any if the difficult hikes at Arches National Park, Delicate Arch is of course the most well known and would top our list!
Where can you watch the sunrise at Arches National Park?Panorama Point is a popular spot to watch the sunrise!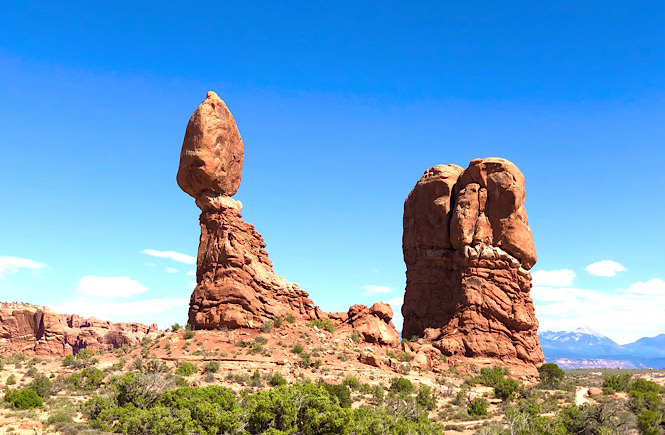 Tips on Visiting Arches National Park
There is no food or drink sold inside the park. Plan accordingly. We picked up food in Moab for a picnic dinner and brought along several hydroflasks of water.
There are only a few water filling stations inside the park- bring more than you think you'll need!!
There is no shuttle service inside Arches National Park.
The best restroom is at the Visitor's Center. There are several other restrooms within the park, but just being honest, they're not the greatest.
Bring plenty of sunscreen, wear good hiking shoes, and consider wearing a hat if you're visiting during the day.
Your best hours for photography are early morning or evenings.
Parking may be limited depending on what time of year you are visiting. (We were able to find parking at most every viewpoint later in the days and we visited in July.)
Be prepared for unpredictable cell phone coverage – we had none.
The best place to stay while visiting Arches is Moab. We had a fantastic stay at the Fairfield Inn & Suites.
Arches National Park Weather
It gets very hot in Arches National Park during the summer. We visited during July and temperatures were over 100 degrees during the day. If possible, the best time to visit Arches National Park is the spring or fall.
Arches National Park Camping
There is one campground in Arches National Park: Devil's Garden Campground. With only 50 sites for tents only, make reservations as far in advance as possible as spaces fill up fast!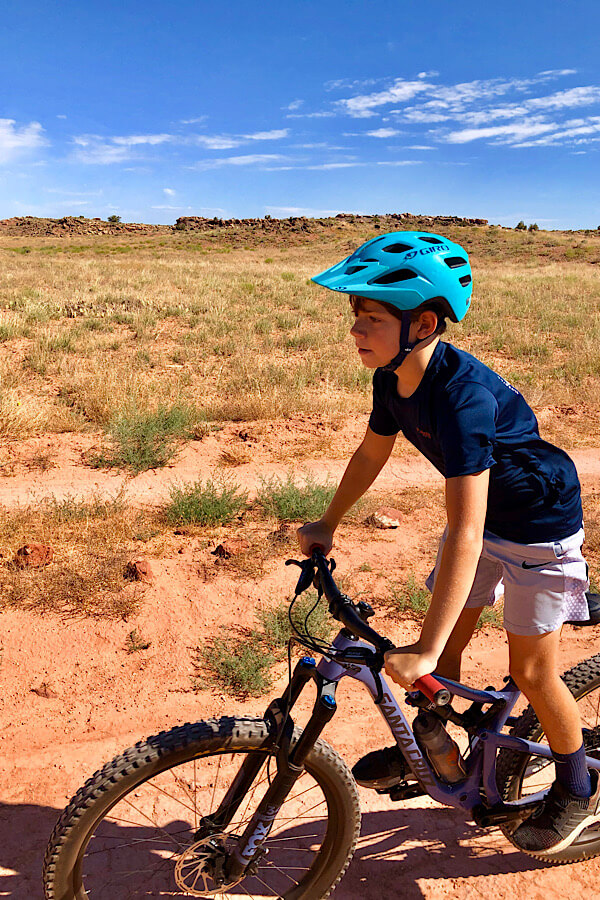 Other Fun Things to Do in Moab, Utah
Try a mountain biking excursion in the mountain biking mecca of the world!! We had a great experience with Moab Adventure Center (minus a broken arm…but that wasn't their fault! LOL.)
Check out the Moab Food Truck Park
Head south about two hours for more adventures like floating the river in Bluff, Utah
Eat at Milt's Stop & Eat– an old fashioned drive in style diner with grass fed burgers and homemade ice cream.
Visit Dead Horse State Park.
Visit Canyonlands National Park.
Try another outdoor activity like an off road tour, white water rafting, jetboat tours, horseback riding, cycling, or climbing.
Go stargazing! You'll find some of the darkest skies and best stargazing in the United States! (Arches is an official Dark Sky Park!)
Planning a Trip to Utah National Parks?
Even if you can only fit in one day in Arches National Park into your travel plans…it's totally worth it! As a matter of fact, it fits perfectly into a Utah National Parks road trip! Don't skip this park!!
I can't recommend a visit to Arches enough. We absolutely loved every minute of our visit and would love to go back and spend more time there.
Have you ever been to Arches National Park? What was your favorite thing to see or do? Tell me in the comments below!
Pin this One Day in Arches National Park pin for your future visit!