Visiting Olympic National Park
Planning an Olympic Peninsula road trip?
Awesome!! We think a road trip is one of the best ways to see Olympic National Park. And we've got some of the best tips, tricks, and even local insider secrets to help you plan the most epic road Olympic Peninsula loop road trip ever!
My grandparents, aunts, uncles, and cousins all live in the Seattle area. I have the best memories of picking blackberries on my Aunt's farm, riding the ferry, visiting Bainbridge Island, and camping on the Olympic Peninsula as a child. But it's been a few years since I've personally visited the area. So, I reached out to fellow travel blogger, and Seattle local, Erica from Tripscholars. Erica is super passionate about the area and the perfect person to share all the details for your next Olympic Peninsula road trip!
Visiting Olympic National Park from Seattle
Olympic National Park is one of the gems of the Pacific Northwest and this six day road from Seattle will get you out on the water, up into the mountains, hiking in the rainforest, and tide pooling on pristine beaches. The park is vast and spreads across the Olympic Peninsula so you will be driving in and out of the park on your journey.
If you're not from the area, we highly recommend spending at least a day or two exploring Seattle. The Seattle- Tacoma International Airport (SEA) is easy to access from all over the country. Don't miss the Space Needle, Pike Place Market, Chihuly Garden and Glass, and Aquarium to start. Seattle of course could certainly warrant it's very own vacation, but when you're limited on time, you do what you can! While you don't need a rental car in downtown Seattle, you will need to grab one before heading out on your Olympic National Park driving tour!
The best road trip requires planning! Grab our FREE printable road trip essentials checklist and travel planning worksheet before you go!
This post contains affiliate links which means I could earn a small commission, if you make a purchase, at no additional cost to you. As an Amazon Associate, I earn from qualifying purchases. For more information, read my full Disclosure HERE.
Where is Olympic National Park?
Olympic National Park is located on the Olympic Peninsula in Washington state. It is approximately 2.5 hours drive time from Seattle to the Visitor's Center in Port Angeles. Be sure to visit the national park website before visiting to check for any current closures. Olympic National Park is an outdoor lover's dream. From fishing, camping, hiking, tidepooling, to viewing wildlife, there is something for everyone!
When is the best time to visit Olympic National Park?
Olympic National Park is accessible year round. The spring through fall are the most popular times to visit with summer being the busiest season. But the winter season still provides plenty of opportunities for fun! You can enjoy skiing, snowboarding, snowshoeing, tubing and more during the winter months at Olympic National Park.
We LOVE a good road trip! Did you know we have over 40 different road trip itineraries here on the blog? Start here with 20 epic USA road trips for families!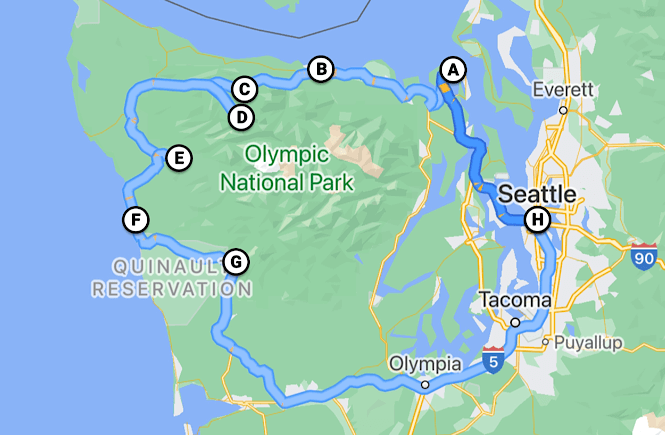 The Perfect Olympic National Park Itinerary
Olympic National Park is an insanely beautiful place. It can certainly be done in a shorter amount of time, but if you want to see and do it all, you'll need at least six days for your Olympic Peninsula road trip.
Day 1 – Port Townsend
Day 2 – Port Angeles
Day 3 – Lake Crescent & Sol Duc
Day 4 – Hoh River Valley
Day 5 – Kalaloch & Ruby Beach
Day 6 – Lake Quinault
Road trips are more fun when you are prepared! Make sure to grab all our complete road trip packing list before heading out the door.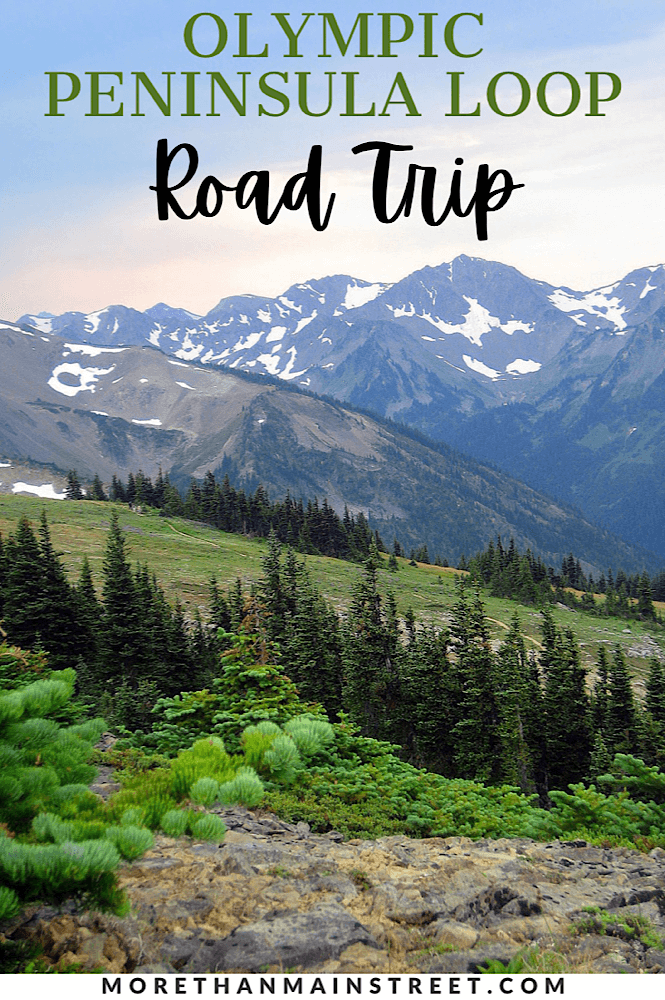 Is one of your goals to travel more? Try using these powerful travel affirmations!
Day 1: Port Townsend
You will start your trip from Seattle by taking the Bainbridge Ferry from downtown. Once you are parked on the ferry, head upstairs for a tantalizing preview of your week ahead. You'll enjoy some of the most beautiful views you can find of the Olympic Peninsula, Seattle skyline, and the Puget Sound. Keep your eyes open for orcas, who are often feeding in the area. 
First stop is out to the northeast tip of the peninsula, historic Port Townsend. You will be here for just one night so, consider staying in one of the beautiful Victorian buildings.
What better way to appreciate being on the peninsula, than to get out on (or into!) the water for the afternoon. SCUBA divers can go on a guided dive or fill their tanks and get dive site advice at the local diving center. There are also whale watching and sailing trips available for an exciting afternoon.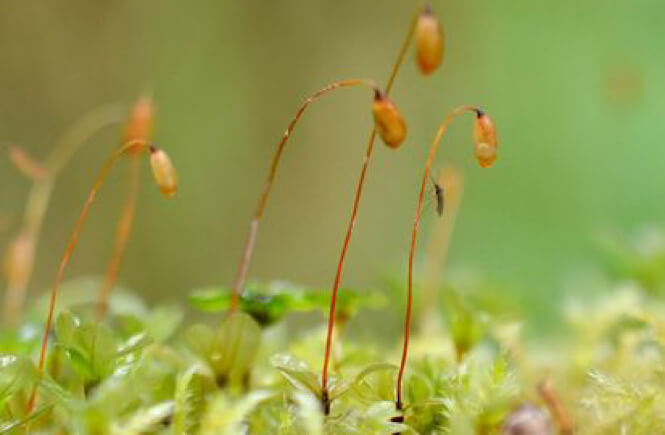 Day 2: Port Angeles
After breakfast make the one-hour drive to Port Angeles. This is the largest town on your trip, so be sure to pick up any needed supplies. 
Head to the Olympic National Park Visitor Center and Ranger Station to get your bearings and learn about current conditions for any of your upcoming activities. If you are traveling with kids, pick up their Junior Ranger Guides, since they will have opportunities to do activities from it for the rest of the trip. 
Drive up to Hurricane Ridge for stunning views of the Olympic Mountains and family friendly activities. If you visit Olympic National Park in winter, check out Hurricane Ridge Ski and Snowboard Area. It is one of only two lifts operating in our national parks. Rent tubes, skis, or snowboards. Snowshoeing is available both here and further up the mountain at the Hurricane Ridge Visitor Center with ranger-led walks. Because of the annual snowfall levels of 30-33 feet, it is a true winter wonderland! 
If you visit Olympic National Park in the summer, stop in at the ranger station for the best advice on current hiking conditions. Hurricane Hill Trail (3 miles round trip) offers 360' panoramic views of Mount Olympus, the Strait of Juan de Fuca, and Victoria Island, Canada.
Your next stop is beautiful Lake Crescent. Consider staying in the historic lodge, camping, or staying in one of the private rentals. You will be here for two nights.
Day 3: Lake Crescent & Sol Duc
After a hearty breakfast, you can enjoy a day on the lake. There are two boat rental facilities on Lake Crescent where you can get kayaks, canoes, and paddleboards. There are even two hour guided kayak trips available.  
In the late afternoon, drive 30 minutes to Sol Duc. Take the easy hike through the rainforest to Sol Duc waterfall. Follow it up with time in the hot springs. There are three mineral pools of differing temperatures and a freshwater pool. This is a family friendly facility, but it can get very busy, especially in the summer. 
Hearty hikers might prefer to visit the natural Olympic Hot Springs instead. Depending on road conditions, this can be a 5-to-20-mile round trip hike so check in at a ranger station for the current status and to find out if this is an all-day hike. You'll be treated to beautiful views with much more privacy and space than at Sol Duc Hot Springs. Keep in mind that this natural water may harbor harmful bacteria.
Head back to your Lake Crescent lodgings for a good night's sleep– tomorrow will be a memorable day!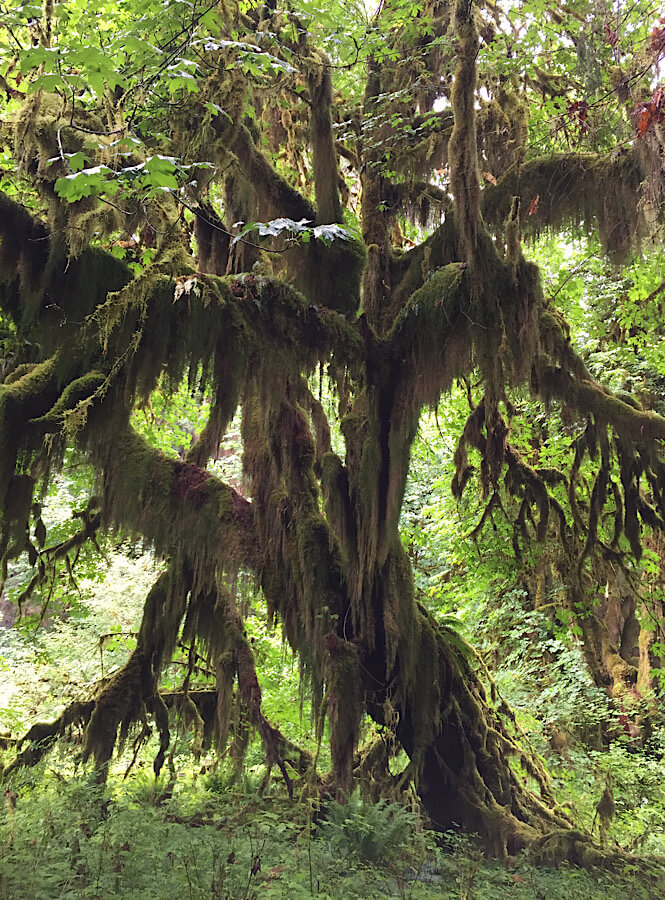 Day 4: Hoh River Valley
Your drive this morning brings you to the heart of the park, the Hoh River Valley. It is a beautiful 90-minute journey from Lake Crescent. The Hoh receives over 140 inches of rain annually (3.55 meters!) and is other-worldly in its beauty. Stop in at the Hoh River Visitor Center to learn more about this magnificent landscape. 
Take both the Hall of Mosses Trail and the Spruce Nature Trail. Combined they are only two miles of easy walking. You'll see magnificent massive trees draped in mosses and lichen, uncounted shades of green, and life growing everywhere you look. You may also be treated to sightings of Roosevelt elk, black bears, or river otters. 
If you are adding extra days to your trip, this is the top pick for extra time! Camping is available with many sites backing up to the Hoh River. Enjoy your morning coffee admiring the milky blue water created by mineral deposits from the ground glacial moraine upriver. Sites are not reservable so if you are visiting in summer plan to arrive mid-week since they will be full by Friday. If staying longer, plan to hike some of the Hoh River Trail. Backpackers can enjoy the 37-mile round-trip hike all of the way to Mount Olympus' Blue Glacier!
When it is finally time to leave the valley, head back out to the highway and drive south to Kalaloch Beach. You will be here for two nights and you can reserve a room in the lodge, a cabin on the shore, or space in the campground.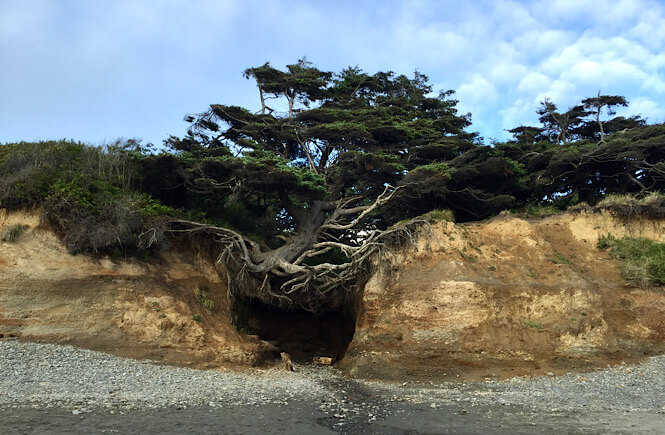 Day 5: Kalaloch & Ruby Beach
Today you will be exploring some of the most extraordinary beaches on the west coast. The penisula is protected by three national wildlife refuges and Olympic Coast National Marine Sanctuary. You will be heading back up north to Ruby Beach, but the drive is only 11 miles, so you can travel this short coast at your leisure.
Know Before you Go: Two tips before you head out. First, pick up a tide pooling guide in one of the visitor centers so you can understand more of what you are seeing. 
Second, check the tides. Depending on your beach walks this day, you will want to keep an eye on the tides to be sure you don't get stranded! This is even more important if you visit in the winter.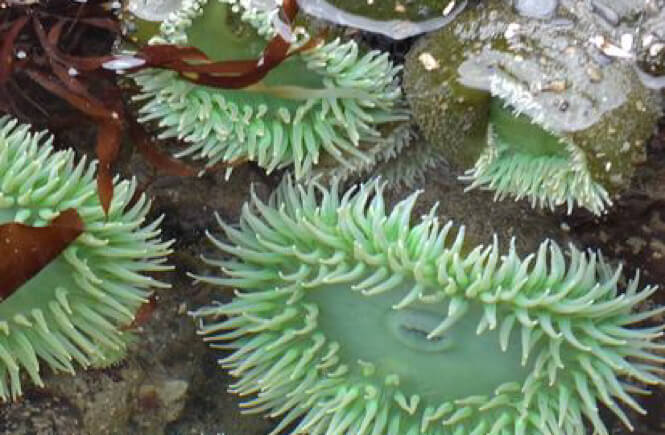 Once you have looked at the tide chart, you can arrange your day to be at Beach 4 during low tide. Beach 4 has some spectacular tide pools, fascinating rock formations and a beautiful view. Plan to visit for a couple of hours.
There is a lot to explore right at Kalaloch. Depending on how the tides structure your day, enjoy breakfast or dinner in the historic lodge. As you walk the expansive beach, be sure to visit the Tree of Life. It is a tree whose roots have had to straddle a stream and it appears to be just hanging on, but still thriving, right on the bluff face!
Next stop is Ruby Beach. With its stunning rocky outcrops and inviting beach, this is a lovely spot for exploring and enjoying the sunset. You can tidepool at low tide and birdwatch anytime. 
Day 6: Lake Quinault
Today is your last day on the peninsula, but there are still some great adventures ahead! If your kids have been working on their Junior Ranger books, stop in at the visitor center so they can get their badges. If you are ready for more hiking, the area around Lake Quinault has scenery similar to the Hoh. Lake Quinault also has boat rentals available if you want more time on the water. And for those who want to get back in the water, Westport has some of the best surfing in the state.   
As the sun sets, you will head back to Seattle. This is a three-hour drive, which will give you plenty of time to reminisce about your epic Olympic Peninsula road trip.
Be sure to add this trip to your USA bucket list! Don't have one? Grab our free template to create your own bucket list!
The Olympic Peninsula Loop
We absolutely love a road trip! And this Olympic Peninsula Loop is sure to deliver an adventure of a lifetime! A huge shoutout to Erica from Tripscholars for sharing with us the beauty and excitement of the Olympic Peninsula. Be sure to check out her website which focuses mainly on education through travel which is something that aligns with our core values as well! You can also follow Erica and her family on Facebook too!
So are you ready for your next road trip? Which stop are you most looking forward to?
Share your adventure on Instagram!! Use one of my favorite adventure captions, nature captions, or motivational captions and make life simple. Come say Hi and tag me while you're at it!!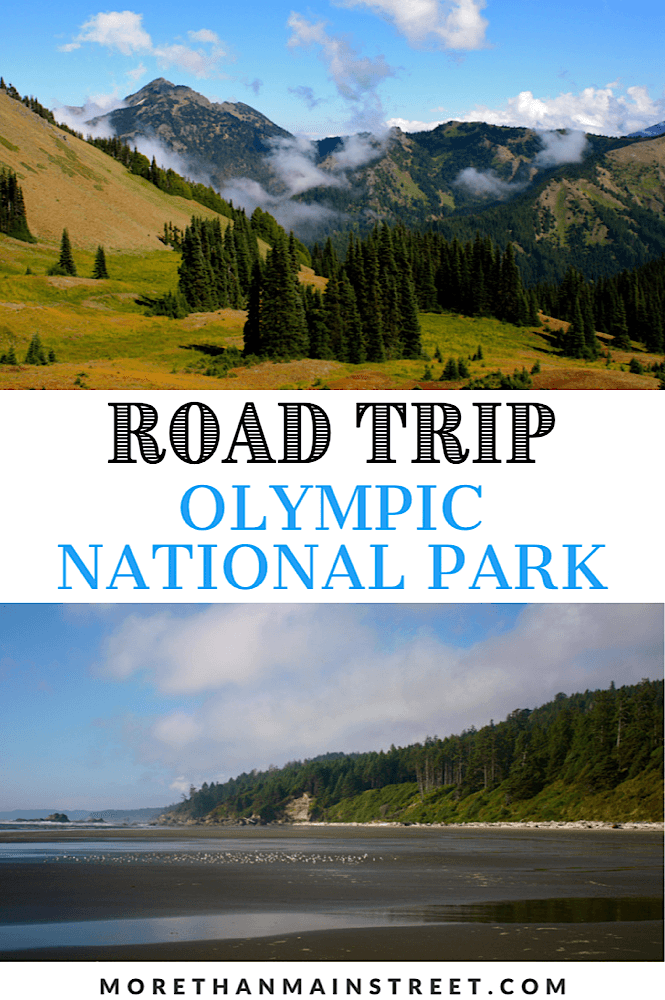 PIN THIS OLYMPIC NATIONAL PARK ITINERARY FOR YOUR NEXT VISIT!