Planning a Trip to Charleston with Kids?
Yay!
Everyone I know loves Charleston, South Carolina! My kids love it and I have no doubt you're gonna love it too!
Charleston is one of the best cities to experience true southern charm. Not only will YOU love it, but there are so many fun things to do in Charleston SC with kids too! If you're looking to immerse yourself in quintessential southern living, learn about our country's history, enjoy shopping, beaches, and an amazing foodie scene, then this is a perfect family vacation destination for you!
Whether you're visiting Charleston with toddlers or teens, there are endless activities to satisfy everyone in the family!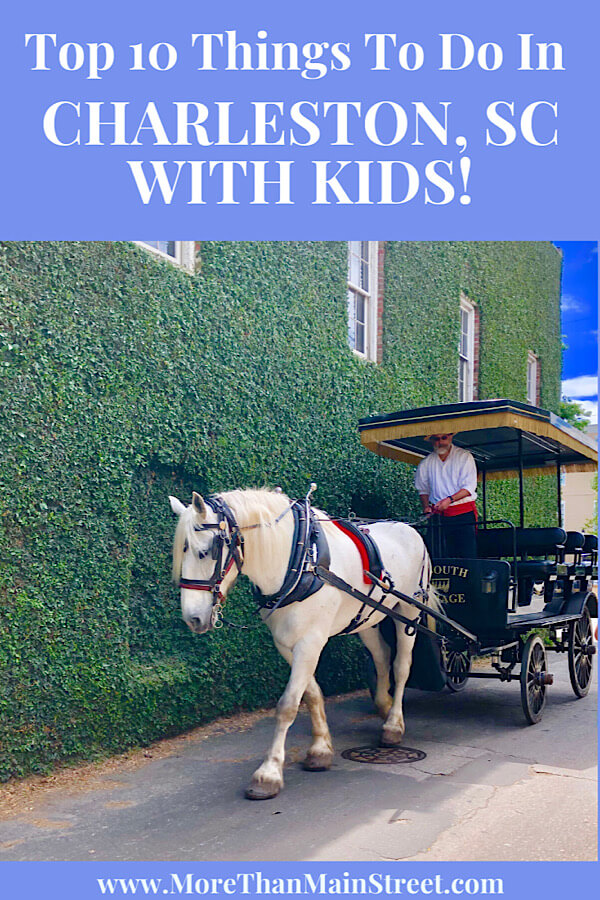 This post contains affiliate links which means I could earn a small commission, if you make a purchase, at no additional cost to you. As an Amazon Associate, I earn from qualifying purchases. For more information, read my full Disclosure HERE.
10 Fun Things to Do in Charleston SC With Kids
We live about 4.5 hours from Charleston SC. And since we love a road trip, we've spent a bunch of time in the Holy City. We're never bored and always end up discovering more exciting Charleston attractions each and every visit. Here are our top picks of fun things to do in Charleston SC with kids:
No trip to Charleston is complete without a horse drawn carriage tour, especially if this is your first trip to the area. While many people might consider this "too touristy" it is one of my favorite things to do in Charleston SC with kids! I was a little concerned my kids would get bored during the tour but they absolutely loved it! It was a perfect amount of time to hold their attention and guess what?? They actually learned something too! The tour guide with Charleston Carriage Works did a fantastic job keeping things interesting for everyone! (Side Note: one of the very first things our tour guide told us was background on the horses and how they were treated and cared for.)
Know Before You Go: The City of Charleston regulates all of the carriage tours. There are four different routes that are chosen at random through a lottery system. So while you won't cover the entire city, nor can you choose which tour you do, you'll always end up with an interesting and fun experience! I've done it two separate times over the years and loved it both times!
If you want a longer and more in depth tour, consider a private walking or driving tour.
Make sure to add Charleston South Carolina to your US Bucket list! There are so many amazing Charleston SC attractions and we would argue it is one of the most beautiful cities in America!
2. The City Market, Waterfront Park, & Downtown Charleston
The City Market is another spot many consider to be super touristy. I feel differently. While I'm not one to buy lots of things or souvenirs, I do enjoy walking through perusing some of the more unique finds. I especially love to see the handmade sweetgrass baskets which are integral to Charleston's history. Is the City Market in Charleston for kids? You may have to battle the "I want's" with your kids here, but there is so much to look at and take in, kids will be easily entertained. The open air markets are interesting for all ages- it is a top Charleston SC attraction for a reason!
Pro Tip: There's tons of great shopping on King Street and all over the downtown if you have time!
Once you've gotten your fill of The City Market, take time to walk down to Rainbow Row to see the largest collection of Georgian row houses in the United States. Explore the Battery, check out Fort Sumter from afar, and if you're into it, go wander some of Charleston's very old cemeteries.
Pro Tip: For history lovers, there are two signers of the Constitution buried at St. Michael's Church on the corner of Broad and Meeting Streets.
Finally, make sure to get your photo opp at Waterfront Park at the Pineapple Fountain. Then give your children the opportunity to run and play while you enjoy the harbor views. Slow down with some time on the pier and the family sized swings!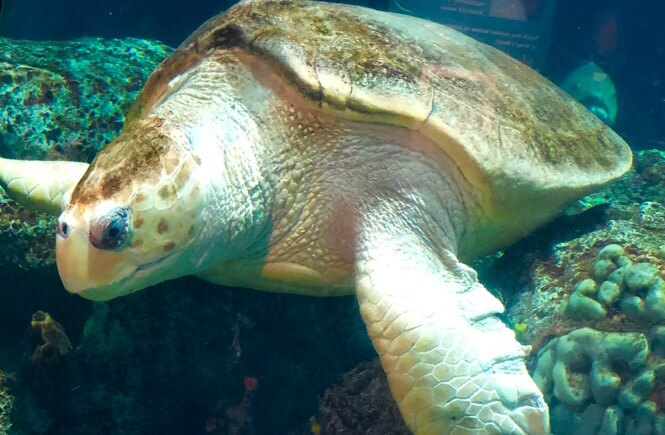 Our family loves an aquarium. In my opinion, the South Carolina Aquarium is an absolute must visit attraction in Charleston. Why? Because of the Sea Turtle Care Center! Maybe I'm just partial because I've always had a thing for sea turtles, but this center is simply amazing! From where the turtle was discovered, to how their treatment is going, to how they got their name, you can follow along on each turtle's journey from injury to release! You will become truly connected by reading each turtle's individual story and invested in creating a better environment to protect them.
Of course, the South Carolina Aquarium has so much more to offer than just the turtles. Home to North America's tallest tank, Liberty the bald eagle, touch tanks, daily feedings and talks, and other interactive exhibits, the South Carolina Aquarium is sure to impress! On the day of our visit, we were luck to enjoy a private small group tour given by an aquarium volunteer. We were able to see a behind the scenes glimpse of where the animals food is prepared, how they feed them, and all of our burning questions answered.
Tickets are $29.95 per adult and $22.95 for children 3-12 years old. (Members and under 3 get in free.)
Pro Tip: The SC Aquarium is an awesome place to get a photo of the iconic Ravenel Bridge! And if you want more than just a photo, consider walking or biking across the bridge! The aquarium is one of the most fun things to do in Charleston, South Carolina!
4. Charleston Area Beaches
Kiawah Island, Folly Beach, Sullivan's Island, Seabrook Island, Isle of Palms…there's no denying there are some incredible beaches near Charleston. Whether you're looking for the best waves or some quiet downtime, try to work at least one of these beautiful beaches into your Charleston itinerary!
What to do at Charleston beaches? Try surfing, stand up paddle boarding, kayaking, fishing, play in the waves, build an epic sand castle, search for the perfect seashell, take in the amazing sunrises, and more.
I mean seriously…everything's always better at the beach!
The best beach day requires a little bit of planning- don't forget a thing with our ultimate beach day packing list!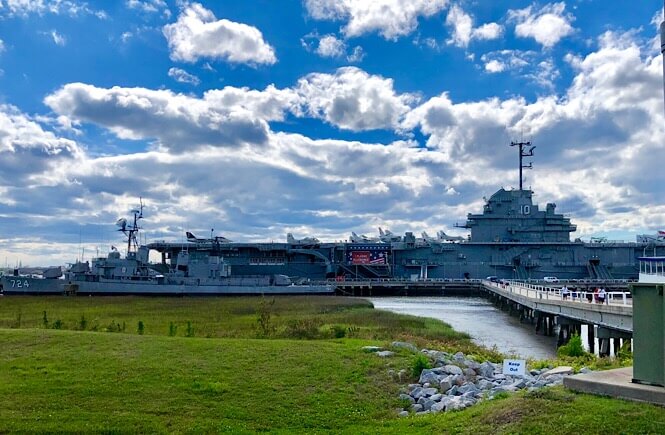 Y'all…Patriot's Point is very cool.
It should be an absolute must on your list of things to do in Charleston SC with kids! The trouble is deciding how much time you want to spend here! During your visit, you can see the USS Yorktown Aircraft Carrier, the USS Laffey Destroyer, the USS Clamorage Submarine, the 3 Acre Vietnam Experience, the Medal of Honor Museum, and 28 other Historic Aircrafts.
My children loved the USS Yorktown Aircraft Carrier the most…walking around this giant ship, sitting in the seats of the crew, and imagining living on-board was definitely a highlight!
Pro Tip: Mount Pleasant Memorial Waterfront Park is an awesome park and playground right next to Patriot's Point and under the Ravenel Bridge.
Now, I realize most adults don't love hanging out at the children's museum. But I do know many parents who love to watch their children immerse themselves in hands on imaginative play. I also know many adults who subscribe to the theory that I do: happy kids make for happy parents!
The Children's Museum of the Lowcountry provides hands on interactive play in their kids garden, medieval castle, art area, grocery store, and more exhibits. But the pirate ship holds a special place in my heart as my children were drawn to that exhibit every visit!
Tickets are $12 for out of state visitors, $10 for SC residents, and free for children under 1 years old. The best perk is you can go in and out of the museum as much as you like during the day of admission! Enjoy for an hour, explore some more of downtown, and then come back for more when the kiddos get cranky! Seriously, the Children's Museum is one of the best activities for kids in Charleston SC!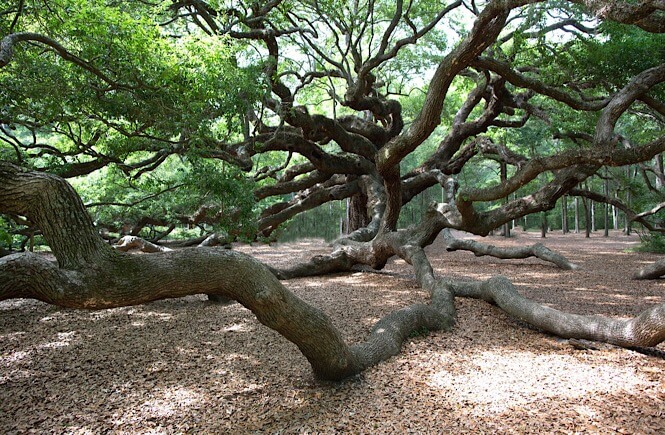 If you're looking for free things to do in Charleston, then the Angel Oak Tree should top your list! Although technically located on John's Island, the Angel Oak Tree is thought to be one of the oldest living organisms in the United States at around 400 years old! Kids and adults alike will stand in awe at this gentle giant. Standing around six stories tall and covering around 17,000 square feet, the Angel Oak Tree has become a must see attraction in Charleston SC.
Know Before You Go: There is parking close by and it is only a short walk to the tree. There is a lovely gift shop and picnic tables around the park. Bring a picnic lunch and let the children play under the shady branches for awhile when in Charleston with kids. Blankets, food, drink, pets, tripods, and props are not allowed on or around the tree- but are fine in the designated picnic areas. Typically you can visit seven days a week, but be sure to check the city of Charleston website before you go to as hours do change. Closures do happen due to weather sometimes too!
A visit to the iconic Angel Oak Tree is definitely one of the best Charleston SC family activities and we think it belongs on every Charleston itinerary!
Visiting a plantation is a great way to learn about southern history and culture. While there are several to choose from in Charleston, our top pick is Boone Hall Plantation. Depending on the age of your children, you can choose from the house tour, a plantation tractor tour, garden tour, slave history presentation, and butterfly tour (open only during the warmer months.) Walking through the replicas of the slave living quarters was the most interesting to my children and I felt like Boone Hill Plantation did a fantastic job of educating with respect to the awful nature of slavery. Make sure to pack your camera because there are some incredible photo opportunities here! The famous Avenue of Oaks alone was worth the visit in my opinion!
Pro Tip: Are you a fan of the Nicholas Spark's The Notebook? Several scenes were filmed at Boone Hall Plantation!
Know Before You Go: I do think it is important to consider the ages of your children when deciding which tours and presentations to attend. I do think there are appropriate activities for all ages at Boone Hall Plantation, but just something to keep in mind. My children were 10 and 13 at the time of our visit.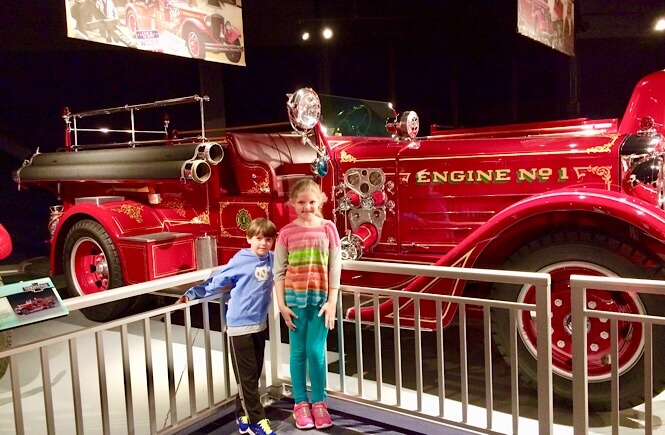 Need something to do in Charleston on a rainy day? The North Charleston Fire Museum is a perfect solution! I'd recommend this museum to kids of all ages, adults and especially firetruck obsessed little ones! You will impressed not only by the largest collection of antique fire engines and fire fighting equipment in the country but by all the fire safety tips you'll learn during your visit!
Children will love the interactive and hands on exhibits. My children still remember having the time of their lives sliding down the fire pole to this day!
Know Before You Go: The North Charleston Fire Museum is about 15 minutes away from the downtown area depending on traffic. Make sure to take this into consideration when making your plans.
When you're looking for things to do in Charleston SC with kids, Fort Sumter is a no-brainer! I love an activity where kids are learning and they don't even realize it! You and your family will learn about the history of Fort Sumter and the pivotal role it played in the Civil War, but I think it's most fun for families to get out and explore the grounds of Fort Sumter.
Know Before You Go: There are two different departure locations for the boat tour to get over to Fort Sumter: downtown Liberty Square and Patriot's Point. Tickets cost $23 for an adult, $21 for seniors/ military, $15 for children 4-11 years old, and free for children under 3 years old. Tours are 2.25 hours with one hour on the fort.
Why should you consider Charleston for your next family vacation?
Simple answer: YES!! Charleston, SC is a destination that both kids and adults will love! When we travel, I put a lot of time and effort into planning activities that everyone will enjoy. Charleston, SC makes planning a variety of things for families easy!
If you love a road trip, like our family, consider incorporating your trip to Charleston into one of these epic Southeast USA road trips.
Tips for Visiting Charleston SC with Kids
Charleston has become a very popular vacation destination…be prepared for traffic especially in the downtown area.
If you're visiting during the summer, expect heat and humidity! Grab your reusable water bottle and make sure to drink plenty of water!
There are public restrooms in the parking garages in Charleston but none south of Broad Street- this area is all residential!
Downtown is especially fun to explore on foot- wear good walking shoes!
Consider exploring more of Charleston beyond the downtown area!
Bring a portable phone charger– if you're like me, you'll be using your Google Maps app a lot and taking loads of pictures!!
Looking for the best place to stay in Charleston SC? For a budget friendly option we love the Courtyard Charleston Mount Pleasant but for more upscale downtown we love the The Restoration Hotel. We also love staying in vacation rentals when traveling with kids as they often have more room than a hotel! Check out some of our VRBO picks HERE.
Where to Eat in Charleston SC with Kids
Charleston is an insane foodie destination! Trust me when I tell say you will want to eat your way through this city. Some of our favorite kid friendly restaurants in Charleston SC are:
Looking to eat outside of the downtown area? Check out our favorite restaurants in Mount Pleasant SC.
More Fun for your Charleston SC Family Vacation
If you've already checked off our top ten list of family activities in Charleston SC, here are a few more ideas on the best things to do in Charleston South Carolina:
What to Do in Charleston SC!
So what do you think? Do you feel more prepared for your trip?
I hope this gives you plenty of ideas for your Charleston family vacation. I'm so excited for you to visit Charleston SC with kids, our family loves it and I think you will too! Drop me a comment below and let me know what your favorite things to do in Charleston are!