Considering staying at the Cancun Moon Palace All Inclusive Resort in Mexico?
Awesome!! If you're thinking of booking an all inclusive vacation in Cancun Mexico, we highly recommend the Cancun Moon Palace Resort. We absolutely loved our stay at the Moon Palace and although we went without kids, it's an extremely family friendly resort and we would take our kids in a heartbeat. We loved the luxurious feel of this 5 Star resort, the amenities, the food and more!
Where is the Moon Palace Resort?
The Moon Palace Resort is an all inclusive beach front property located about 15 minutes from the Cancun International Airport (CUN) outside of the hotel zone. We personally love the resorts in Cancun and feel it is a great vacation choice for families, couples, multigenerational groups, or even solo travelers.
Every successful trip requires some planning! Grab our beach day packing list so you don't forget a thing!
This post contains affiliate links which means I could earn a small commission, if you make a purchase, at no additional cost to you. As an Amazon Associate, I earn from qualifying purchases. For more information, read my full Disclosure HERE.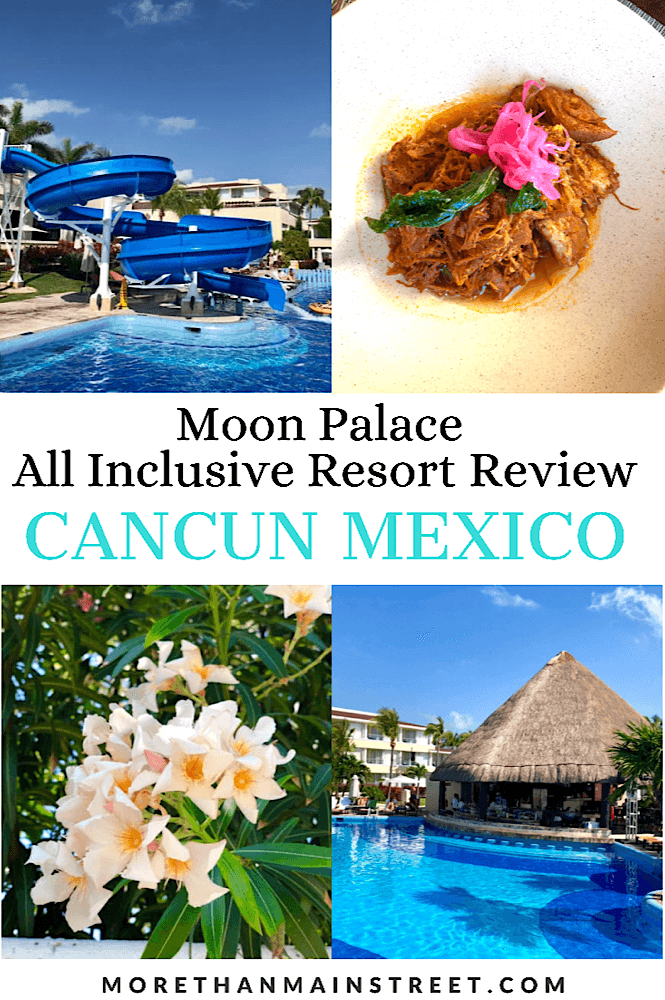 Your Complete Guide to the Cancun Moon Palace Resort
Where to stay within the Moon Palace Resort
The Moon Palace Resort is divided up into three main sections: Sunrise, Nizuc, and The Grand. During our stay our room was located in the Nizuc section. The Grand is their "upgraded" section of the resort which is also where they sell timeshares. If you stay at the Grand, you have access to exclusive restaurant options, pool, and water park just for Grand guests. You can purchase a day pass to use the Grand amenities if you want to see what the hype is about!
We had friends staying in all three sections and everyone agreed the rooms were very nice throughout the resort. The resort is massive which is good and bad depending on how you look at it. They have a very efficient golf cart shuttle system running pretty frequently so you can get around easily. Every where you turn there's something new to see, do, or eat. Snacks, bars, restaurants, and fun aplenty!
Considering booking this resort? Check current pricing HERE!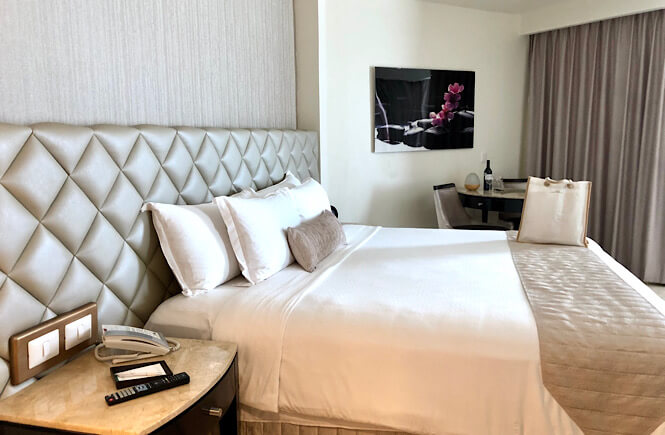 What's included in your room?
Our room at the Moon Palace included Wifi (that was actually good!), a fully stocked mini bar, bottle of red wine, snacks, rain shower head, large whirlpool tub, room service, in room safe, robes and slippers to use, hair dryer, coffee maker, and a super comfy bed! A feature we had never seen before was the mini bar actually had each bottle of liquor in a dispenser- included was some kind of whisky, Bacardi rum, and Jose Cuervo tequila. The mini fridge had soda, water, beer, and juice which is replenished daily.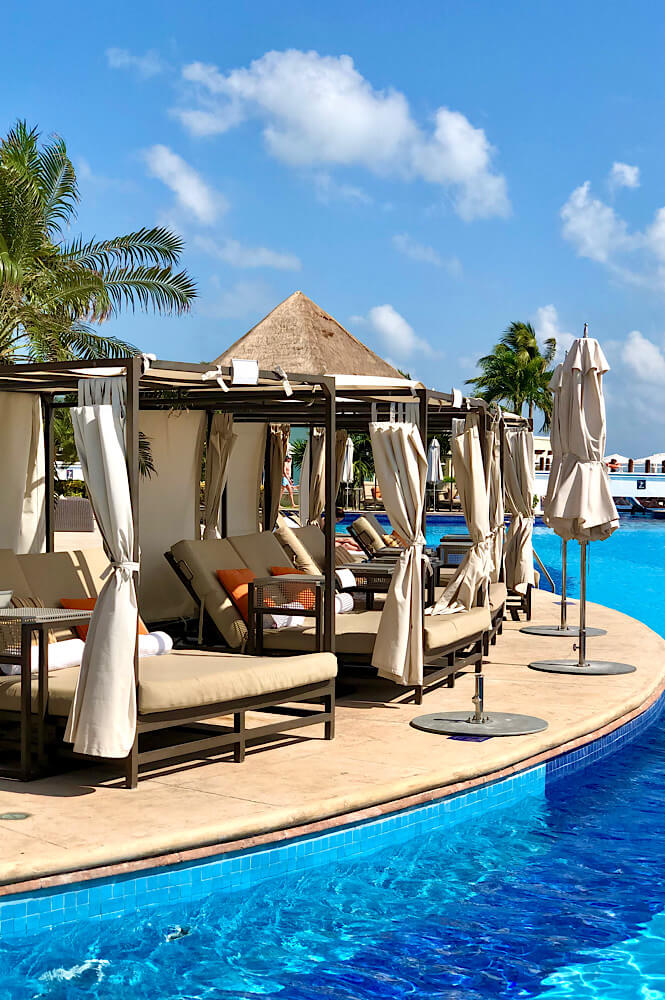 What is there to do at the Moon Palace?
The resort itself is gorgeous. Meticulously kept grounds, luxurious rooms, beautiful lobbies, and friendly staff make this one of the best all inclusive resorts in Cancun (in our opinion). There are endless options of fun things to do here!! From seven different amazing pools, waterslides, beach, planned activities, tennis courts, FLOWrider, kids club, mini putt putt, bicycles, an ice skating rink, and more…you will not be bored here! Oh and I forgot to mention the fitness center, non-motorized water sports, and nightly entertainment too.
Visiting the Moon Palace with kids? There is a fun pirate ship splash pad, slide, and the FlowRider (surf simulator) all located in the Sunrise section. There is a fun waterslide in Nizuc but The Grand has an extensive water park. No lifejackets are provided at the Moon Palace so bring your own if your child needs a PFD. The Kids Club and Playroom areas are also a super fun option for children four and up.
Pro Tip: Review the height requirements of the slides at The Grand before booking. You don't want little ones to be disappointed if they aren't tall enough to ride.
Bonus! If you have teens there is a very cool arcade in the Sunrise section. No need for tokens, just play! In fact, I know a few adults might who love this amenity too!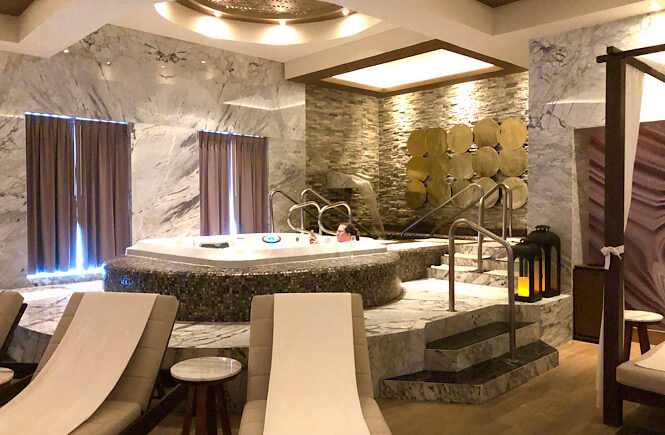 Oh my goodness there are so many things that are included at the Moon Palace, but of course there are a few things that are not included too. The Awe Spa is not included, but since I love a spa, I had to check it out. The hydrotherapy room is included with all spa treatments and includes a hot tub, plunge pool, sauna, and steam room. (And my massage was fantastic!)
Know before you go: If you book a couples massage, your hydrotherapy rooms are separate. My husband and I did not realize this, since other resorts we had been to in the past allow men and women in the same one, so we ended up spending the hour before our massage separate! You live and you learn right?
The golf course and tours off property are also at an additional cost.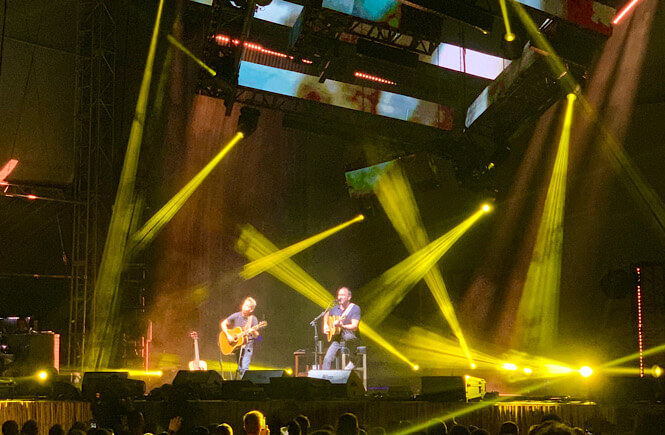 CID Presents Concert Series at the Moon Palace
Your favorite band…in Mexico…on the beach…for three nights…does it get much better?
The Moon Palace Resort in Cancun hosted Dave and Tim in Mexico concert series during our visit. CID Presents puts on several different concert series each January and February in Mexico: Phish, Dead & Co, Crash My Playa, and more! We have been fortunate enough to attend three times over the years. The first few years were held at the Barcelo in Riviera Maya but they have since moved to the Moon Palace! Spoiler Alert: We're headed back next year too! This will be our fourth year going- stay tuned for a complete post on the Dave and Tim Mexico experience!
Want to compare properties? Read my full review of the Barcelo in Riviera Maya too!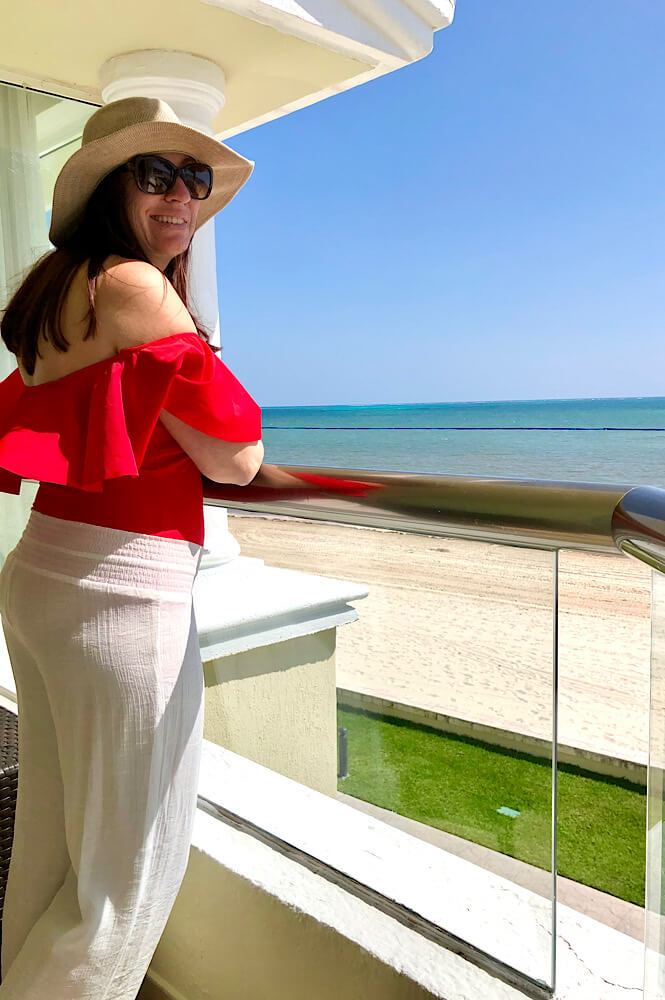 Should I stay at the Cancun Moon Palace All Inclusive?
YES!!
I mean, we love it. But I thought I'd throw out some pros and cons because I like to be real:
What we loved:
The food: We were super impressed with the quality of the food! From the buffets to room service to the over 20 restaurant options, we thought it was all great. Our favorite restaurants were Los Caporales and Momo. Keep in mind you will likely need to make reservations for dinner and there is a dress code for several restaurants.
The resort is HUGE- there's plenty to keep you busy. BUT, if you need more you can always book an off site excursion. We personally haven't done that yet but we're eyeing some
The rooms- everything was spotless and the bed was super comfy! These items are both very important to us!
There's an awesome golf course and spa- we enjoyed both of these amenities!
What we didn't love:
They sell timeshares for the Grand section- they weren't overly pushy about it thankfully, and we just opted out.
The resort is HUGE- this is a pro and a con. They do have a golf cart shuttle system to get you around the resort that runs pretty frequently. They also have bikes available to check out (near the mini putt putt in Sunrise).
The beaches are meh. I've said this many times before but I personally don't think the beaches in Cancun are all that great. The water is often rough and during certain times of year there are issues with seaweed. The Moon Palace did have tractors running quite frequently to keep the beaches looking as nice as possible. In fact during our visit I don't remember seeing more than a handful of people even out on the beach. We are super fortunate to live close to beautiful beaches in North Carolina so this wasn't an issue for us. (If you're looking for pristine beaches with clear water and white sand, I'd suggest a trip to Aruba, Turks, or elsewhere in the Caribbean.)
The resort is busy. This really wasn't an issue for us. BUT, if you're looking for something secluded and away from it all, this is not the destination for you.
Still interested? Check current rates HERE!
All inclusive resorts aren't for everyone. I get it. As avid travelers, we love all types of travel from all inclusive resort vacations, a la carte hotel stays, road trips, AirBnb or VRBO, and more! But we have to admit, we really love an all inclusive resort every now and then. If you're looking for a relaxing vacation where someone else takes care of most everything for you, an all inclusive is the way to go!
So what do you think? Would you stay at the Moon Palace?? Drop me any questions in the comments below!
Is one of your goals to travel more? Try using these powerful travel affirmations!