Top 5 Tips on Visiting the Biltmore Estate with Kids!
Planning a trip to the Biltmore Estate in Asheville NC? Trying to figure out how to do the Biltmore with kids? Well, good news! We've got you covered.
The Biltmore Estate is one of the coolest and most unique things to do in North Carolina. It also tops our list of family friendly fun things to do in Asheville. It is an experience not to be missed! The Estate is huge and can be overwhelming, but with a little research and preparation, no doubt you can have the best time!
This family friendly guide to the Biltmore is from my friend Jocelyn from Lewisfamcoast2coast. She and her family have traveled extensively throughout the United States with their children. While we personally have visited the Biltmore Estate in Asheville several times, Jocelyn has been more recently with her two younger children. This week she is providing us some invaluable tips on how to make the Biltmore fun for kids!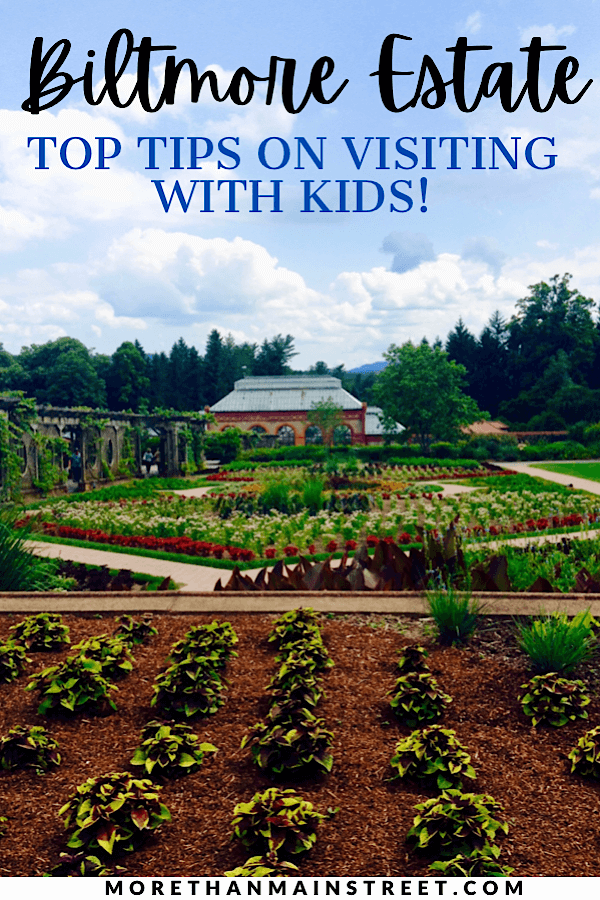 The Biltmore Estate
If you would have asked me three years ago if I wanted to visit a French chateau style mansion in the mountains, first, I would have said, "Of course!" And second, I wouldn't have believed it was possible unless I flew to France. After moving to the East Coast I discovered that it is indeed possible, and it doesn't require a plane to get there. We have our very own French chateau mansion here in the United States of America, located in the beautiful and quaint city of Asheville, North Carolina. 
Who knew?!
We love NC! Asheville is an incredible destination year round perfect for a fun fall or winter getaway, a must stop on any NC road trip, or even better stay for an entire family friendly NC vacation.
A Little History 
The Biltmore Estate was built by George Vanderbilt, a son of one of America's best-known families. Construction on the house began in 1889, and took over six years to finish. When George opened the house to his family and friends on Christmas Eve of 1895, it was considered the largest architectural undertaking in residential design in American history, and probably still is! 
The French Renaissance style chateau has 250 rooms, including 35 bedrooms, 43 bathrooms and 65 fireplaces, covering more than 4 acres of floor space! 
After marrying Edith Stuyvesant Dresser in 1898, the newlyweds, George and Edith, moved into Biltmore as their permanent residence. A few years later, they welcomed their only child, a daughter, Cornelia Vanderbilt, and lived splendidly happy and modern lives on their estate. 
In 1930, the Biltmore House was opened to the public for tourism and to generate income during the Great Depression. With this income the family was able to preserve the estate and keep it in the family line. 
*Facts taken and paraphrased from the Biltmore website: https://www.biltmore.com/our-story/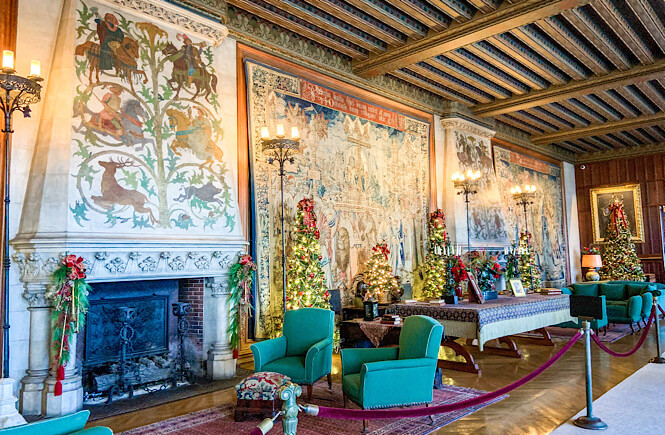 Biltmore Tips: Know Before You Go
Tickets can be purchased in advance online. Depending on the season, if you purchase a week before your visit you can receive a discount. Purchase tickets HERE.
Tickets are not cheap- be ready for sticker shock. Plan in advance to spend the entire day and get the most bang for your buck.
You will select a time for your entry into the house, or select a guided tour time. Once in the house you have as much time as you'd like to explore. I have found we usually spend an hour to an hour and a half inside the house. 
The parking lot is about an easy 5 minute walk to the house, and I highly recommend it! When you come around the corner you get an impressive view of the front lawn and estate which is worth the "trek." 
There is also a shuttle that runs between the parking lot and the house, and will deliver you practically to the front door.
No food or drink is allowed inside the house.
There are several options for places to eat right outside of the house and elsewhere on property. On a budget? Save money by packing your lunch and eating at the picnic tables near the gardens.
No strollers or large bags.
There are no bathrooms for use inside the house, but restrooms can be found just outside near the shops. 
You will have to walk up and down multiple staircases throughout the house, but there is an elevator available for those who require it. 
During Covid, masks are required to be worn while in the house and anywhere that social distancing is not possible. 
Want to avoid the crowds? Try visiting on a weekday.
Save time by familiarizing yourself with the Biltmore Estate ahead of time- check out the map HERE.
Visiting the Biltmore with Kids
In my opinion, visiting the Biltmore Estate is a must-do on any Asheville itinerary.
Visiting historic homes and learning about families like the Vanderbilts, seem to have magical qualities that transport me back in time. I just find the lifestyle and architecture so lovely and fascinating. When touring the Biltmore, I always wish I had a time machine so I could go back and live in the moments captured here, and see the hustle and bustle of this great house in action. 
I'm sure there are a lot of you out there that feel the same way, and would love exploring what the estate has to offer. 
But what about the kids? 
What is at the Biltmore for kids?
How do you keep them interested or occupied with so much history, walking, and admiring of architecture and decor? Trust me, with an eight and five year old myself, I'm here to tell you that the Biltmore is perfect for families and kids of all ages! 
With endless possibilities of things to learn and explore, I have no doubt the entire family will find something they love from their experience visiting Biltmore Estate.
Asheville easily belongs on every bucket list for families! It is an easy weekend getaway from Raleigh and one of the best trips in the Southeast USA!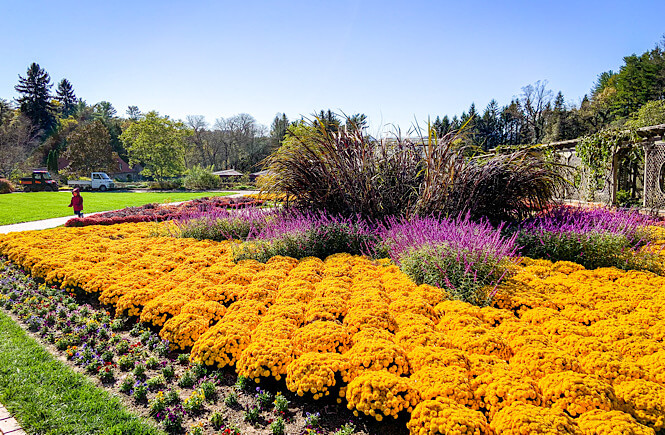 Top 5 Tips for Visiting the Biltmore with Kids.
1. Consider the Weather
Other than the main house and a few other attractions, almost everything is outside. The Biltmore consists of 8,000 acres of land filled with activities ranging from tours, bike rentals, hiking, horseback riding, shopping and more. Rainy or cold weather (and even hot weather) can put a damper on your visit, and make it less enjoyable, especially with children. 
Remember to bring jackets, umbrellas, mittens, and hats for colder months, and water, sunscreen, and bug spray for the summer months while you walk the gardens and grounds. But also keep in mind, everything you bring with you must be screened and carried through the house during your tour. Again, strollers are NOT allowed in the house, as well as large bags. They can be folded and stored at the entrance, so consider a small back pack to carry the essentials.  
2. Prepare Yourselves for an All Day Outing
Visiting the Biltmore with kids, or with anyone, is quite the feat! Like I said, the house itself takes about an hour to hour an a half to walk through on a self guided tour. If you book a guided tour it could be longer. Your ticket allows you entry into the gardens, conservatory, shops, farm, winery, and village, and each have their own activities and attractions. 
Plan your day around your kids' schedules, considering things like naps and meals. If you know your little one needs to nap at 11am, consider walking the gardens while they snooze in the stroller, then grab a bite to eat at the shops before entering the house when they are well rested, refreshed, and ready to explore. Maybe a house entry time in the early afternoon would be ideal. 
Or visa versa! Grab an early morning entry time and carry your napping child through the house in a sling or pack. Then let them run through the gardens afterwards. Don't forget to check out the greenhouses too!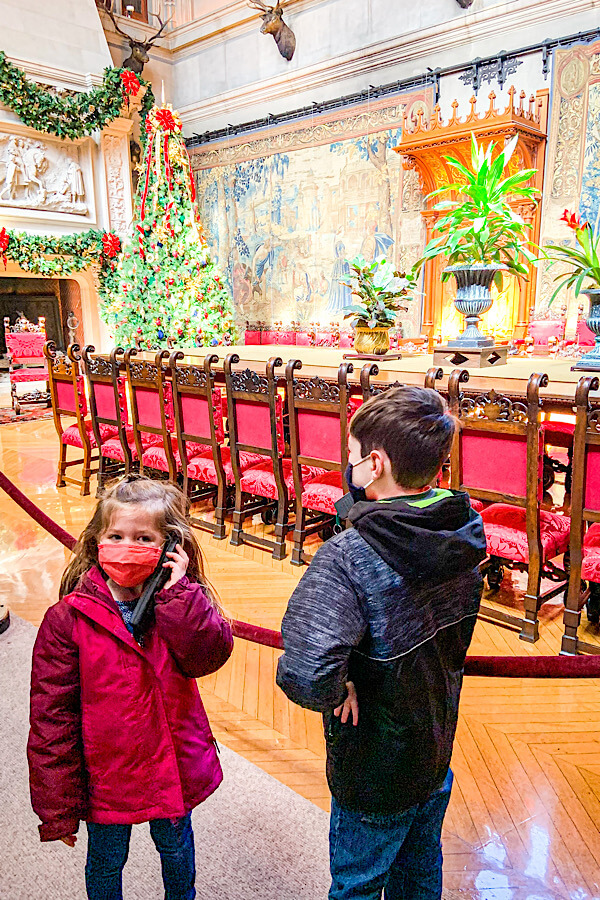 3. Get the Audio Tour
My biggest tip for visiting Biltmore with kids is paying the extra money for the audio tours while on your self guided walk through the house!
These have been the best ways to keep our kids entertained and interested all while continually learning about the house and Vanderbilt family. 
Upon entering the house, you'll be given a small "telephone" (as my kids call it) device. By entering the coordinating numbers designated by signs through the house, you'll hear all about the home and the lifestyle of the Vanderbilt family. Normally, there are two audio tour options. A regular recording for adults and older children (teens), or a children's version told from the perspective of the Vanderbilt's family dog, Cedric. Cedric shares stories about the family, the everyday life hustle and bustle, and fun facts made easy to understand by young listeners. 
Currently during Covid, there is only one audio recording being used, a shortened and abridged version of the adult tour, but our kids recently used it, and still really enjoyed it!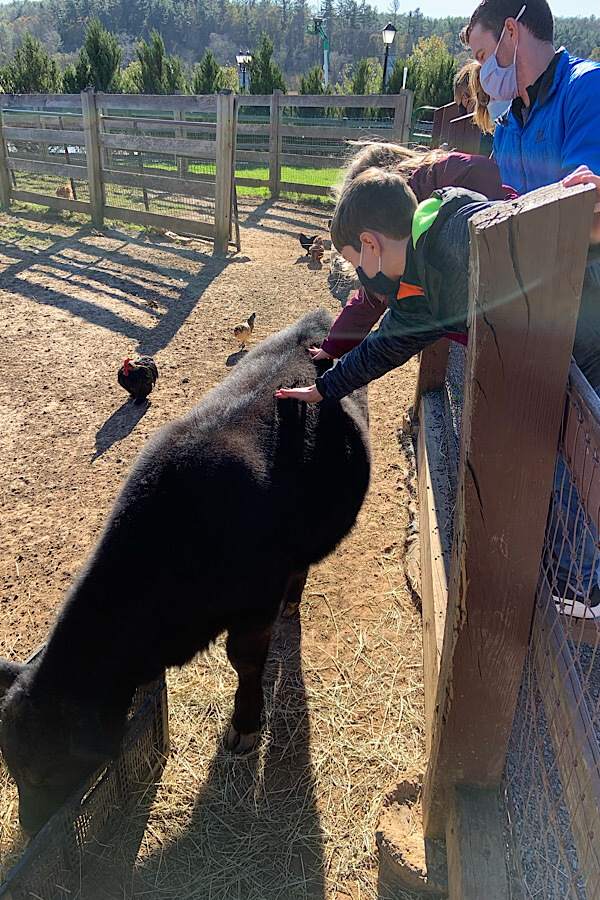 4. Let the kids be kids!
It is not all history and elegance when you visit the Biltmore Estate. There are a variety of activities specifically designed at the Biltmore for kids. A personal favorite is the Farmyard located in the Antler Hill Village area of the Estate.
Kids will get a hands on experience interacting with the farm animals, and discovering what it's like to be on the farm. Participate in the digital scavenger hunt and upon completion they can feed the pigs a special treat! 
Right next door to the farm, let the kids run around and play on the completely fenced in playground, with age appropriate areas and amenities. And just up the hill, explore Antler Hill Village and immerse yourselves into real life demonstrations of daily happenings on the farm when the Biltmore was in its prime. Let the kids participate in creating a craft led by a Biltmore employee.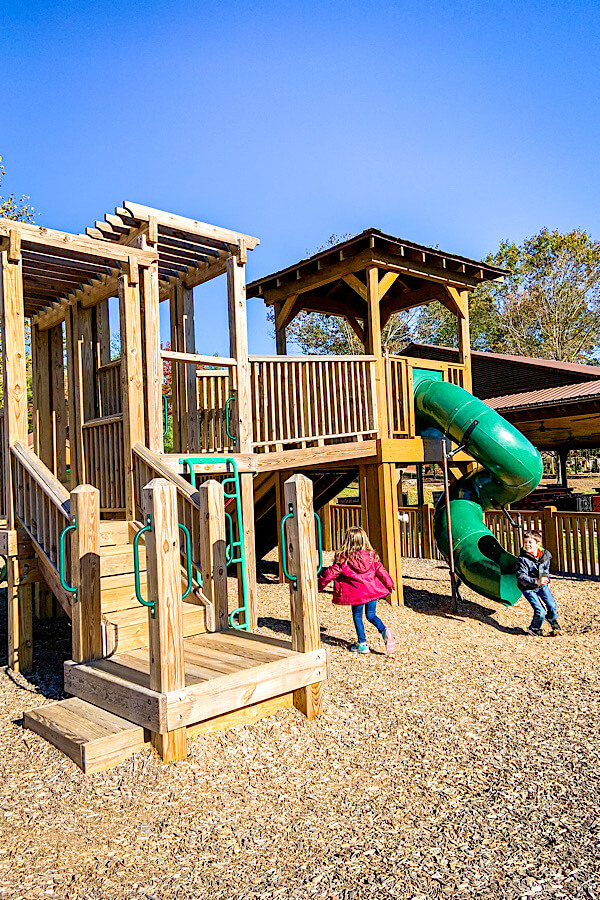 5. Treat Everyone with a Yummy or Fun Reward
Give yourself plenty of time to enjoy the day. Don't try to rush through all that the Biltmore has to offer. Take a break and treat everyone to an ice cream, hot chocolate, or confectionary from the shops for their good behavior. Peek into the toy store and Christmas shops for a souvenir. I have to say, both the ice cream and hot chocolate are worth the money! Made with milk from the resident cows and dairy, they are so creamy and filling. 
With our without the kids, the Biltmore Estate is a true North Carolina treasure! There is no shortage of things to do at the Biltmore and history to discover. So if you're like me, you'll want to keep going back over and over again. If you only have one day to explore while in Asheville, NC, I highly recommend you spend it at the Biltmore Estate!
What else is there to do in Asheville with kids? Read our ultimate family friendly guide to Asheville NC!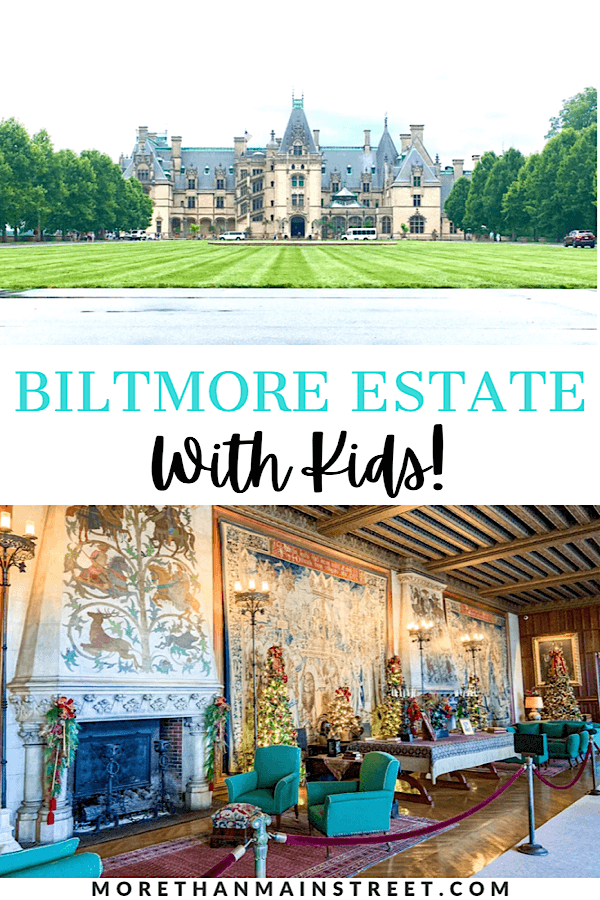 Thank You!
Huge thank you to Jocelyn for sharing this awesome information on visiting the Biltmore Estate. Be sure to follow lewisfamcoast2coast on Instagram to follow their fun family adventures.
Have you been to the Biltmore? What was your favorite part? Tell me in the comments below.