Bin and Barrel: The Latest Addition to Downtown Rocky Mount
Downtown Rocky Mount is in the midst of a revitalization. And part of that journey includes a brand new wine bar and bottle shop! Bin and Barrel is owned by locals Sarah and Ryan Hicks. They offer wine by the glass, a huge selection of wines for purchase, a wine club, tastings, and special events throughout the year. Bin and Barrel is guaranteed to become your "go-to" for all things wine in Eastern North Carolina!
Thank you to contributor to More than Main Street, Emily. In this post, she discusses her love of wine, her friendship with Sarah and Ryan, and their new store!
A Little Background from Emily:
I fell in love with wine on a trip to Sonoma in January of 2015.  It was during that trip with our now best travel buds, Sarah and Ryan, that I truly began to understand the love that is put into every bottle of wine.  Also, can we talk about how gorgeous Sonoma is? 
Ryan and Sarah fell in love with Sonoma (and each other) a long time before 2015.  In fact, Ryan and Sarah met in Sonoma – she was working at Duckhorn Winery and Ryan was working as a chef.  After seven years of soaking up all wine country had to offer, they moved back to Rocky Mount, Ryan's hometown.  Now, several years later, they are pursuing a dream Sarah's had since those early days in Sonoma – opening a wine shop. 
In late 2018, Ryan and Sarah officially opened Bin and Barrel Wine Bar and Bottles.  It is a small wine retail shop and tasting bar, and I promise, that out of the hundreds of wine Sarah has access to, you will find a wine you love without breaking the bank.  Sarah has access to a wide range of bottles that start at $8 with the average cost being $15- $20.  Bin & Barrel also offers a customizable Wine Club that is curated quarterly for those who are interested in trying some unique and tasty wine personally selected by Sarah.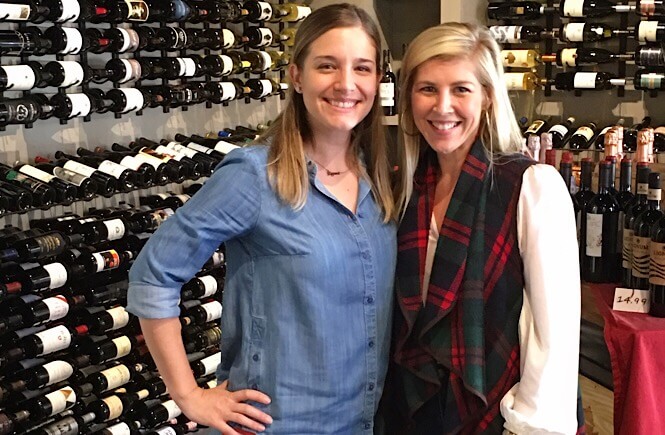 An Interview with Sarah, Owner of Bin and Barrel Wine Bar:
I am extremely proud of what Sarah and Ryan have done and it's such a pleasant addition to our downtown area.  I sat down with Sarah (over a glass of bubbles) and picked her brain about, what else, wine!
Wine drinking seems to be at an all-time high, why do you think that is?  I think as a new generation ages into the drinking world, they are more conscientious of what they are consuming.  The newer generation is trending towards hand-crafted, artisanal consumer products, including food and beverage.  This is why we are seeing huge spikes in the consumption of wine, as well as craft beers, and expertly crafted cocktails.  I also believe the media, including social media, has had a huge impact!  When you see an Instagram influencer drinking Rose on a yacht in the south of France, you immediately want to run to the store and pick-up that bottle of Rose.  And, on social media, Wine is trending.
What is your favorite wine for summer 2019?  This is a hard one…it's a toss up between Essay Chenin Blanc, Viognier, Roussanne Blend from South Africa, or Neboa Albarino from Spain.
What is the best wine to sip on the beach?  This is totally up to the person, but my favorite is the La Vieille Ferme Rose.  It's easy, refreshing, inexpensive, delicious, and comes in all sizes – even a 3L box!
How much should I spend on a bottle of wine?  Completely depends on what varietal of wine your are looking to purchase.  When it comes to white wine, you can easily find yummy stuff under that $10 price point.  Look for varietals outside of the United States.  France, Italy, Spain, Germany and South Africa have some delicious white wines that are incredibly wallet friendly.  With Reds, I always recommend looking at bottles above $15.  You can find some great bottles, especially in the Red Blend varietal, between $15-$20…and even some great California Cabernet's at $20.  When you start dipping below that $15 mark, you start loosing some of the great nuances that red wine provides.
My husband loves red wine, what is a good red wine for summer that isn't too heavy or overwhelming?  I will always recommend a Pinot Noir from Oregon or France for the summer red wine lovers.  It's not a big, bold, and tannic red wine, but is light, with great aromatics.
Summer means grilling to many, what's a great wine to enjoy with grilled food?  Pretty much any red wine from South Africa.  South African food culture is 100% geared towards grilling meats, so almost every red wine they produce, the winemaker has grilling in mind.
Rose has made a comeback!  What's your favorite?  SO MANY!!  Rose all day!  Big fan of Champs de Provence, from France – Cyprus Rose of Pinot Noir from California – and Spy Valley Rose of Pinot Noir from New Zealand.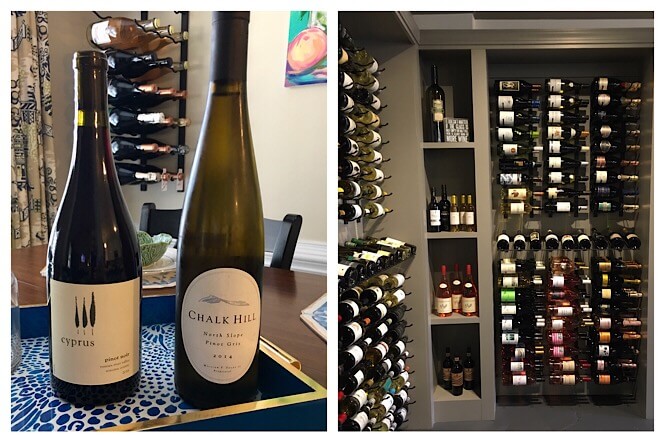 Bin and Barrel Wine Bar and Bottle Shop
I hope you'll go and visit Sarah and Ryan the next time you're in downtown Rocky Mount.  Whether you're looking for that perfect bottle or you want to unwind at the end of the work day, they have a little piece of Sonoma waiting for you.
Bin and Barrel is located at 177 Nash Street in Station Square, downtown Rocky Mount. The hours are Tuesday – Satruday 11am until 7pm.  The phone number is 252.210.3127 and you can also reach them by email at [email protected]. You can follow them on Facebook and Instagram!
What about you? Have you been to Bin & Barrel? Let us know in the comments below what you thought. Looking for other fun things to do in the area? Check out our family friendly guide to Rocky Mount, NC.
Interested in a weekend getaway to a winery? Consider these 5 wineries in Northern Virginia (just a few hours up the road from us in North Carolina)! Thinking of visiting wine country? Here are my tips on visiting Napa Valley.
Save & Pin this Bin and Barrel Review for Later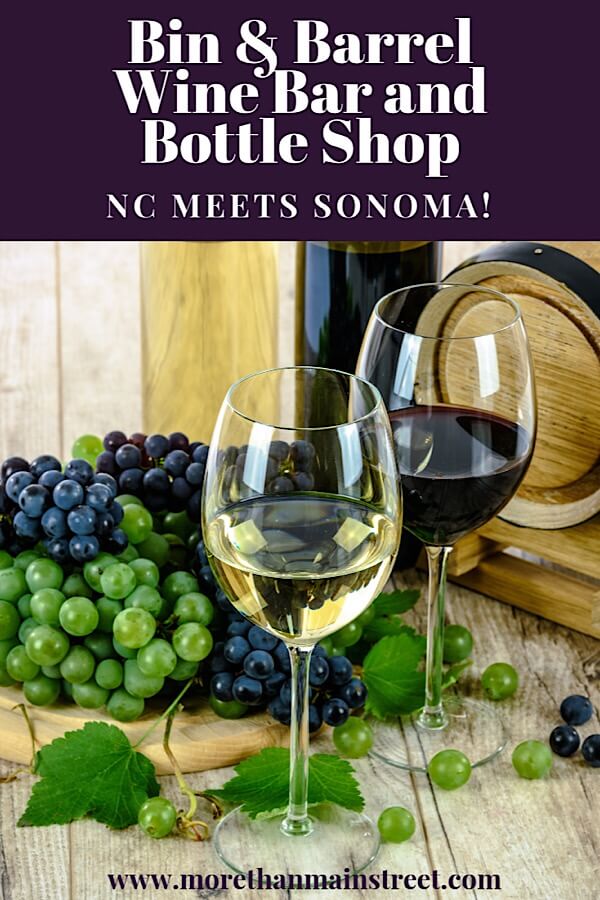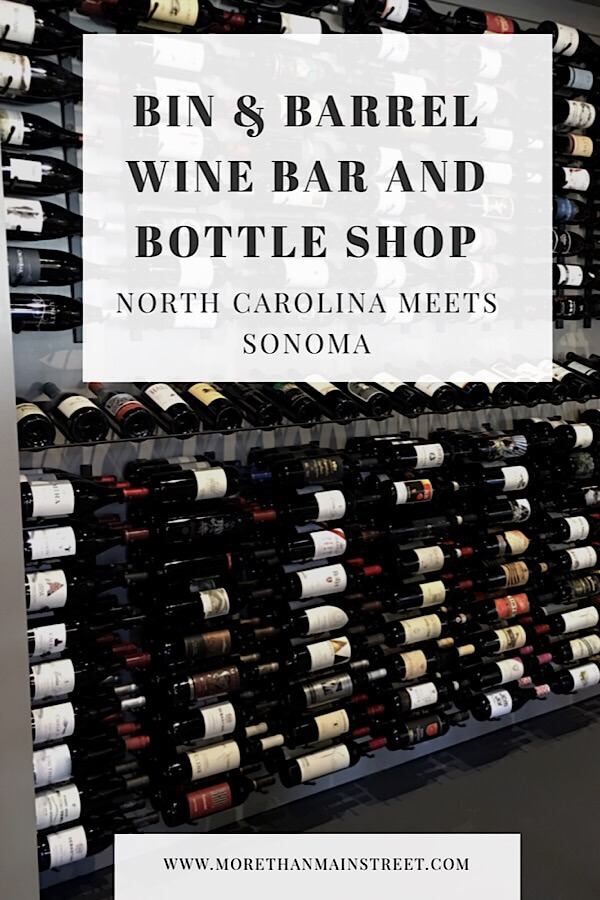 If you liked this post, please consider sharing on social media or hopping on over to another blog post! Anytime you visit other posts, it helps my little business grow! Thanks for your support friends!
Meet More than Main Street Contributor Emily-
Hi!  I'm Emily.  I'm obsessed with all things food, wine and travel.  Before I had our little girl, I had a blog that I devoted to sharing all the recipes that I cooked in our kitchen as well as restaurant recommendations from our travels.  I decided the shut the blog down about a year ago so that I could spend more time cooking in the kitchen.  Food brings me happiness especially when shared with others.  I love early morning workouts; reading; eating my way through cities and towns near and far; a crisp glass of bubbles; and entertaining.