Planning a BVI Catamaran Charter?
Planning a trip to the British Virgin Islands? Hit all the highlights with this ultimate 7 day BVI itinerary for a trip unlike any other!
For this epic trip, we did a BVI Catamaran Charter onboard a PowerCat 443 from MarineMax Vacations. The PowerCat 443 has three bedrooms and three full bathrooms! This was a perfect size for three couples allowing us plenty of privacy and plenty of room to play at the same time.
Because of our boating experience, we were able to do a bareboat charter, meaning we captained our own catamaran. If you do not feel comfortable driving the boat yourself, a captain is available for an extra charge. Heck, you can even hire a private chef if you want to!
Below you will find all the details for our 7 Day BVI Itinerary which included the famous Willy T, Soggy Dollar Bar, Foxy's, Scrub Island, The Baths, The Bitter End Yacht Club, and a special dinner at Saba Rock!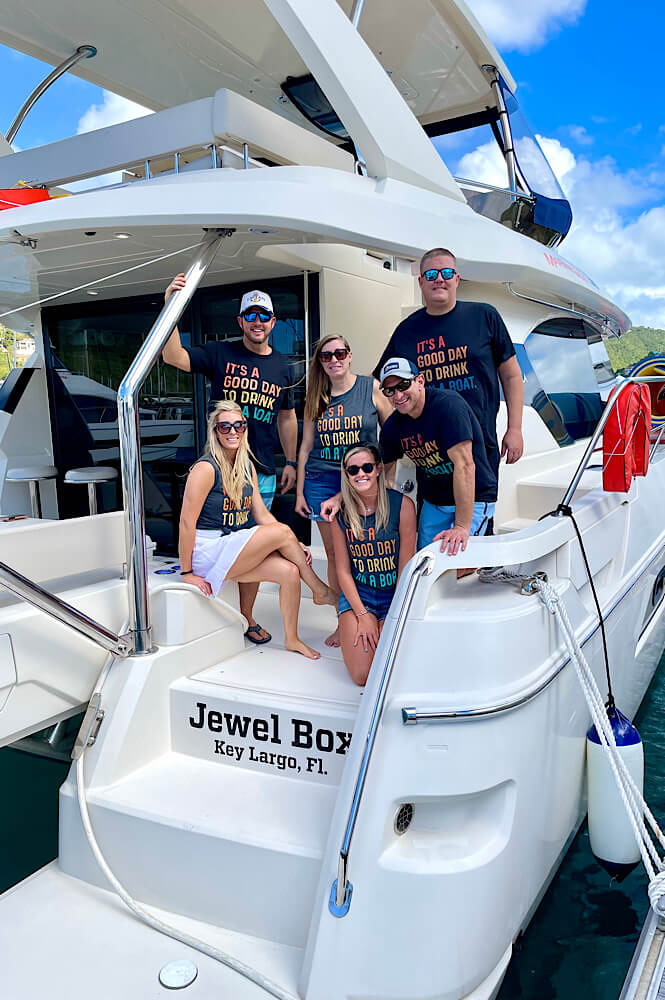 This post contains affiliate links which means I could earn a small commission, if you make a purchase, at no additional cost to you. As an Amazon Associate, I earn from qualifying purchases. For more information, read my full Disclosure HERE.
ICYMI—> Even more details of our trip can be found in my BVI highlight on my Instagram profile- see all our pictures, get more info, and for a good laugh see me jump off the Willy T!
BVI Day 1: Travel Day
Flight to St Thomas
Lunch at the Ferry Terminal
Native Son Ferry to Tortola 
Customs in Road Town Tortola, Taxi to Nanny Cay
Arrive at MarineMax at Nanny Cay
Dinner at Peg Legs at Nanny Cay (MarineMax Marina)
Sleep aboard at Nanny Cay
We ordered provisions ahead of time from Bobby's Supermarket on Tortola. Our groceries were ready and waiting for us when we arrived! There is a small supermarket and two restaurants at the MarineMax marina which was super helpful for last minute items and meals. There are also showers and changing rooms available to charter guests if you need another option besides the boat bathrooms. MarineMax has rooms available for rent if you do not choose to do a sleep aboard your first night. While the sleep aboard option is more expensive, it was nice to only have to unpack once and to have that extra time to get familiar with the boat before leaving the marina.
How do you get around the BVI's when you do a BVI sailing charter? Once you have hooked up to a mooring ball in the harbor of your destination, most catamaran charters come with a dinghy! Then take your dinghy to shore or tie up to a nearby dinghy dock.
Pro Tip: Consider booking private round trip transportation to and from the British Virgin Islands. While it may seem extremely expensive, it actually comes out around the same amount of money and saves you a ton of time!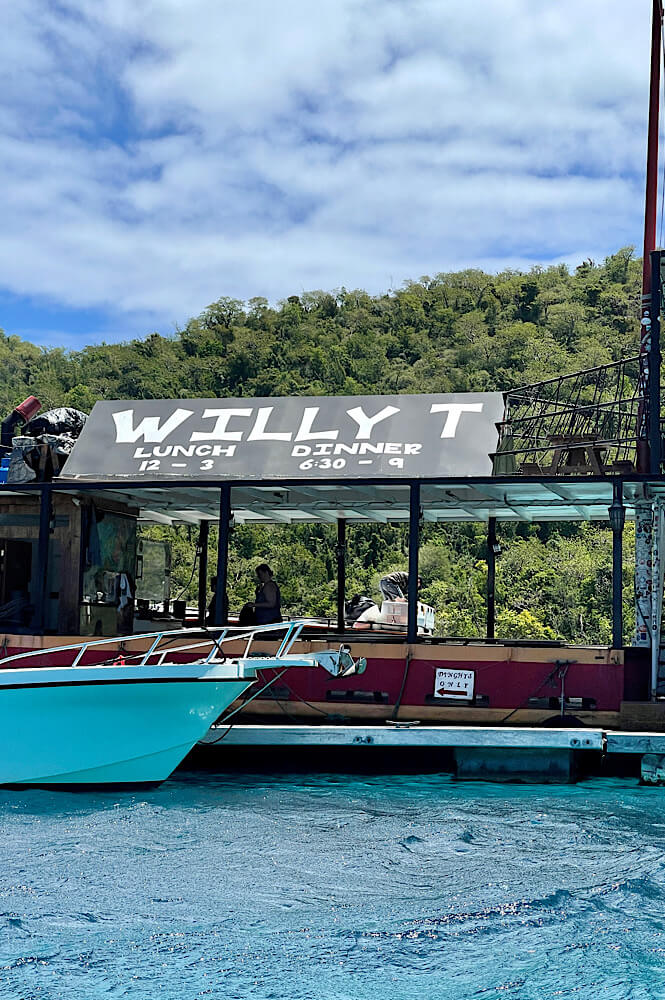 BVI Day 2: Norman Island
MarineMax catamaran orientation
Leave from Nanny Cay (MarineMax)
Moored at Norman Island
Played at Willy T
Lunch at Willy T
Played and swam by the boat for the remainder of the afternoon
Dinner at Pirate's Bight
What is the Willy T? The Willy T is a pirate ship and bar off of Norman Island. Not only do they have a dingy dock but space for larger boats to tie up as well.
What do you do at the Willy T? Well…you eat, drink, and jump! Although there are signs posted stating "No Jumping Allowed", it is what everyone does. Young, old, doesn't matter. You go to the Willy T, you jump! So we did. LOL.
Should I take my kids to the Willy T? Well…that depends. At one point during our time at the Willy T, I would say No, absolutely not. It was a wild crowd that I wouldn't feel comfortable taking my kids to. But they only stayed about an hour and after they left, it was a much more chill crowd, with kids! So, if you plan to take your kids to the Willy T, just know ahead of time, you may to have a plan B or come back another time.
Pro Tip: Need a plan B? Norman Island is also the perfect spot for swimming, snorkeling, exploring caves, and hiking!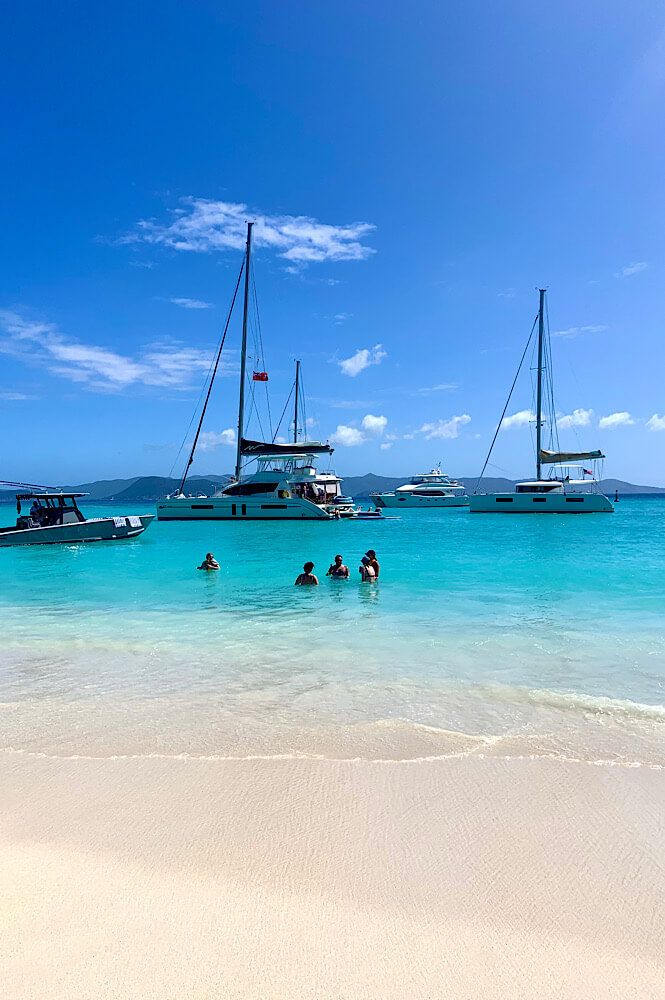 BVI Day 3: Jost Van Dyke
Leave from Norman Island 
Moored at Great Harbor off Jost Van Dyke
Lunch onboard the boat
Played at Foxy's and Soggy Dollar Bar
Dinner at Foxy's
Soggy Dollar Bar is one of the most famous beach bars in the world! Soggy Dollar Bar got it's name because people could only get there from the water, therefore arriving with soggy dollars in their pockets. They're famous for a drink called a painkiller which consists of rum, pineapple juice, orange juice, cream of coconut, with grated nutmeg on top! Soggy Dollar has to be included on any BVI itineray!
Pro Tip: There is no dinghy dock at Soggy Dollar Bar. You either have to ride the waves onto the beach OR you can take a taxi from Foxy's across the island to Soggy Dollar Bar. Either way you're sure to have a great time! Also, if you need lunch options, there is supposedly a fabulous pizza place near Soggy Dollar Bar. Hendo's Hideout is another great option.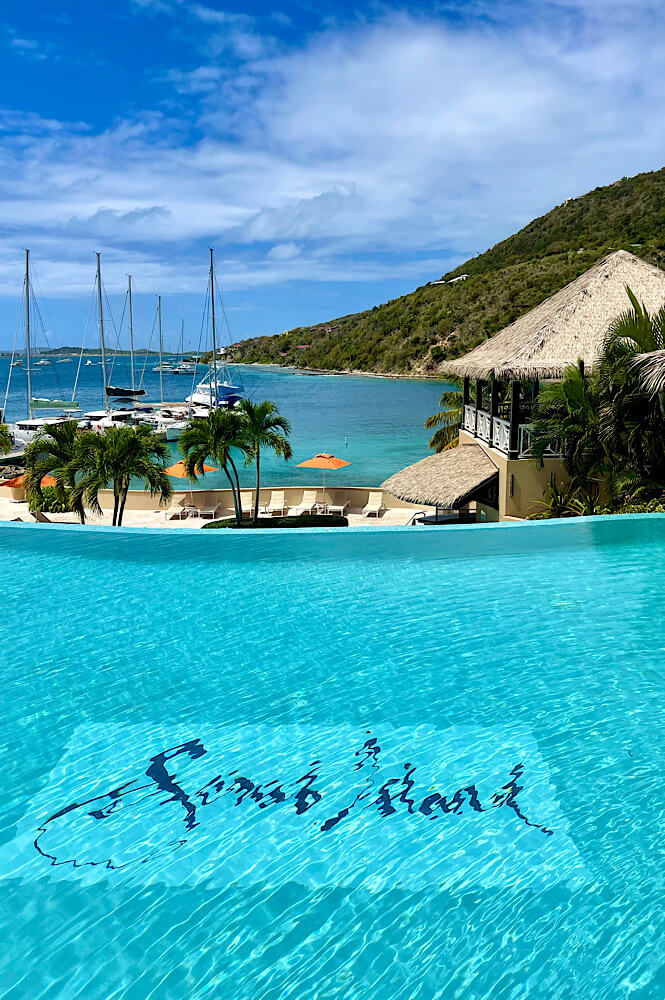 BVI Day 4: Scrub Island
Leave from Jost Van Dyke
Moored at Marina Cay 
Played at Scrub Island 
Lunch at Scrub Island
Moved on to overnight mooring in the Bitter End Yacht Club Mooring Field 
Dinner at Bitter End Yacht Club
Pro Tip: Call ahead of time to make sure you are able to get a day pass for Scrub Island– they initially told us day passes were unavailable, however they made some available when we mentioned we were 20 year Marriott Bonvoy members.
 (Our original plan for Day 4 on our BVI Itinerary was to go to Anegada Island- unfortunately due to high winds and rough seas we had to go with Plan B above- which turned out to be epic as well!)
Wellness Reminder: This 7 Day BVI itinerary is jam packed full of fun! Gentle reminder to hydrate, reapply that sunscreen, and take some time to slow down. Scrub Island is the perfect spot for a little rest and relaxation.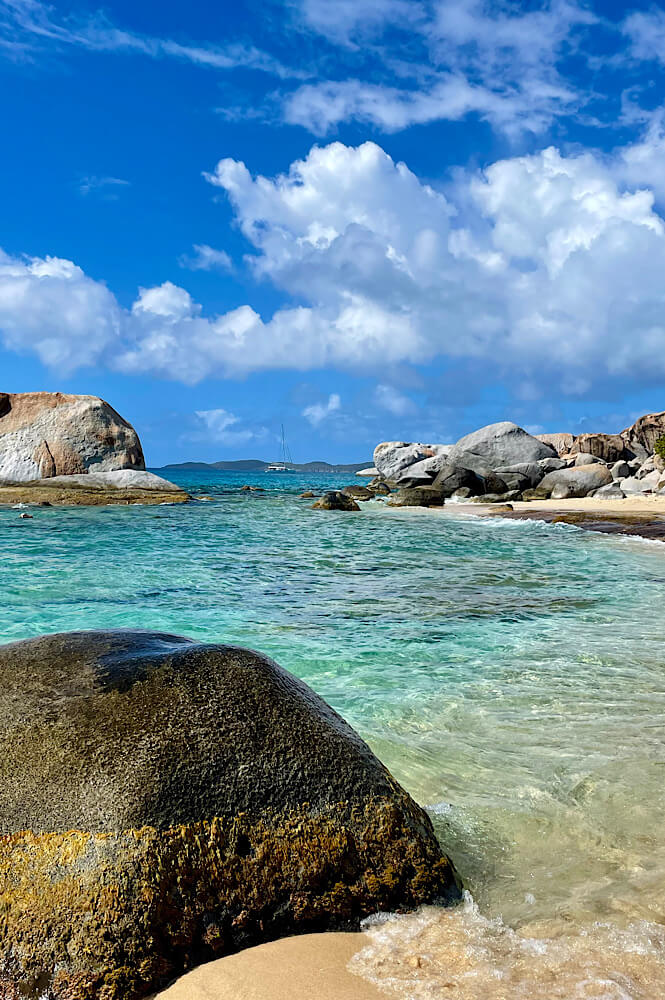 BVI Day 5: Virgin Gorda
Moored at Bitter End Yacht Club
Ferry from BEYC to Gun Creek
Taxi to The Baths with Tiger Taxi (Set up by the concierge at BEYC)
Lunch at The Baths
Played at The Baths National Park on Virgin Gorda
Dinner at Saba Rock 
I have to say Day 5 during our BVI catamaran charter was my favorite day. The Baths National Park are an absolute must for any BVI itinerary. We absolutely loved seeing a bit of Virgin Gorda by land in a fun open air taxi. And if we went back and wanted to stay at a resort, I would stay at The Bitter End Yacht Club in a heartbeat!
Pro Tip: There are options to anchor off of the Bath's instead of taking a taxi across the island, however there is only the option to tie your dinghy up to a floating line and then swim the rest of the way into The Bath's. If you are not a strong swimmer, I would not recommend this option as the current can be quite strong.
BVI Day 6: Cooper Island
Leave from BEYC/ Virgin Gorda 
Moored at Nanny Cay/ Marine Max
Lunch on board the boat
Played at Cooper Island 
Return to MarineMax at Nanny Cay
Dinner at Peg Legs 
Our original plan was to stay overnight at Cooper Island. There is a fun rum bar, brewery, and restaurant on Cooper Island. However, when we went ashore around 1pm that day, they informed us they did not have any dinner reservations available and did not take walk ins. We then planned to go back to Norman Island to finish up our week with one more trip to the Willy T. Sadly, we had some mechanical issues on our way to Norman Island which ended with a MarineMax engineer coming out and bringing us back into the marina. All in all, it was fine, we were all safe and happy!
Interested in seeing more of the BVIs? Check out my top 10 best things to do in the British Virgin Islands!
BVI Day 7: Travel Day
Travel Day
Private boat service (Johnny's Maritime Services) from Nanny Cay to BVI Customs in Soper's Hole to USVI customs in Cruz Bay in St John to St Thomas 
Flight home 
This was the perfect BVI itinerary for an adult/ couples vacation. You could also easily do this same BVI itinerary in reverse. There's no reason one is better than the other. There are plenty of family friendly options and things to do with kids as well. This was pretty much the coolest vacation we've ever been on- I highly recommend adding it to your bucket list!
Be sure to grab my quick and easy adventure captions to share your BVI trip on Insta too!
BVI Quick Tips & Things to Know Before You Go:
Food is very expensive on the islands and service is slow- just prepare to be on "island time".
We ate breakfast on the boat each day.
Make dinner reservations for each night or you may not get in! (We tried making reservations around lunchtime on Day 6 at Cooper Island and were turned away because they were full!)
Make sure to have some cash handy if you don't end up getting a BoatyBall…someone will come by each day to collect a mooring fee. You will also likely have someone come by to collect trash for a small cash fee each day. (BoatyBall is a service where you can reserve a mooring ball each morning- but trust us, balls go quick!)
Always have a Plan B in case your original plan doesn't work out! 
Something will likely go wrong- just go in knowing that!
Give yourself extra time on your travel days! (Apparently Saturdays are the busiest day for leaving the BVIs.)
So what do you think?? You ready to take on the BVI itinerary??
Want more Caribbean inspo?? Read about our trip to The Atlantis in the Bahamas, our stay at an all inclusive in Mexico, and our holiday trip to Aruba!
SAVE THIS BVI ITINERARY FOR YOUR NEXT VACATION TO THE BRITISH VIRGIN ISLANDS!!