A HOUSTON WEEKEND GUIDE
Houston, Texas is a HUGE city!!
I mean it is one of the top five largest cities in the U.S., so I shouldn't be surprised, right? But still, it just seems to go on and on! There's no major attraction when you think of visiting Houston, Texas but there is still plenty to see, do, and of course eat!
There are so many fun things to do from the zoo, to the NASA space center, to getting outdoors and hiking in Houston! We recently spent our Houston weekend in the Seabrook area. Since we have family that lives there, we got the pleasure of experiencing the city with a local flare!
During this visit we also incorporated a road trip to San Antonio, but the plan for our next Houston adventure is a road trip to Austin, Texas!
FUN THINGS TO DO DURING YOUR WEEKEND IN HOUSTON TX:
NASA has a fantastic visitors center located on the 1620 acre space center campus. The space center is home to NASA's astronaut corp training facility and "mission control". I would not only recommend this place for kids but adults too! Two different tram tours, audio tours, simulators, live presentations, movies, and kid centered areas…there is truly something for everyone!  (FYI the tram tours are 1-2 hours with no restrooms along the way.) Hands on museums are the best way to learn in my opinion…we got to touch an actual rock from Mars! They also have a very nice food court and gift shop. The day we were visiting they had a real astronaut there signing his book!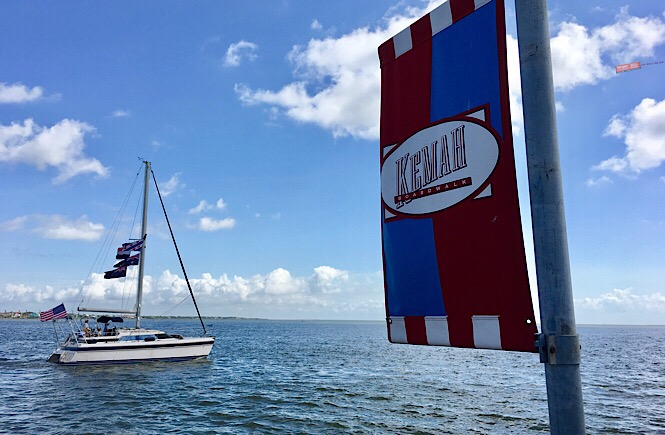 This is a bit touristy, but our kids couldn't resist the pull of the roller coasters. There are rides, games, shopping and restaurants all along the beautiful Galveston Bay waterfront. They have a lot of weekend events and Friday fireworks during the summer. This could be a quick 30 minute stop on the way to Galveston or you could spend an entire day here. They offer individual ride tickets or all day passes.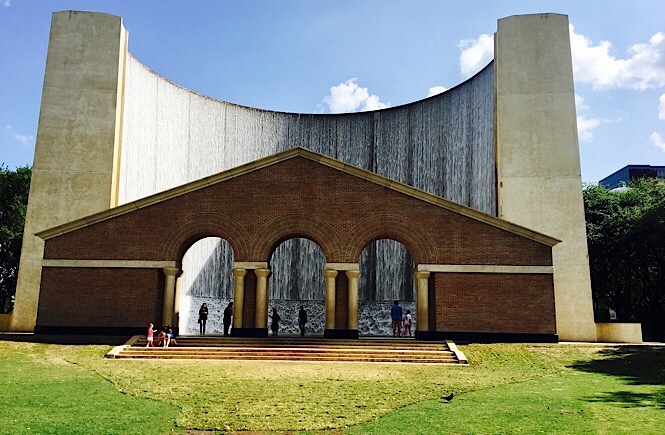 This ended up being one of my husband's favorite stops. This massive wall of water is located right next to The Galleria shopping area. It is really quite breathtaking and a perfect spot to let kids run free in the grassy area or take a minute to relax. (SIDE NOTE: the traffic in this area at 5 o'clock is insane!)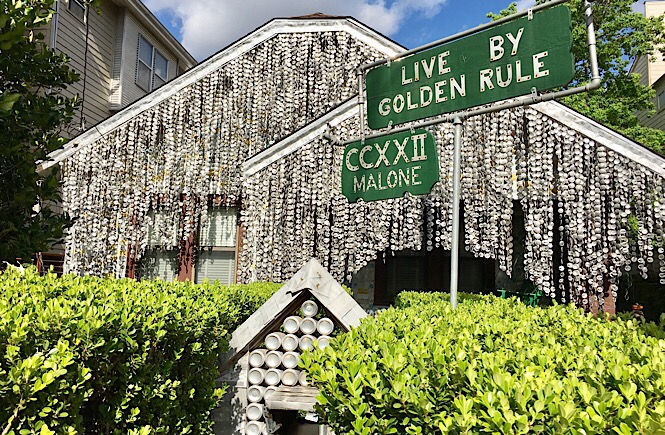 If you haven't noticed by now, I love fun and quirky finds in the places we visit! I know this is random but I loved it! Seriously, where have you ever seen a house made entirely of beer cans before? I thought it was actually quite pretty and I love the Golden Rule message! It's only open for tours on the weekend if you plan to go inside ($5 per person, free for kids 12 and under).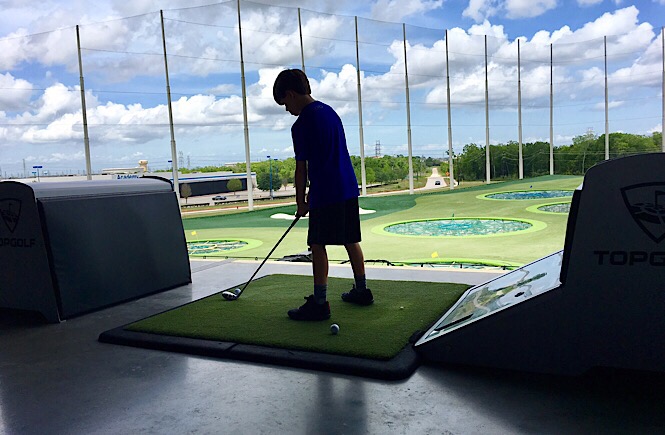 We love Top Golf!! I am not a golfer (I'm horrible actually), but my husband and son are. The Houston area has three Top Golf locations, while we have none at home, so we love to visit one when we are traveling. This is a great activity for the entire family, for a date night, or a group event…and you really truly don't have to know how to play golf. If you ask my kids…this was their favorite thing to do in Houston.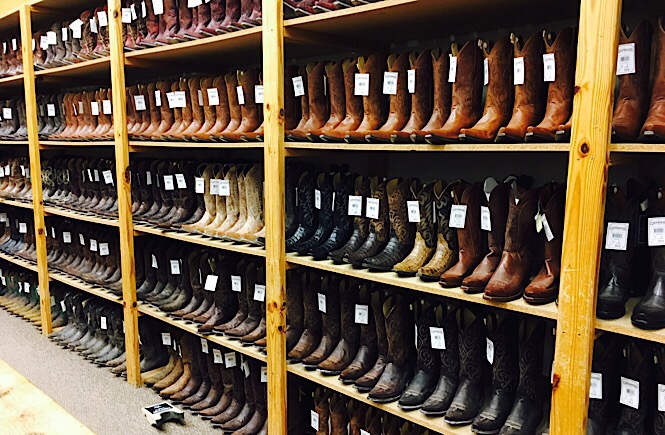 GO BOOT SHOPPING IN HOUSTON TX!!
What says "Texas" more than western wear and cowboy boots? We stopped by Cavender's Boot City and truthfully the whole family had a blast. There are more boots in one place than you've ever seen!! We tried on several different kinds and learned a little bit while we were at it.
WHERE TO EAT IN HOUSTON: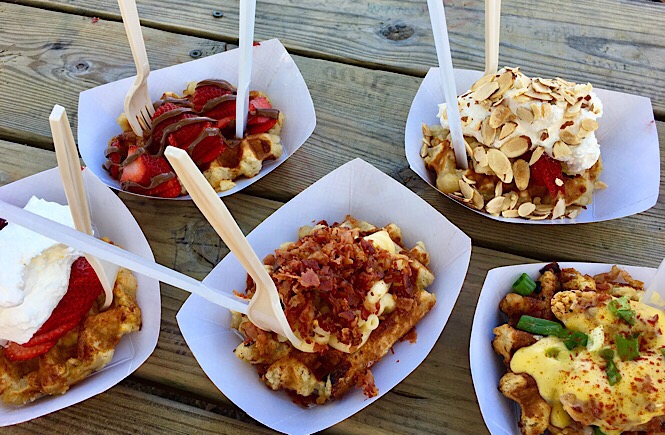 Oh My YUM!!
This was possibly my favorite meal in Texas…these liege style waffles are the bomb! So many varieties to choose from…we tried the strawberries and cream, macaroni and cheese with bacon, and chicken and waffles. They do have a small area inside to eat, but most everyone, us included, ate outside on picnic tables. Oh and great coffee too. Breakfast heaven!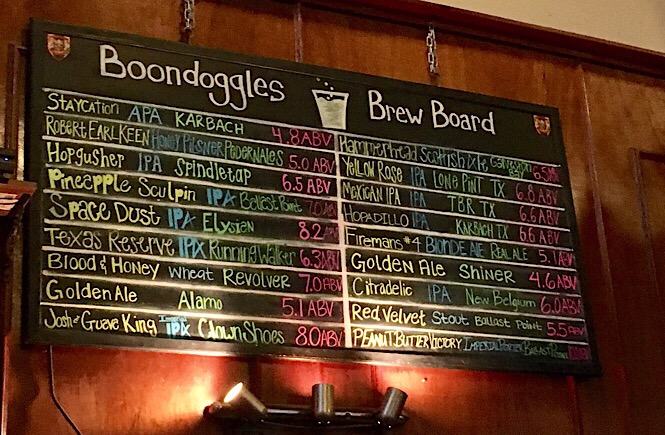 The Seabrook area is near Clear Lake, so they have lots of waterfront dining options. This pub is kinda tucked in a corner near the water and is a locals favorite! This is really a great lunch or dinner option. We had specialty pizzas, wings, and the beer options were awesome! They have a different special each night of the week and apparently the seafood is a huge draw.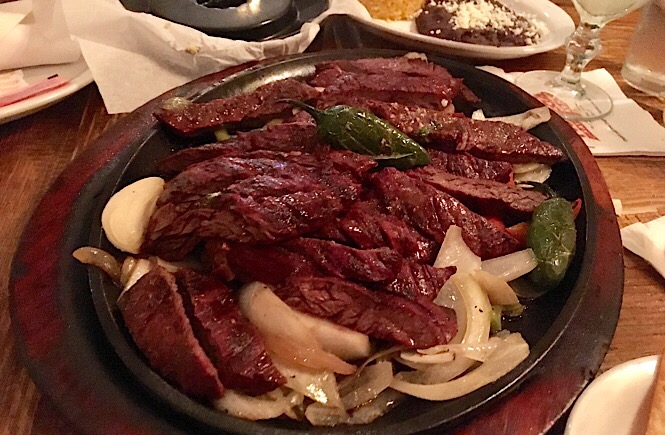 My husband had visited the Houston area on his own about a year prior to our trip and he could not stop raving about this restaurant! I have a crazy obsession with Mexican food…and this did not disappoint! You order the fajitas by the pound- what?!?!  They were making homemade tortillas right near the entrance which totally captivated my daughter. They actually let her make her own tortilla and just totally made her night! This place is in high demand, so make sure to get reservations.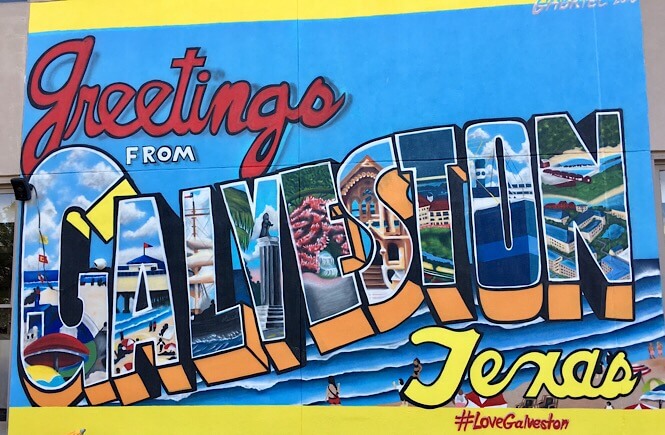 DAY TRIP TO GALVESTON, TEXAS
Because Seabrook is only a 45 minute drive to Galveston it is the perfect destination for a day trip! If you're into amusement parks, check out the Galveston Island Historic Pleasure Pier. But we chose a little more low key exploring on our own in the Historic Strand District. And you know we're all about the food scene when we travel! Consider taking a food tour to find some awesome places to eat in Galveston!
WOULD WE GO BACK FOR ANOTHER WEEKEND IN HOUSTON TX?
Absolutely! Our Houston weekend was super fun and memorable! The one thing I will say is the traffic was awful…but I guess that's to be expected in any big city. Next time I'd like to explore some more of their food scene and their street art!
Have you visited Houston, Texas? Let me know what y'all think!