JW Marriott San Antonio Review
Our family of four recently stayed three nights at the JW Marriott San Antonio Hill Country Resort in San Antonio, Texas. First let me say that we are pretty loyal Marriott Rewards members for almost twenty years. When we're traveling we often look for a Marriott property first and then compare to other options. We've stayed the gamut of their properties, from the resorts to the Fairfield Inn…and nine times out of ten we're satisfied customers!
We also love their rewards program- we've earned lots of free travel through Marriott Rewards! We thoroughly enjoyed our stay at the JW Marriott in San Antonio and the property is amazing.  By the way…this isn't a sponsored post…just my opinion!!
The JW Marriott San Antonio Hill Country Property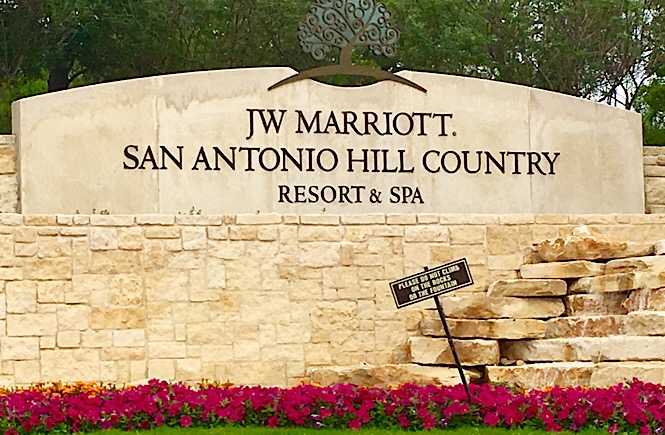 The property is beautiful. Upon arrival there is a very impressive entrance and awesome lobby!  And then there's the very large pool, kids area, a huge hot tub, water slides, sandy beach pool, lazy river, and a gorgeous golf course.
We arrived later in the afternoon on Easter Sunday and they were wrapping up some fun events they had planned for kids for the holiday. They do have poolside s'mores every afternoon which was a fabulous treat! And for Easter Sunday…peeps s'mores! Genious!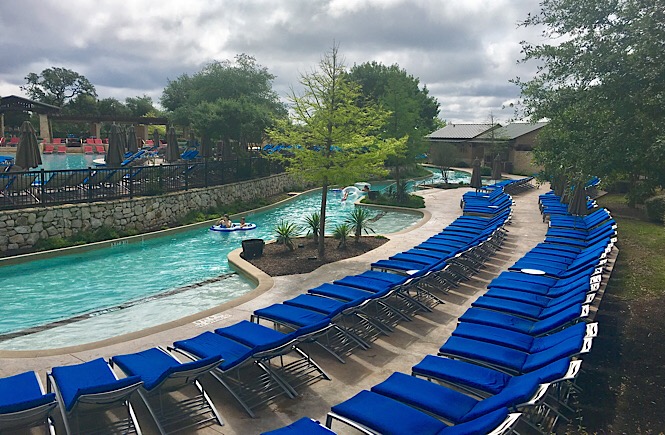 We were not able to actually play the golf course due to a PGA event, but I think my husband and son would have loved the course. They were able, luckily, to go out and watch some of the player's practice rounds which was a fun experience for my two golf lovers! And we did not take advantage of the spa…because well…that's not typically something we do when we have the kids with us. We did however enjoy the pool, water slides, and lazy river. They have a great little grill at the pool as well and outdoor ping pong tables that my kids really loved. Oh! And a very nice bar/ lounge area with a pool table downstairs from the lobby.
Our Room at the JW Marriott San Antonio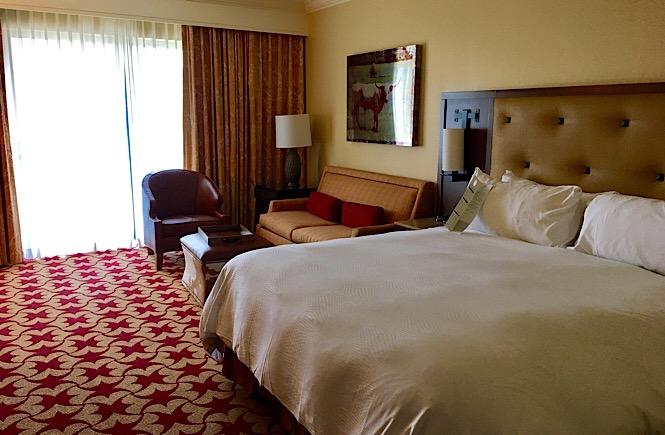 The room was nicely appointed with the biggest TV I've ever seen in a hotel room. The bathroom was huge boasting a shower and separate tub. We had a grand view of the property, golf course and pool. The room had a very comfortable king size bed and a sleeper sofa/couch. We also requested a roll away since my kids wanted their own sleeping space. A small balcony was perfect for some fresh air and the air conditioning kept the room very comfortable. We've found that the temperature in the room can really affect how well our family sleeps so this was a plus in our book!
The Food at the JW Marriott San Antonio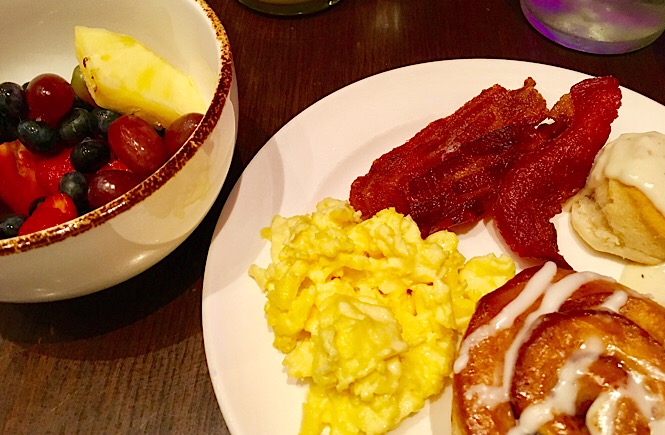 The food at this resort was fantastic! They have a Starbucks, Cibola Moon (open for breakfast, lunch and dinner), High Velocity sports bar, and a poolside grill. There are two other dining options at the golf course clubhouse and at the spa, but we didn't visit either of those. We had breakfast buffet at Cibola Moon- my kids dubbed this the "best buffet in the USA." Pretty high praise, right? The buffet was huge, fresh, and delicious! We enjoyed every bite!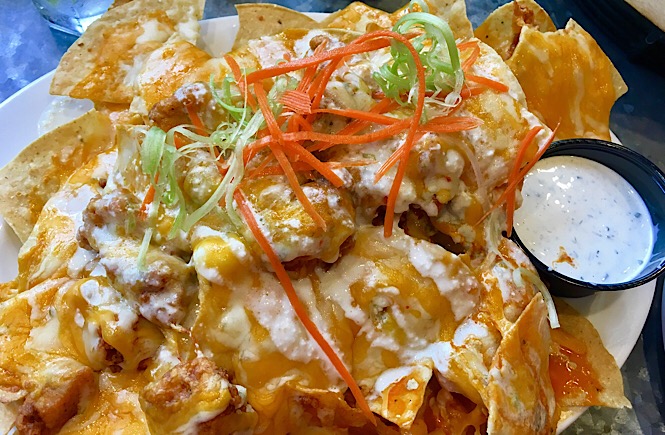 We ate an early dinner at High Velocity and were able to take advantage of discounted appetizers. My husband decided they were the best onion rings he had ever had…I mean- WOW! And the buffalo chicken nachos were pretty on point in my opinion. Both kids really enjoyed their meals as well. But I can honestly say I've never seen quite this level of a sports bar at a hotel/ resort. The TVs were huge which was a plus since the NBA playoffs were happening.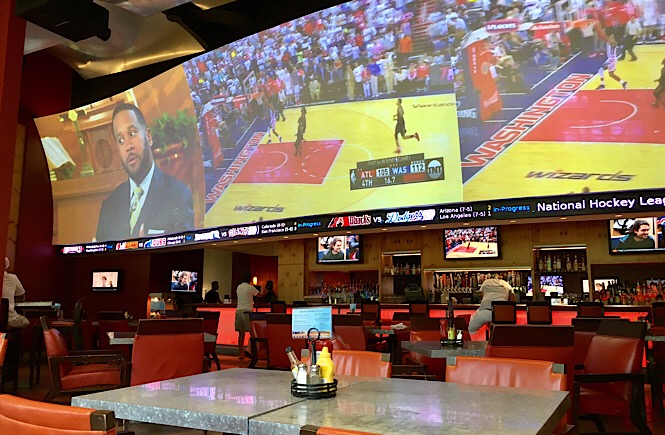 And the poolside grill was good- nothing fancy- but our chicken tenders and chips, salsa, and guacamole were just what we were looking for. Our kids love being able to eat lunch and never have to leave the pool!
The Down Sides of the JW Marriott San Antonio
The grill at the pool closed at five o'clock. This just seemed a tad early for us. Maybe it has extended hours in the summer…we were there in April.
There was no one serving poolside. Maybe we're spoiled by other resorts, but we're happy to buy food and drinks and tip a server willing to deliver poolside. Just sayin!
There is nowhere to grab an inexpensive breakfast on the property unless you want Starbucks. We LOVED the breakfast buffet but it was around $100 for the four of us. This is fine for our family once during a visit, but not something we can do each morning. I do however think this is on par pricing for most resort properties.
The sofa bed in the room was quite uncomfortable. I know there aren't many sleeper sofas that are comfortable, but this was pretty bad.
There was nowhere to print tickets without paying. This seems trivial, I know. But, to have to pay to print four pieces of paper is just silly. (In my opinion.)
Would We Go Back to the JW Marriott San Antonio?
YES! This is an amazing family friendly golf property! We would absolutely recommend this to anyone looking to have a golf getaway. I would love to go back for some R & R and take advantage of the spa!! If you're looking to explore more of San Antonio than just the River Walk area, this is a very beautiful resort with lots of options for both kids and adults.
I wrote all about what and where we ate in San Antonio and what fun activities for kids in San Antonio if you are interested in more information!
We love JW Marriott Resorts in general. My friend Tara at Travel + Family wrote a review of her stay at the JW Tucson Starr Pass Resort if you're headed to Arizona, be sure to read more!
Have you been to the JW Marriott San Antonio? Let me know what y'all think!
Pin & Save this JW Marriott San Antonio Resort Review For Later!