Unique North Carolina Gifts
Looking for North Carolina gifts for that special NC lover in your life?
Y'all may or may not know, but North Carolina is home to our little family!
And although I am not a NC native, I have lived in the Tar Heel state for over twenty years. So, I've learned a thing or two since I've lived here and have also found some pretty cool North Carolina gifts to give over the years. Whether you're looking for a unique gift for a friend or sending a present to someone a little homesick for good ole NC, I'm hoping this gift guide helps you find the perfect gift for the NC lover in your life!
This North Carolina gifts post contains affiliate links which means I could earn a small commission, if you make a purchase, at no additional cost to you. As an Amazon Associate, I earn from qualifying purchases. For more information, read my full Disclosure HERE.
North Carolina Gift Ideas
As you all may know, I'm a big believer in gifting experiences. As a matter of fact, I have an entire guide dedicated to experience gifts. So, you shouldn't be surprised by my first suggestion!
A North Carolina weekend getaway!
If your budget allows, consider gifting a weekend getaway. Consider renting a house, booking a hotel, and lining up some NC fun! This is always one of my favorite gifts to give AND to receive. From the beaches to the mountains, there are so many incredible towns to choose from in North Carolina.
Consider staying in unique accommodations or get up to $55 off your stay if you book with my AirBnB link! We stayed with two other families in these super cute cabins in Boone, NC in the past and had the best time!
Pro Tip: Always read the reviews before booking and the entire listing description- that's the best way to find a great place to stay!
Some other fun experience gift ideas specific to North Carolina are:
Need more ideas? Drop me a comment below, I'm happy to help!
Budget Friendly Unique North Carolina gifts!
Now I know most of us can't necessarily afford to gift somebody a full weekend getaway. So…here are a few more affordable North Carolina themed gifts!
Bonus! These are all also great North Carolina souvenirs!
Most everyone I know loves this magazine. They always have the best finds and you can choose between the print version and the kindle version!
Not only are the Home T-shirts made in North Carolina, but they are from one of our all time favorite NC beaches: Carolina Beach! As small business owners, my husband and I are ALWAYS in favor of supporting local first!
BONUS: These shirts are super soft and comfy!
Likely, if you're from Eastern North Carolina, you may already have this. BUT, if you don't, and you need a North Carolina gift idea…this is it! This isn't just a cookbook friends. This is a book full of love and history of all things NC. Vivian Howard is the owner of Chef and The Farmer in Kinston, NC, Handy & Hot in Charleston, SC, and Benny's Big Time Pizzeria in Wilmington NC. She's also star of the PBS series A Chef's Life, now award winning author, and just a pretty cool chick. UPDATE: Check out her NEW book: This Will Make it Taste Good: A New Path to Simple Cooking.
BONUS: Give a gift certificate and reservation at one of her restaurants along side this book!
Christmas ornaments are the one actual physical souvenir that our family collects during our travels. We love reminiscing every year as we decorate our tree and are such a wonderful reminder of the places we have been!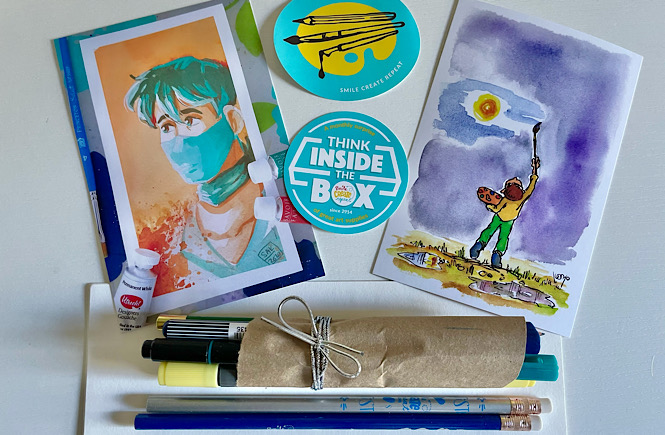 This small family owned North Carolina business is the perfect gift for any art lover in your life. Get monthly art supplies, inspiration, along with a online tutorial delivered right to you door!
Did you know Pepsi was born in New Bern, NC? Any true Pepsi lover would appreciate a little North Carolina nostalgia!
I mean…can't everyone use a little decor? Simple and sweet and goes with just about anything!
We take college sports very seriously here in NC. And what North Carolina gifts guide would be complete without a little good old fashioned college teams rivalry? We of course have our preferences, because everyone needs their UNC apparel and UNC gear! Go Heels!
I suppose we can suggest a thing or two for those other two teams…if we have to! A few ideas for NC State gifts or Duke gifts.
If you've never had treats from Dewey's Bakery, you're in for a real treat! Dewey's is an awesome food product made in North Carolina based out of Winston Salem! They're a popular school fundraiser in our state and one people are always excited about buying!
Made just down the road from us in Enfield, North Carolina! Guaranteed this gift won't go to waste!
Pro Tip: These peanuts are an awesome addition if you're making North Carolina gift baskets.
This is a fantastic gift for the beer lover and the NC lover in your life and such a fun way to decorate! Wouldn't it be cool to fill this with all local NC craft beer bottle caps?
North Carolinians take their beach time seriously. So what better way to preserve our special memories than with a super cute picture frame?
This is a perfect gift for any family planning a trip to Asheville, NC! A little history for the kids beforehand allows them to get more out of your visit!
This is the perfect North Carolina gift idea for the littlest ones in the family! Say Goodnight to some popular NC destinations.
Gifts From North Carolina
Feeling a little more inspired?
I'm hoping these unique North Carolina gifts have given you more than enough gift ideas! Share a little Carolina love with your loved ones this year!