10 Reasons You Should Visit Statesville NC
Looking for some fun and exciting things to do in Statesville NC?
Well, we've got you covered!
Only two hours away from Raleigh and less than an hour away from Charlotte, Statesville is the perfect NC weekend getaway. Whether you're looking for a weekend full of adventure or a relaxing destination for some R & R, Statesville is the NC city you didn't know you need to visit this year!
Here are 10 of the best things to do in Statesville for the perfect weekend getaway:
Ride in a hot air balloon!
Visit Southern Distilling Company
Get your history fix at Fort Dobbs Historic Site
Opt outside
Check out the Statesville Art Scene
Explore Downtown Statesville
Iredell Museums
Historic Sharpe House
Eat
And Drink!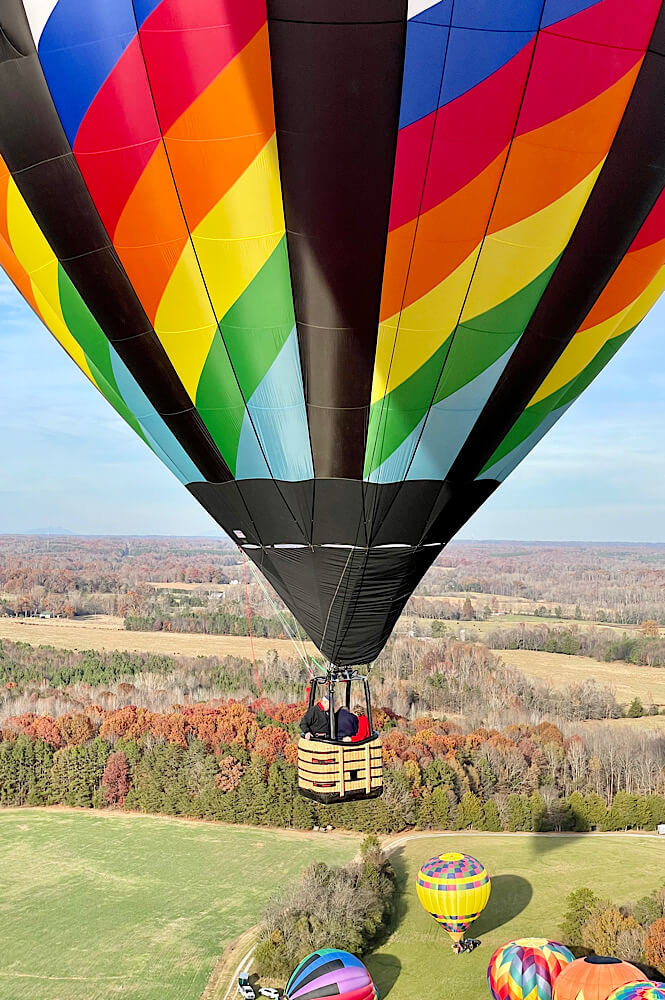 Thank you to Visit Statesville for hosting my amazing weekend adventure! As always, all opinions are my own.
1. Hot Air Balloon
Did you know that Statesville, NC is also known as the "ballooning capital of the east"?
Flying in a hot air balloon is one of the coolest and most unique things to do in Statesville NC! Local pilots are ready and willing to schedule your flight year round! On a clear day, you can see all the way to Pilot Mountain and even Charlotte!
Insider Tip: Ballooning is very dependent on wind and weather. If possible, be flexible with your schedule. Our original flight was planned as a 6 am sunrise flight, but due to weather was rescheduled for a 3 pm sunset flight instead. I didn't personally care as to the time of our flight, I just wanted to go!! (And safely!) We were in the air around an hour total and it was pure magic!
Not sure you're ready to fly in a hot air balloon? Just watching them is pretty epic too! Plan your visit to Statesville during their annual Carolina BalloonFest to enjoy some local food, fun, and more!
What's on your bucket list? After your hot air balloon ride, try some of these adrenaline pumping activities next!
2. Southern Distilling Company
Before Statesville was known as the "ballooning capital of the east" it was known as the "liquor capital of the world"! True story.
Prior to prohibition, Statesville was home to over a hundred local farm distilleries. In 2013, Pete and Vienna Barger dreamt of bringing back that distilling history to the area and founded Southern Distilling Company. Family owned and run, Southern Distilling is now one of the largest craft distilleries in the southeast. They produce some of the region's best quality bourbons, rye-whiskeys, brandies, and more. Tours and tastings are available daily or check out their brand new event space.
Insider Tip: Pete and Vienna are super passionate about bourbon! Their excitement shines through in everything they do. The tasting room is a beautiful space and would be perfect for a date night in Statesville! Even if you're not into bourbon (I'm not!), you won't want to miss a visit to Southern Distilling. It's one of the best things to do in Statesville!
We love a good day trip! Check out these other fun day trips from Raleigh for more awesome places to go in NC!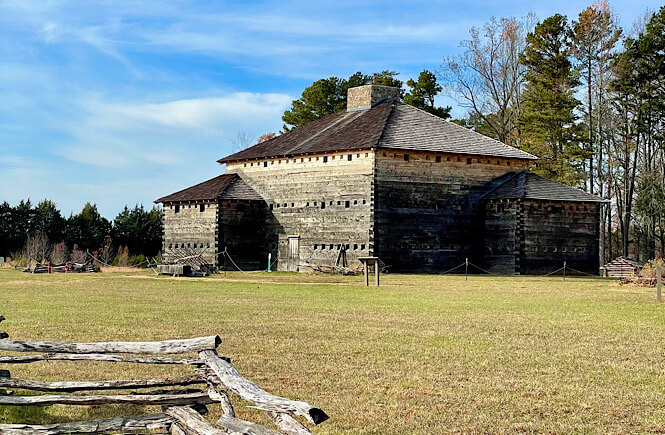 3. Fort Dobbs Historic Site
Fort Dobbs Historic Site is one of the best Statesville NC attractions for all ages. Fort Dobbs is the only historic site in North Carolina associated with the French and Indian War. A full scale reconstruction of a fortified block house is open for tours to the public Tuesday – Saturday from 9 am – 5 pm
Insider Tip: I wasn't really sure what to expect of my visit to Fort Dobbs. I honestly thought it might be kind of boring. I was so wrong! The tour guides bring history to life! The tour is the perfect amount of time to transport yourself back in time to the French and Indian War.
Know Before You Go: It is free to wander the grounds and gift shop, however there is a $2 fee for the guided tour.
Life gets busy! Trust me, I get it. That's why we love a weekend getaway. Check out these other fun weekend trips from NC!
4. Get Outside & Get Active!
Getting active and being outside is always a win in our book! Check out the local Statesville Greenway, BigLeaf Slopes Park, or Mac Anderson Park. If you're visiting during the summer with little kids, check into the Statesville Splash Pad as a way to cool off!
Just 20 minutes down the road in the town of Troutman is Lake Norman State Park which is the perfect spot for a picnic, swimming, hiking, and fishing. This is also a popular place to go for mountain biking. Lake Norman State Park is a great destination to get outside year round!
If you're looking for a real adrenaline rush and another unique adventure, check out MOTO40 MX Park. Designed to be the premiere family friendly destination for off road motorcycles, this is truly one of the most unique things to do in Statesville NC!
Not quite up for the thrill of off road motorcycles, but still want to find a family friendly way to get outdoors? Depending on the season, check out some of the local farms. Picking scuppernong grapes, blueberries, and blackberries are just a few of the fun things to do in Statesville seasonally!
Is one of your goals to travel more? Try using these powerful travel affirmations!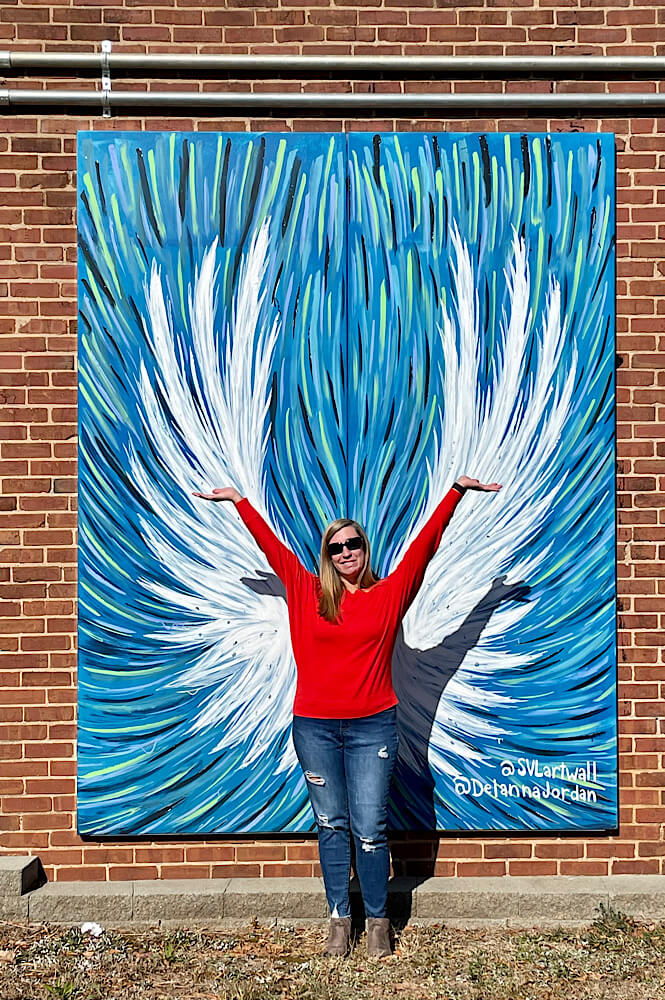 5. Check out the Statesville Art Scene
Who knew the the little town of Statesville would have such a vibrant art scene? Be sure to check out the free Statesville Art Wall and Sculpture Garden during your visit to Statesville. Also check Iredale Arts Council calendar of events for local artist spotlights, concert series, local classes and workshops, and the twice a year art crawl.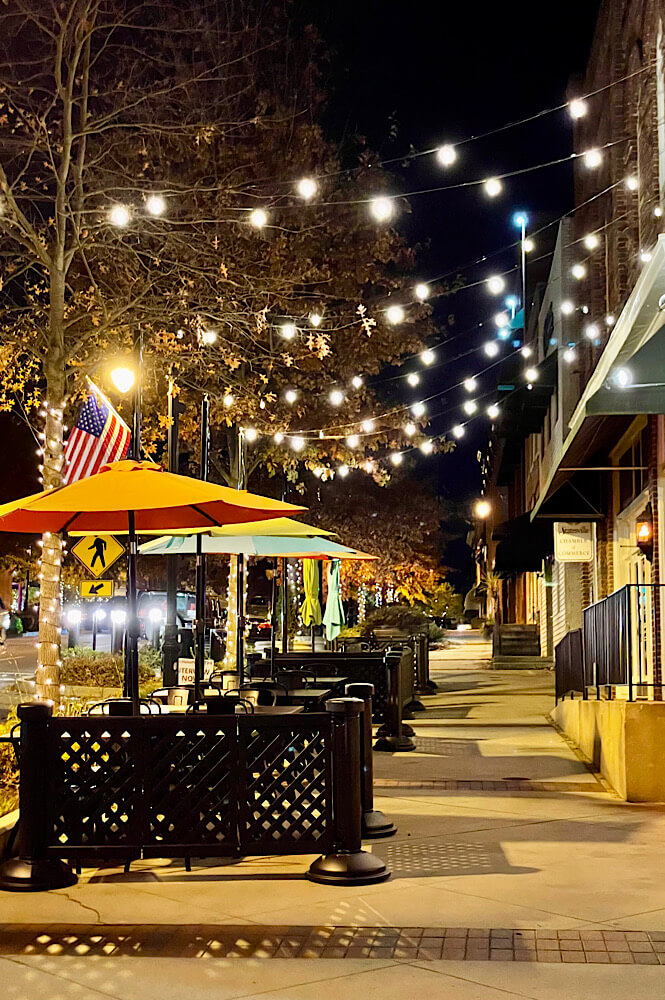 6. Explore Downtown Statesville
There's no doubt about it, downtown Statesville is a true North Carolina hidden gem. With over 20 shops and businesses, you can easily spend an afternoon exploring the extremely walkable downtown area. Grab yourself a treat at Andrea's Ice Cream & Sweet Shop or Sweet Thing Bakery & Cafe when you need a break.
Insider Tip: GG's Art Frames & Gifts literally has something for everyone – I may or may not have come out with a bag full of presents while starting my holiday shopping!
Every successful getaway requires a little bit of planning! Grab my free road trip planning checklist and travel planning worksheet before you hit the road!
7. Iredell Museums
The Iredell Museums is one of the best things to do in Statesville with kids or on a rainy day! While small in size, there are actually quite a few hands on activities for kids and a lot of cool exhibits including a real mummy!!
Admission is typically $5 per person while children 2 and younger are free. Be sure to check their website as they do often have "dollar days" where admission is only a dollar!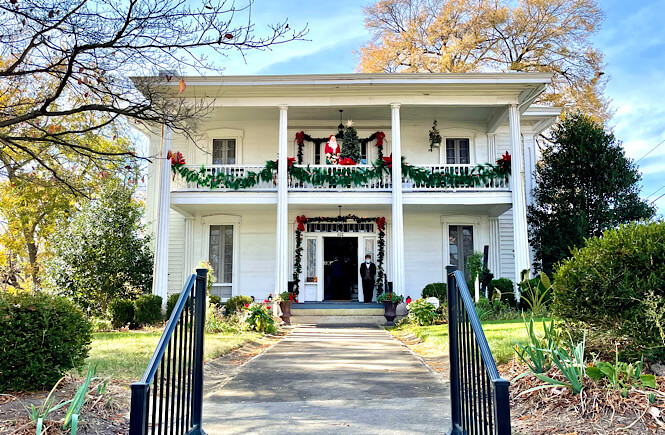 8. Historic Sharpe House
Built in 1866, the historic Sharpe House was home to the city's first mayor. Learn more about the history by scheduling a tour or attending an event in this beautiful southern home.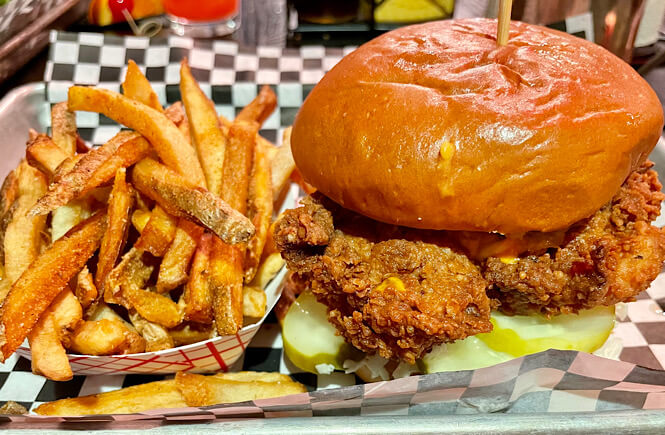 9. Eat!
No matter what you're craving, there is no shortage of great restaurants in Statesville! Here are a few top recommendations:
Broad Street Burger Bar
Twisted Oak American Bar & Grill
Smokin Southern Cantina
D'Laney's Sports Bar & Grill
Bristol Cafe (great for breakfast or brunch!)
Jay Bee's hot dogs
Randy's Barbecue (cash only)
10. And Drink!
No matter what your drink of choice, there are plenty of options of great places to drink in Statesville!
Looking for coffee? Check out Lake Mountain Coffee Shop.
If craft beer is your thing, choose between Red Buffalo Brewing or Fourth Creek Brewing downtown. (And if you're all about the hard seltzer craze, they even brew their own at Fourth Creek!)
Are you a sucker for a winery like me? Sample all their different varieties at nearby Daveste Vineyard just 20 minutes outside of Statesville. Not enough time to make it to Daveste Vineyard? No problem! Pop into Wine Maestro downtown to pick up a bottle – they have over 800 different wines to choose from!
Best Things to Do in Statesville, NC
So are you ready plan a perfect weekend getaway to Statesville NC? As you can see there is more to do in Statesville than you probably ever imagined! We had the best time visiting and will definitely be back!
Have more questions before you visit? Head to Visit Statesville to help you plan your perfect getaway!
PIN THIS POST ON THE BEST THINGS TO DO IN STATESVILLE NC FOR YOUR FUTURE VISIT OR GRAB OUR BEST ADVENTURE CAPTIONS AND SHARE ABOUT YOUR VISIT ON INSTAGRAM!!