Things to do in Columbia, South Carolina
Planning to visit Columbia, South Carolina?
We just returned home from a super fabulous weekend in Columbia, SC. Not only is Columbia the state capitol but it's also home of the University of South Carolina Gamecocks. city. It's the cutest little city with lots of good food and fun things to do!
We've visited Columbia, SC several times in the past, but this partiular visit was to attend a practice round of the Master's Golf Tournament. Many people make the 1.25 hour commute from Columbia to Augusta, Georgia during Master's week because accommodations are less expensive and easier to find!
Columbia does have it's own airport, but Charlotte, North Carolina (CLT) may be a better option if you're looking for an international airport where you might find more reasonably priced airfare. Charlotte, NC is about an hour and a half drive from Columbia, SC.
Where to Eat in Columbia, SC
Let's discuss the important things first! LOL
We love trying new places to eat when we travel. It's one of our favorite things to do! So, we were super excited to find these awesome places to eat in Columbia, SC.
This place is BUSY!! Plan to wait in line if you go on the weekend or go on a weekday like we did. We went on a Tuesday and although the small deli was quite full, we were able to get right in and out. The most popular breakfast sandwich is The Big Max…which is basically a bacon, egg, and cheese on your choice of toast. BUT the best part? All breakfast sandwiches come with a mini cinnamon roll. Score! We also had (devoured) the very popular bourbon caramel cinnamon roll…which was messy and delicious…and HUGE! The kids and I totally should've split one…oh well, now we know!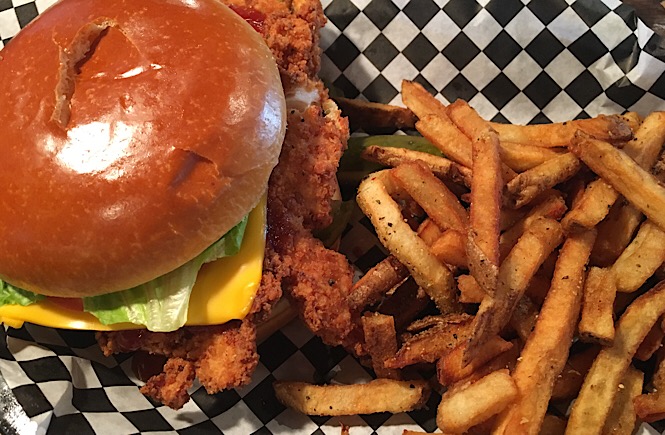 This was a recommendation from a friend who went to USC and it did not disappoint! Pawley's Front Porch is much more of a bar than I realized, but it was perfectly acceptable for kids during lunch. A must get appetizer is the fried pickle chips…but I also would say the fried zucchini was a total hit too! We ordered the Wadmalaw Burger-a burger with chipotle BBQ sauce, fried pickle chips, American cheese, and Applewood smoke bacon and the special of the day-The Slap-Yo-Mama chicken sandwich- a perfectly fried chicken sandwich with American cheese, bourbon BBQ sauce, and homemade bread and butter pickles. OMG- can you say YUM! Oh and you get to choose the type of bun- yay! Both came with hand cut fries and the bomb ranch dressing…y'all know I have a thing for ranch dressing.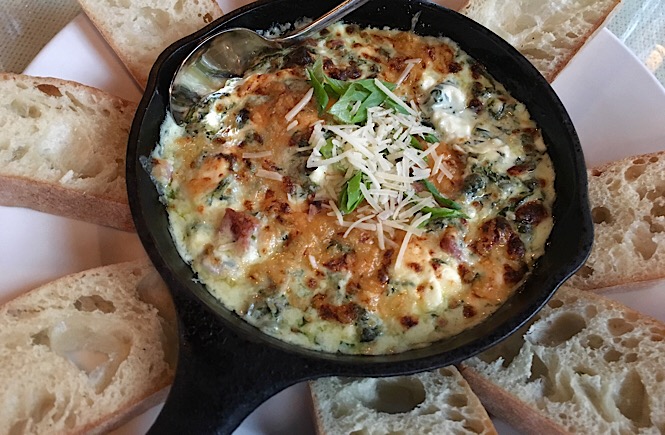 We've been to Mr. Friendly's several times now, and we just keep going back! We just love dips in general…and they have one of our absolute favorites! Their skillet baked country ham and spinach dip is to die for. No seriously, it's that good. We're also a fan of the bacon wrapped filet. I know that doesn't seem very adventurous, but it's sooo good. We did go out on a limb and ordered the low country blackeye pea cakes appetizer and we thought that was a winner as well!! We didn't order the nightly special, but watching the meatloaf go by me over and over again made me wish I had. It was obviously quite popular and I overheard quite a few people raving about it. This "new southern café" is a local favorite so if you're taking kids, my advice is to go early. They open at 5:30 pm but do not take reservations.
Bonus:
Cupcake downsouth– I feel like I am often disappointed in cupcake shops. They always look soooo yummy but then they end up letting me down. But this time, I was NOT disappointed! These cupcakes were cute, creative, and delicious! They had little samples on the counter and were actually baking while popped in mid-afternoon during the week. YUM!
Fun Things to Do in Columbia, South Carolina
At the Vista there are a bunch of yummy restaurants, bars, and cute shops…and a giant gamecock (the University of South Carolina's mascot)…which of course we had to take a picture with! HA!
Five Point is more of the college scene, but still there are a lot of fun things to see, do, and eat!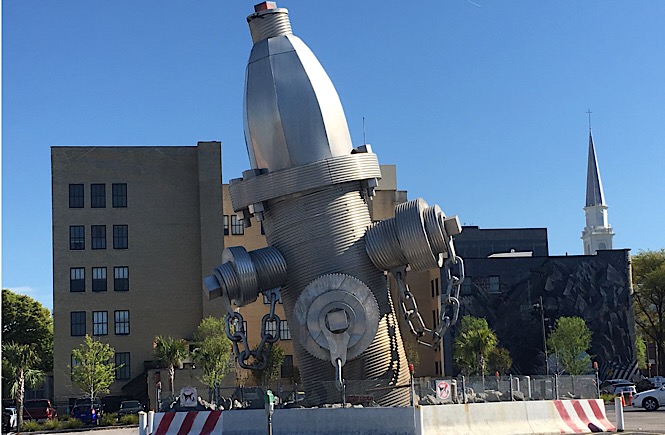 Check Out The World's Largest Fire Hydrant
This famous roadside attraction is by SC artist Blue Sky. It's funky and random and fun! I loved it! Plus it's FREE.
The address is Busted Plug Plaza- 1400 Taylor St- or just put "worlds largest fire hydrant" in google maps and it'll take you there!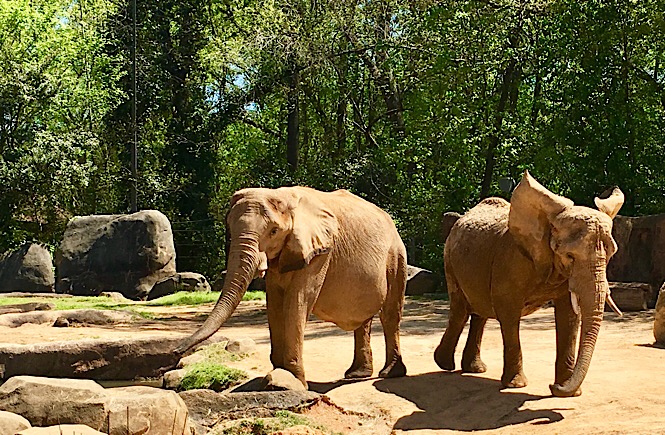 I just love an "easy to walk" zoo. Maybe that's because our zoo here in NC is so spread out. It takes forever to get from attraction to attraction and you're exhausted by the end of the day. This zoo in Columbia is easy for little feet to see almost everything in just a couple hours.
Columbia, SC is a big city with a small town feel. It's very much a college town yet charming at the same time. If you have a free weekend, you should visit Columbia SC! Have you ever been? Let me know what y'all think!