Zion Narrows Day Hike
I was really nervous to hike the Narrows.
Like really nervous.
Would it be too hard?
Would the kids be ok?
Would we be miserable?
Would I survive?
SPOILER ALERT: I survived. We all did! And as a matter of fact, it was one of our favorite activities from the entire summer!
This post contains affiliate links which means I could earn a small commission, if you make a purchase, at no additional cost to you. As an Amazon Associate, I earn from qualifying purchases. For more information, read my full Disclosure HERE.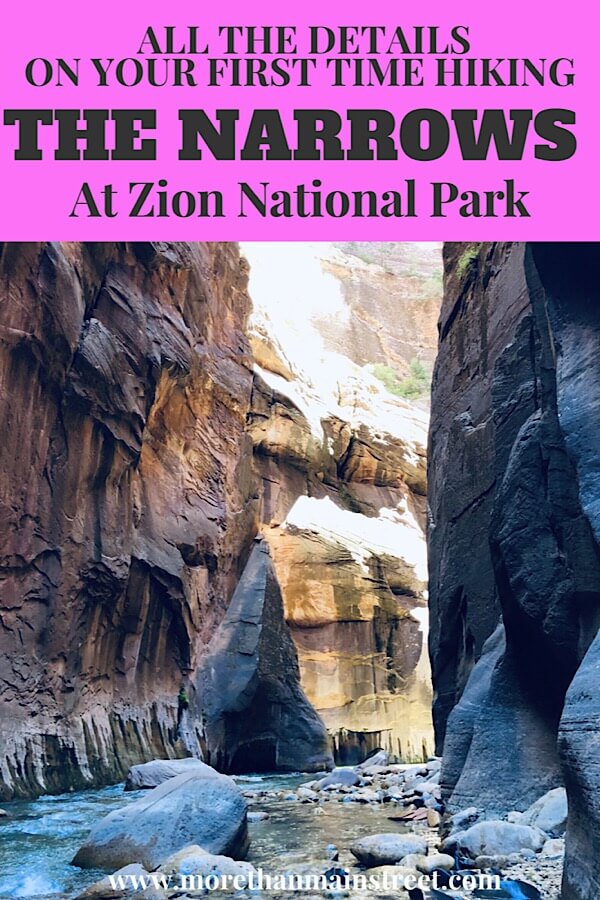 What to Expect: Hiking the Narrows at Zion National Park
The Narrows at Zion National Park is one of the most famous hikes in the United States, possibly the world! And rightfully so. Hiking for miles in a river with thousand foot walls of rocks shooting up beside you? It's pretty damn cool. But it also sounded kinda intimidating (to me at least).
July 2020 Update: I've found the Zion National Park Facebook page to be the best resource to keep up to date on all the latest changes/ openings/ information due to COVID-19.
What is The Narrows?
The Narrows is the narrowest section of Zion Canyon in Zion National Park along the Virgin River. You can hike the Narrows in two different ways: 1- the Top Down Hike (permit required) OR what we did- The Bottom Up Day Hike (no permit required). The Top Down Hike is a sixteen mile one or two day hike that starts at Chamberlain's Ranch and ends at The Temple of Sinawava and is for experienced hikers. The Bottom Up Day Hike is what our family did and what I can recommend to just about everyone! Yep, almost anyone can do it! We literally saw parents carrying babies in carriers, young children hiking on their own to 80 year old grandparents doing it.
What on earth was I so worried about?
I did all the research. Read tons of tips on hiking The Zion Narrows. And still, I couldn't quite get past my anxiety. I couldn't picture what it would be like. I've done plenty of hikes before but this would be a bit different.
*Know Before You Go Tip: Expect crowds. This is the 4th most visited National Park in the United States. Also check the weather! The Narrows closes when the rate of the Virgin River exceeds a certain amount, during spring snow melt, or when there is a flash flood warning.
Hopefully, in this post, I can help you to dispel some of the myths and ease your anxiety or just help you to prepare for this epic experience!
You Might Also Like: Where to Stay Near Zion National Park.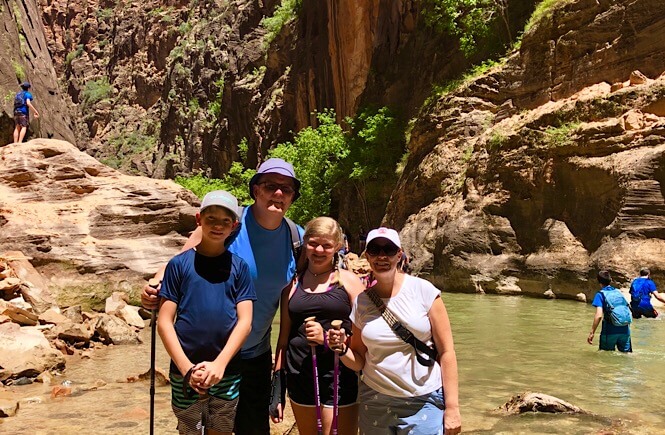 Preparing for Your Zion Narrows Day Hike
Preparation is key to enjoying hiking The Narrows. (It is also the key to easing some of your anxiety!)
In most National Parks, they give you a little newspaper or pamphlet when you arrive. Inside the newspaper, there is some history, points of interest, and general information on how to enjoy your day(s) in the park. There is also hiking information. They usually list the hikes that are open by difficulty: easy, moderate, and strenuous. Normally, I would never attempt to hike anything the park service deemed "strenuous." I'm usually more of an easy to moderate girl! LOL.
But, I'm here to tell you if I can hike The Narrows, you can too! The BEST part of hiking The Narrows is that you can do as little or as much of the hike as you want and are able to do. YOU determine how far you go and when you want to turn around and go back. Because there is no "end" and you have to turn around at some point, basically you can experience and "hike" The Narrows to match your own personal desires.
My family of four hiked together for about 1.5 miles into The Narrows (so 3 miles round trip plus 2 miles of the Riverside Walk for a total of 5 miles). My daughter and I turned around after 1.5 miles, but my husband and son went on for another mile to Orderville Canyon just before Wall Street. Wall Street tends to be a popular spot in The Narrows to choose as a goal to get to before turning around. A bit further into the canyon is Big Springs another destination goal before turning around.
My point is just do as much as you feel comfortable with doing, and don't worry about what everyone else is doing!
What is the best time to hike The Narrows?
We visited Zion National Park in July. We got very lucky! While we were there the temperatures were in the 90's (Farenheit) and the water temperature was about 60 degrees. Only two weeks before we were there the water temperature was 45 degrees…that's a big difference!
Now…every single post I read about hiking the Narrows said to get there early. Earlier the better. Don't wait…the first shuttle leaves the Visitor's Center at 6 a.m. and to be on it.
This was freaking me out to be honest. We didn't even arrive to the park until 10:00, we still needed to eat breakfast or lunch and we needed hiking poles. AGH!! So here's where again, you do what you can do and just enjoy.
We didn't get to The Narrows until noon! And it was totally fine!! We still were able to have an amazing experience finishing up around 5:30 p.m. We took the shuttle back down to the Visitor's Center, got our car, dinner, and made our way to the hotel. Success!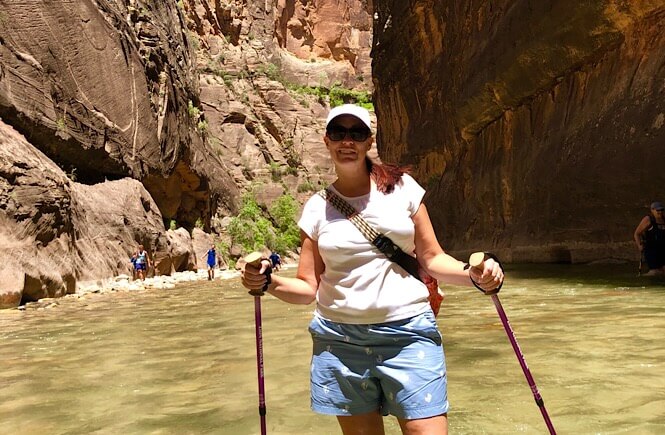 Do I need hiking poles to hike The Narrows?
YES! Absolutely 100% yes! They make a huge difference. To be honest, I'm not entirely sure I could've done the hike without the poles. You are hiking in a river with water that is flowing. Sometimes the water is just above your ankles while other times the water was up to our waists. The current was quite strong especially in the deeper areas.
It is important to note that the water depth changes throughout the hike. MOST of the hike we were water below our knees…but there are sections where you are crossing that can get deeper.
We ended up buying our hiking poles in the Zion National Park gift shop. I think we paid $20 per pole. These hiking poles are a similar product but obviously much cheaper considering you get two! My husband used two hiking poles. The kids and I just used one each…needless to say, we all wished we had two. Just sayin.
You can also rent hiking poles (and other supplies) at a couple of places outside of the park in the town of Springdale, Utah. This was our original plan, however, when we saw how busy the park was we opted to spend a little bit more money to save ourselves a bunch of time. The hiking poles collapse down and we were able to bring our lovely new souvenirs home in our suitcases!
What should I wear hiking The Narrows?
The answer to this question of course depends on the time of year that you are visiting. We were at Zion in early July. The Narrows are open year round, however they do shut down the area if the water flow is too high. This is most likely to happen during the spring.
So MY answer to the question of what should I wear hiking the Narrows is based on our visit to Zion National Park in July. We all chose to wear dry fit shirts and shorts except my son who wore his bathing suit. My husband and I really like the Columbia brand PFG shirts and shorts. We saw quite a few people wearing just bathing suits. That is entirely up to you, I just personally don't feel comfortable hiking in just a bathing suit. But you will get wet! So plan on it!
I would also recommend wearing layers. If you do go early in the morning, the weather could actually be a bit chilly due to the elevation and much of the hike being shaded. My daughter wore a long sleeved shirt during the Riverside Walk and then we threw it in my bag once we actually got into The Narrows. I also brought along a long sleeved shirt because I am always cold! I didn't need it, but I just wanted to be prepared.
We also all wore hats…but we weren't in direct sunlight the entire time like on some other hikes.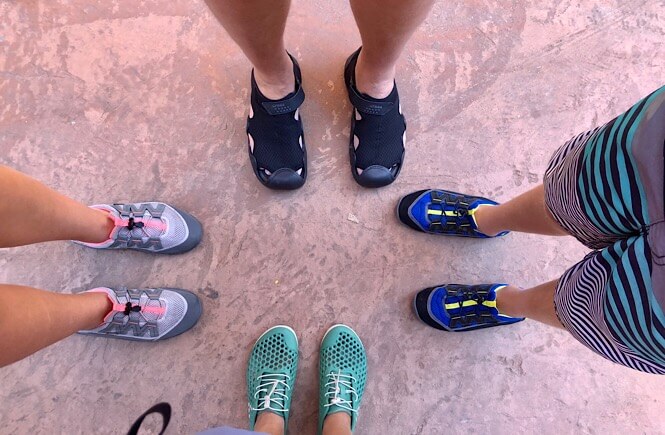 What are the best shoes for The Zion Narrows?
The shoes you choose to wear hiking The Narrows is a very important decision! I'd say it can almost make or break your experience.
I wore these really nice Vivobarefoot water shoes. They're great shoes for kayaking or when we take our boat out. Not so great choice for Narrows hiking. See all those little holes? Well…all those little holes let all kinds of little pebbles into my shoes. I can't tell you how many times I had to stop to dump rocks out of my shoes…so annoying.
My husband actually wore these Crocs brand water shoes…they had holes but he said he had no issues at all. He was very happy with his shoe choice.
Both my kids had some shoes like these athletic type water shoes that we picked up at a local sporting goods store. I didn't want to spend a ton of money but I knew they needed something more than the soft bottomed water shoes we had from home. I think the most important thing is that the shoes have a hard sturdy sole for walking on slick rocks. A soft bottomed shoe will likely end up really hurting your feet! I've heard from several other family who really had success with Keen shoes too.
Miscellaneous other things you need to know for your Zion Narrows Day Hike:
Your Bag: Just be prepared that it may get wet! Depends on the water level when you are hiking and also if you fall…it happens more than you might think. I carried this awesome KAVU sling rope bag and my husband carried our old trusty North Face backpack.
Want to know more about my bag? Check out my KAVU bag review!
Water: It's essential to bring enough water with you. We carried three 32 ounce Hydroflasks for our family of four! They are our favorite refillable water bottle. There are so many water filling stations throughout Zion National Park- for The Narrows they are located at the Temple of Sinawava shuttle stop.
Snacks: Just bring them! Even if you don't end up eating them, you should have something with you just in case! And then make sure to take every bit of your trash back with you. I like to carry an empty ziplock bag with me to put trash in instead of throwing it directly into my bag.
Sunscreen: No need to ruin the rest of your vacation with a sunburn.
Waterproof Carrier for your Phone: You can use something as simple as a ziplock bag, but…I found this really cool waterproof carrier! BONUS: you can take pictures underwater with it, which is always entertaining!
How do you get to The Narrows in Zion?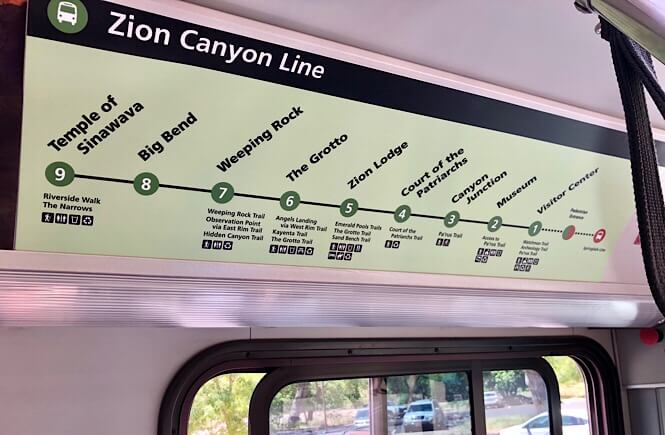 Zion National Park has free shuttle service throughout most of the popular tourist season (this year it is running from March to late November). There are nine stops on the shuttle loop. We found the shuttle extremely easy to use and never had to wait very long. The longest wait we had (only maybe 15 minutes) was at the Visitor's Center. To get to The Narrows, you will need to get off the shuttle at the Temple of Sinawava which is the last stop on the shuttle and takes about 45 minutes from the Visitor's Center.
Use the restroom HERE! This is the last place you can refill your water bottle and use a "real" bathroom for a couple of hours.
Next, you'll need to hike (walk) the one mile Riverside Walk. Even if you decide not to do the Zion Narrows Day Hike, you should still do the Riverside Walk!! It's absolutely beautiful and super kid friendly!! It's paved and relatively flat. There are a few minor drop offs but mostly would be wheel chair and stroller accessible. The Riverside Walk follows the Virgin River to the entrance to The Narrows.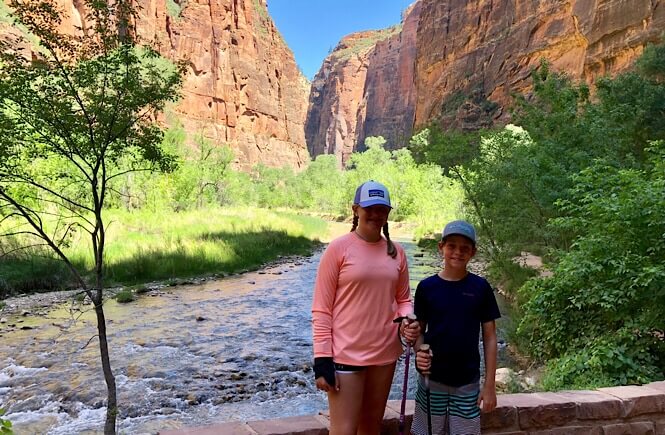 Now What?
You've arrived at the Narrows! WooHoo!
Now the fun part: Enjoy your Zion Narrows Day Hike! Take your time!
Hiking The Narrows will take way longer than normal hiking because you're walking on slick stones through different water levels and current. It will likely take you a little bit longer going in since you are working against the current than coming out. Take in the views. Be present in the moment. Be grateful for this amazing opportunity! Go as far as you're comfortable, turn around when you're ready, and be proud of yourself!
Here's a tidbit of our day in The Narrows if you're interested in watching!
Hiking The Narrows is an adventure our family will always remember. It was a truly special experience. Being disconnected, bonding with each other, standing in awe of nature…all solidifies my belief in choosing experiences over things more and more!
Our Zion Narrows Day Hike was just ONE day out of our epic two week road trip through Utah and Arizona. Read more about that trip and stay tuned for more in depth posts on each of our stops along the way!