Road Trip to Yellowstone National Park
Our family loves a good road trip. And we love National Parks. So…naturally a Yellowstone road trip was in order!
Yellowstone National Park deserves a spot on every USA bucket list.
Seriously! It is THAT awesome!
We were fortunate enough to spend about a month in Utah last summer and during our stay we decided to road trip to Yellowstone National Park and Jackson Hole, Wyoming. You can fly into Jackson, but flights were pricey and we already had a rental car. So… it was time to road trip Yellowstone!
National Parks are full of educational and inspirational opportunities and if you're close by, then by all means you should take advantage!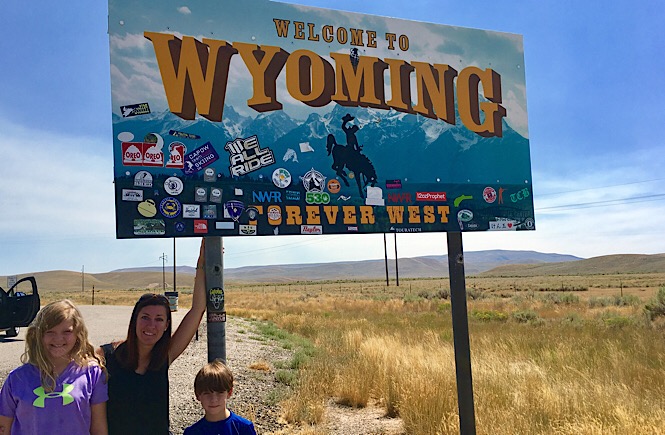 Our Road Trip Yellowstone Itinerary
Salt Lake City, Utah
Evanston, Wyoming
Afton, Wyoming
Jackson, Wyoming
Grand Teton National Park
Yellowstone National Park
Jackson, Wyoming
Bear Lake, Utah
Salt Lake City, Utah
How many days do you need for your road trip Yellowstone National Park?
We only had four days for our Yellowstone road trip. We spent three nights just outside of Jackson, Wyoming and day tripped into Yellowstone National Park. We highly suggest you schedule a week for your Yellowstone road trip if you have time. We definitely wished we had more time! There is so much to do in Yellowstone and the surrounding areas, ideally I would recommend at least a week.
Looking for somewhere to stay? Check out these awesome cabin rentals near Yellowstone National Park. Be sure to book as far in advance as possible- accommodations near Yellowstone book up fast!
Salt Lake to Yellowstone Road Trip
We hopped in our rental car in Salt Lake City and began our 4.5 hour journey to Jackson Hole, Wyoming (lord help us)! There is a lot of open road on your road trip to Yellowstone National Park. There are two different routes to get to Jackson from Salt Lake City. On the way there, we drove through Park City, Evanston, and Afton and took the other route on our return trip. So essentially we ended up making a big loop for our Yellowstone road trip itinerary.
Evanston is the place to stop and load up on snacks and get gas.
Pro Trip: A fun photo stop with the kids is the State entrance/ exit signs…I mean 3 states in a span of about 30 minutes is pretty cool. (You drive through Utah, pass through Idaho for a quick couple minutes, then into Wyoming!)
*Don't forget a thing with my road trip essentials checklist and if you're traveling with kids be sure to grab my favorite road trip tips and free boredom busters printable!*
Yellowstone Road Trip 1st Stop: Afton, Wyoming
Two long hours later, we arrived in Afton, a super cute little town sporting the world's largest Elkhorn Arch. Didn't know you were going to get to see that now did ya? They have several options to grab a bite to eat and cell phone service (woot!). We used Yelp and found a decent little Mexican restaurant with a little chocolate store next door.
Score!
Bellies full and photo taken in front of the Elkhorn Arch (I mean you have to!), we were on the road again. From here on, there is a lot more to see as far as scenery goes. You drive up along the Snake River, which in the summer, is full of people kayaking, white water rafting, and fly fishing.
(Of course, my thrill seeking 10 year old jumps on the white water rafting campaign immediately…yeah, yeah…we shall see.)
The Jackson Hole area is literally an outdoor lover's paradise. There are so many thrill seeking adventures available!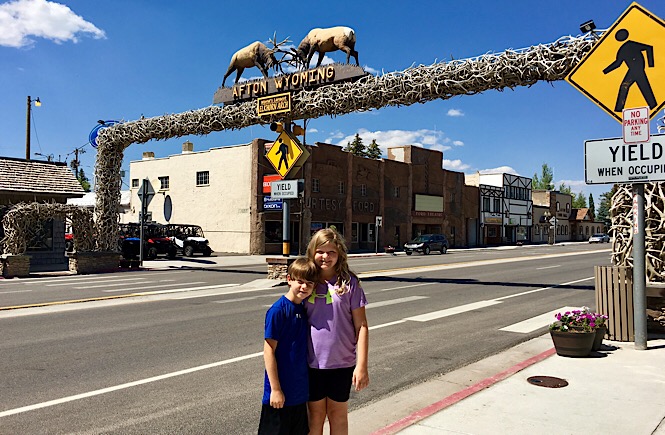 Next on the Yellowstone Road Trip Itinerary: Jackson, Wyoming
Finally, we arrived at the SUPER cute Fireside Cabins in Jackson, WY. My husband found these very modern cabins for us to stay in online and after a quick check of reviews,  we booked one! And I am SOOO glad we did!! They are located in the front of a campground (and I am not a camper by any means…it's just not my thing), but this was not camping! These cabins…oh my goodness…we absolutely LOVED them!!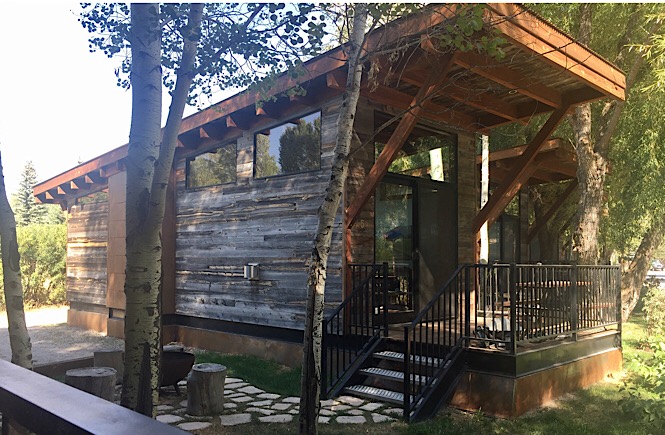 We unpacked and walked to dinner. Jackson has an unbelievable food scene, but we opted for convenience and kid friendly and boy did we find a gem!!
This fantastic little Italian restaurant, Calico, was only a five minute walk from our cabin. We sat outside on the lovely deck overlooking a large field…a large field of children running and playing ball or Frisbee or tag with equipment mostly provided by the restaurant!!!
What?!?
Our kids sat down long enough to order drinks and choose dinner from the menu and they were off to play. They played…we ate…we drank…and it was the BEST evening.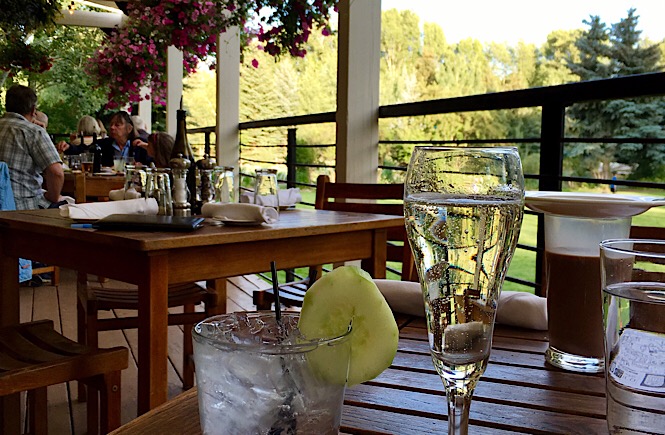 Oh! And then…a moose walks by.
Yep! How cool is that?
Just chilling at dinner, and oh hey… there's a moose! (Side note: many of the tourists were way too close to this potentially very dangerous wild animal…the locals all stayed seated and rolled their eyes and complained. It's all good, I probably would've done the same thing if I was local. Luckily everybody was safe that night.)
Road Trip to Yellowstone National Park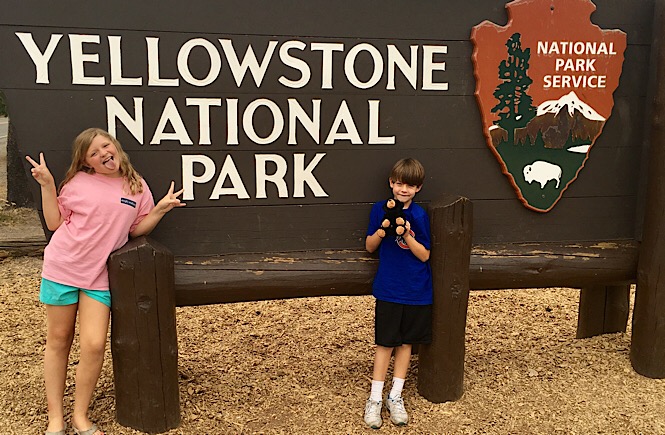 Side Note: We traveled to Yellowstone National Park from Utah, but another epic option would be to road trip from Big Sky, Montana!
So the next day, we ventured into Yellowstone National Park. I would definitely recommend more than a day in Yellowstone…but, that's all we had, so we made the best of it. We saw bison before we even left the Jackson Hole area and even the kids were in awe of the beautiful scenery surrounding us.
We drove into Yellowstone through the Grand Teton National Park. There was a $50 entry fee to both parks or definitely consider an America the Beautiful Annual National Park Pass– definitely a good deal if you're planning to visit other National Parks during the calendar year. Although we didn't have time other than a few scenic stops on the side of the road for pictures, there are some truly amazing things to do in Grand Teton National Park. Grand Teton on it's own is pretty epic and another reason you'll want to have at least a week for your Yellowstone road trip.
Our Yellowstone Road Trip Itinerary:
Yellowstone National Park Visitor's Center
Old Faithful (this is also where we grabbed lunch also)
Black Sand Basin
Grand Prismatic
The Grand Canyon of Yellowstone
Hayden Valley
Our first stop was the visitor's center as soon as we entered Yellowstone and another family strongly encouraged us to get the kids the Junior Ranger booklets for $3 each. Now, knowing my kids, I thought this may be a giant waste of money…but I got them anyways. And one of my kids totally proved me wrong!! My daughter was totally into it!! She completed all her activities earning herself a cool pin and badge when we popped back into the visitor's center on our way out of the park. My son was very content taking pictures with his iPod. (And I was cool with his budding love of photography.)
We drove the large loop in Yellowstone. It really was A LOT of driving for one day and our kids were total troopers. We prepared them ahead of time so they expected it.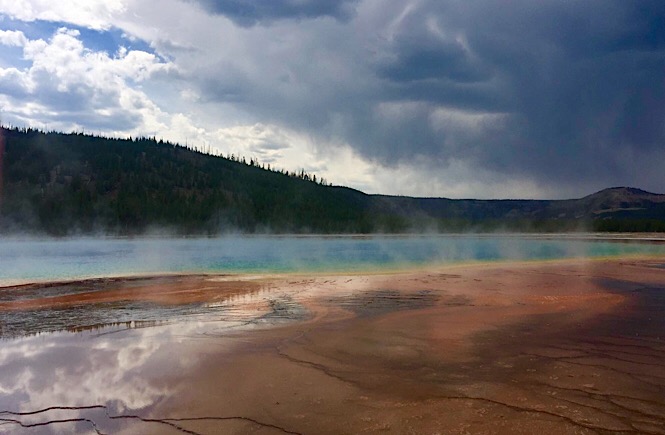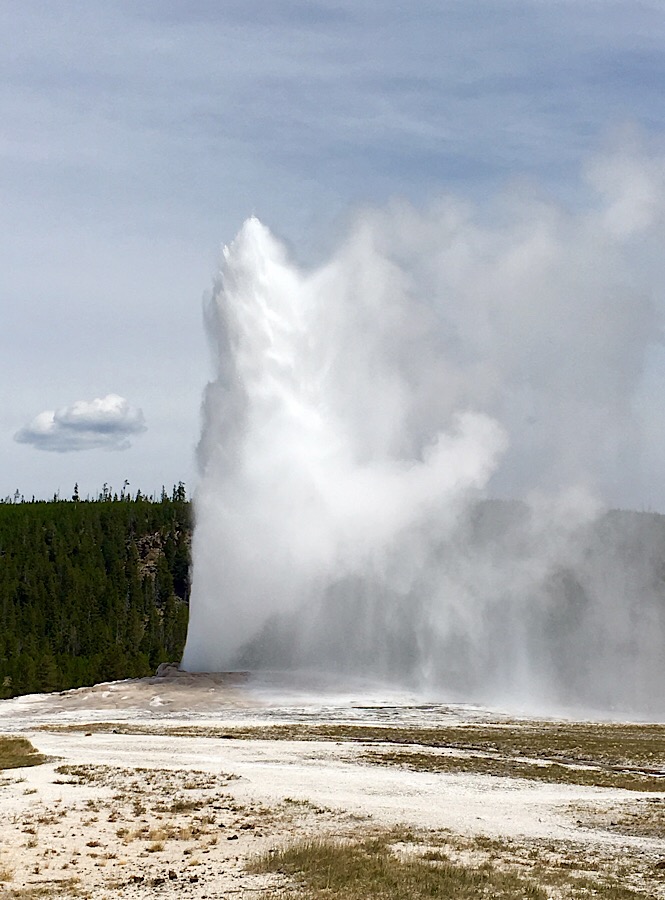 We saw up close and personal bison and long horned elk, but no bear. As crazy as it sounds, the kids sooo wanted to see a bear (probably because of all the "beware of bears" signs). It just wasn't in the cards for us on this road trip…Next time!!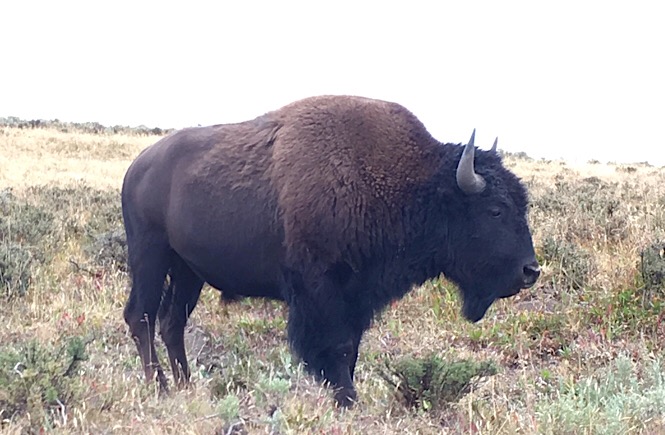 We had prepared for the traffic to be slow going while driving through Yellowstone and it ended up not being so bad. Every now and then you have to slow down for everyone trying to take a picture of an animal on the side of the road.
However, we were not prepared for the hour and a half bison jam in Hayden Valley!!!! Yes, we saw hundreds of bison, but at 6pm, our tired and hungry family was just ready to get back to our cabin. It wasn't so funny then, but now it's a great trip memory! When we finally got back to Jackson we had an awesome meal at the Snake River Brewing. This place was absolutely packed, yet they still got us in and out.
All in all, I highly recommend all of these stops during your Yellowstone road trip. You won't be disappointed.
White Water Rafting in Jackson Hole Wyoming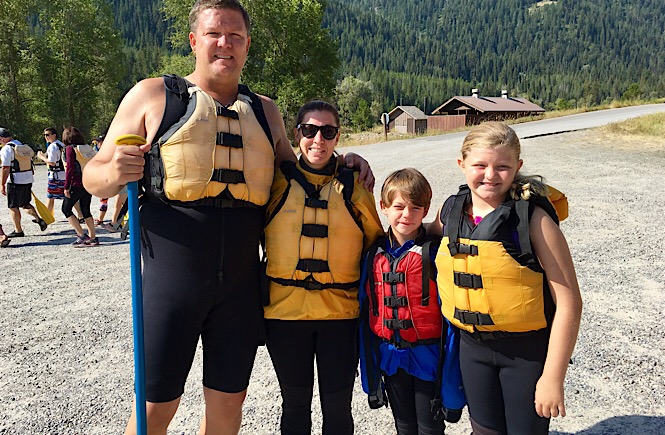 So…we did arrange a whitewater rafting excursion for our family. They assured me it was beginner friendly, so we decided to give it a go! We didn't exactly plan ahead to do this, so we of course had not packed accordingly. Luckily, Mad River Boat Trips had everything we needed: wetsuits, booties, goPros, jackets…Everything!
And it was SO FUN! We can't say enough good things about Mad River Rafting!
If you happen to have a GoPro…make sure you take it! My daughter sat on the front of the raft and the footage would have been so incredible!!
That little excursion took up the first half of the day and we spent the rest of the day exploring the downtown area of Jackson. We ended up eating dinner at the Million Dollar Cowboy restaurant. It was way fancier than we anticipated but the meal was delicious!
Road Trip Yellowstone: Final Stop: Bear Lake, Utah
We headed back to Salt Lake City the next day. Our route home by way of Bear Lake was definitely more scenic than our way to Jackson.
Now…why do you ask did we want to stop in Bear Lake?
Well, first off Bear Lake is this most beautiful color of blue that you take notice of right away. But more importantly, it's the home of the raspberry milkshake! I mean, how can one pass that up?? We grabbed a quick lunch and started our raspberry milkshake sampling adventure! Our favorite was from the Exxon station…random, I know. But our waitress at lunch recommended it and we all agreed, it was the best!
If you have an extra night or two, consider glamping in a Conestoga Wagon– trust me, we glamped near Zion National Park and it's an unforgettable experience!
All in all, we had the most amazing time during our weekend road trip to Yellowstone and Jackson Hole WY. Have you ever been?  Let me know what y'all think!