Weekend Getaways in NC for Family: Our Top 5 Picks
Beach, city, or mountains?
North Carolina is full of incredible family vacation destinations! We've lived in NC for over twenty years and we have been very fortunate to explore a lot of what this awesome state has to offer. We love to squeeze in weekend getaways in NC for family whenever possible.
Wilmington, Asheville, Raleigh, Boone, and the Outer Banks are five of our top choices for best family weekend getaways in NC. Whether you prefer to opt outdoors or explore the city, NC's got it all. We can't get enough of these great vacation spots in NC!
How do you choose which of these weekend getaways in NC for family are right for you? Hopefully we can help you decide!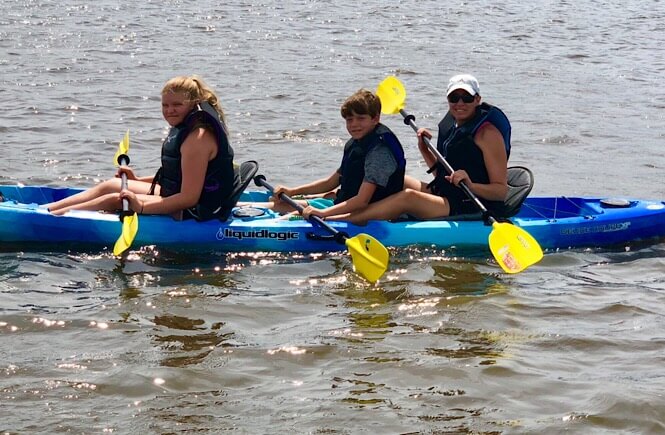 A Family Weekend in Wilmington NC
Do you love the water?
Then Wilmington, NC might be the best choice for you! It certainly is one of our top vacation spots in NC!
Wilmington, NC is a great vacation pretty much anytime of year. While the temperatures do get cooler during the winter, there are still quite a few people who enjoy the water in a wet suit. NC weather can be quite manic so you never know when you might have a 75 degree day in January!! Wilmington will definitely be quite busy during the summer tourist season. Personally I love Wilmington in September, just be wary of hurricane season.
My ideal weekend getaway in Wilmington, NC would have to include two things: time by the water and a visit downtown. Wilmington has so many different ways to enjoy the water from kayaking the Intracoastal Waterway to hanging at the beach all day. Or set up a boat tour and visit Masonboro Island which is only accessible by water.
Be sure to check out the downtown area of Wilmington which is full of cute shops and restaurants. Take a historical, famous film locations, or ghost tour! Finally, take a walk down the Riverwalk after dinner and watch the sunset over the Battleship.
Top 5 Things to Do in Wilmington, NC
Go to Wrightsville or Carolina Beach and enjoy the water in some way!
Explore downtown Wilmington and the Riverwalk.
Do a Hollywood locations tour- Did you know Wilmington is the backdrop of many a television and movie set?
Airlie Gardens
Wilmington truly has endless fun things to do! If you're planning a vacation here, read more in our family friendly guide to Wilmington NC and Carolina Beach NC!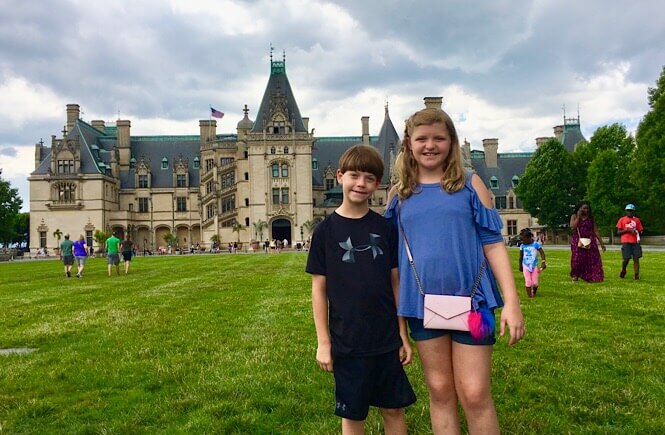 Family Fun in Asheville NC
Love the mountains, history, music, and good food?
Asheville, NC might be the destination for you!
From the food to the laid back vibe to the incredible outdoor opportunities, our family loves Asheville, NC! We've visited several times and have truly found there are so many fun things to do in Asheville, NC with kids. At first glance I think Asheville, NC may seem more for adults, but I subscribe to the theory that you can have family fun anywhere you go!
My ideal weekend getaway in Asheville, NC would absolutely include a day at the Biltmore Estate and some time outdoors!! The Biltmore Estate is the largest privately owned residence in the United States built in the late 1800's by the Vanderbilt Family. Touring the house, gardens, and winery at The Biltmore Estate can take up an entire day and in my opinion is totally worth it! Before you go, read this awesome guide for how to spend one day at the Biltmore Estate.
Then make sure to enjoy these gorgeous NC mountains and plan a hike or visit Sliding Rock. This 60 foot natural water slide provides a truly unique experience! Beware, even in the summer, the water is cold!
Read our complete guide on visiting Asheville with kids and visiting The Biltmore Estate!
Top 5 Things to Do in Asheville, NC:
Get outdoors! Visit Pisgah National Park, Chimney Rock State Park, or Dupont State Park
Sliding Rock!
Music! Attend one of the many local music festivals, the now traditional Friday night drum circle, or catch a new artist during dinner. There are options a plenty to immerse yourself in "one of America's greatest music cities."
Dive into the food and beer scene! Just because you have kids with you doesn't mean you can't enjoy the amazing options! Just be responsible.
Trying to decide on accomodations for the weekend? Check out these awesome places to stay in Asheville!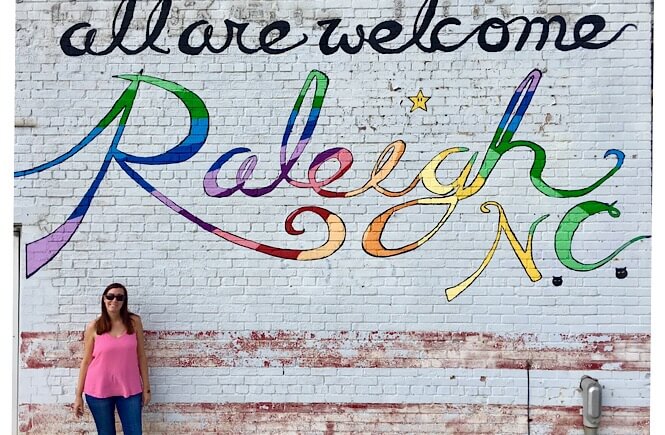 Family Weekend Getaway in Raleigh NC
Want kid friendly, city excitement mixed with some southern charm?
Raleigh, NC might be the best choice for you!
Raleigh, NC is certainly the most central location out of all our NC picks.
Almost a second home to us, Raleigh is only an hour away from where we currently live. We've spent many weekend getaways in NC for family in Raleigh attending a concert, sporting event, or just eating! We take our college sports very seriously around here and there more than likely is some event happening where you can support your team.
If sports aren't your thing, spend your weekend with a visit to Marbles Kids Museum or Pullen Park. These were both staples on rotation when my kids were younger. Marble Kids Museum is hands down one of the best children's museums in the country (in my humble opinion). The museum is huge and has tons of hands-on exhibits where your children's imaginations can run wild!
Top 5 Things to Do with Kids in Raleigh, NC:
Catch a sporting event!
Visit Marbles Kids Museum.
Pullen Park
Visit Fayetteville Street and Downtown Raleigh- experience the incredible food scene, fun stores, and even some cool street art nearby!
Visit the NC Museum of Natural Sciences– the southeast's largest natural history museum!
Check out my family friendly guide for even more ideas of fun things to do in Raleigh NC with kids!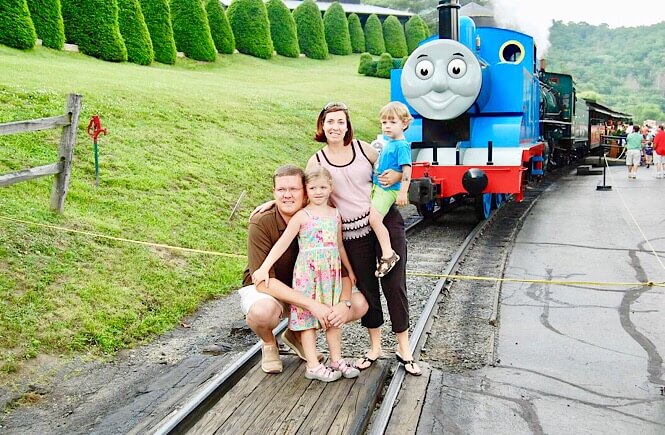 Weekend Getaways in the Mountains: Boone, NC
Love the mountains, outdoors, and amusement parks?
Well, then…Let's go to Boone, NC!
Boone, NC is secretly one of my favorite family trips in NC. From Grandfather Mountain to the Blueridge Parkway, the scenery is stunning. The busiest time of year is definitely fall when all the leaves are changing color, but we've honestly enjoyed Boone, NC year round.
Tweetsie Railroad holds a special place in my heart. We visited several times when my children were younger and, in my opinion, is the perfect introduction to amusement parks. For kids who might be a little more timid of rides and characters, this is the perfect amusement park to start with. And if you have any train lovers in the family, they will love the famous steam powered train!
Gem mining is another activity that conjurs up some of awesome memories with my children. What I originally thought to be touristy and generic, turned out to be one of my kids favorite things to do in Boone, NC. They were so excited with their special finds! YES, you can do this is a variety of destinations, but this is the location that we go back to year after year.
Top 5 Things to Do in in Boone, NC:
Go gem mining.
Eat at the Daniel Boone Inn– this is an event all by itself!
Check out "America's Favorite Drive" on the Blue Ridge Parkway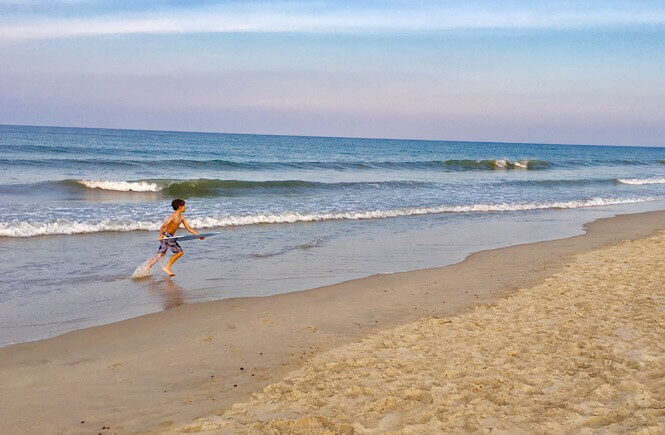 A Family Weekend Getaway to the Outer Banks, NC
Do you love an active vacation yet want a little rest & relaxation by the beach too?
Then the OBX might be for you!
Our family vacations in the Outer Banks every summer. While many people think there's not much more to do than hang out at the beach, there really is so much more! With water sports galore and a rich history, you're unlikely to get bored in the Outer Banks. If you're a lighthouse lover, this is the place to start exploring North Carolina's lighthouses. And finally, don't forget to sample some of the fresh seafood in this foodie paradise!
If you're planning a vacation in the OBX, be sure to check out our guide to the Outer Banks for kids and families.
Top 5 Things to Do in the Outer Banks of NC:
Visit Jockey's Ridge- the tallest active sand dunes in the Eastern USA are sure to impress! Take a hang gliding lesson for an adrenaline rush!
Go to the Wright Brothers Memorial!
Fun in the Sun- surf, boogie, board, build sand castles at our beautiful beaches.
Historic Manteo- visit the aquarium, the adorable downtown, or get your history fix at The Lost Colony.
See the wild horses in Corolla! This is a truly unique experience you can do all on your own (if you have a 4 wheel drive vehicle) or through a guided tour!
Need somewhere to stay? Check out our favorite Airbnb in the Outer Banks!
Weekend Getaways in NC for Family!
These five family weekend getaways in NC are sure to do three things: provide some awesome family time together, offer amazing things to do, and give your family lasting memories! Whether you're searching for a NC mountain getaway, some city action, or some beach fun, there's something here for you!
Have you been on a family vacation in NC? Have you visited any of these awesome cities? I certainly hope you'll give some consideration to planning some weekend getaways in NC for family soon! If you do, let me know what you think!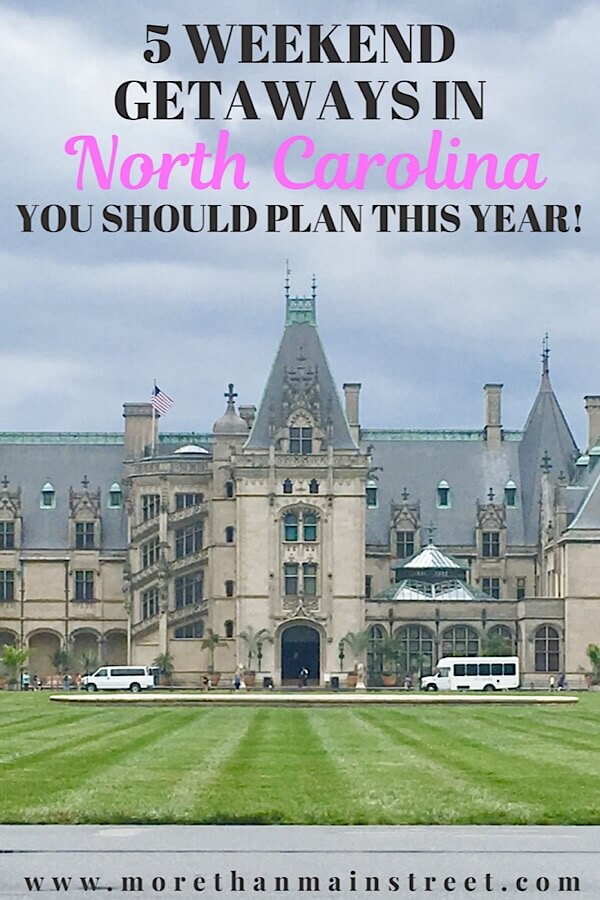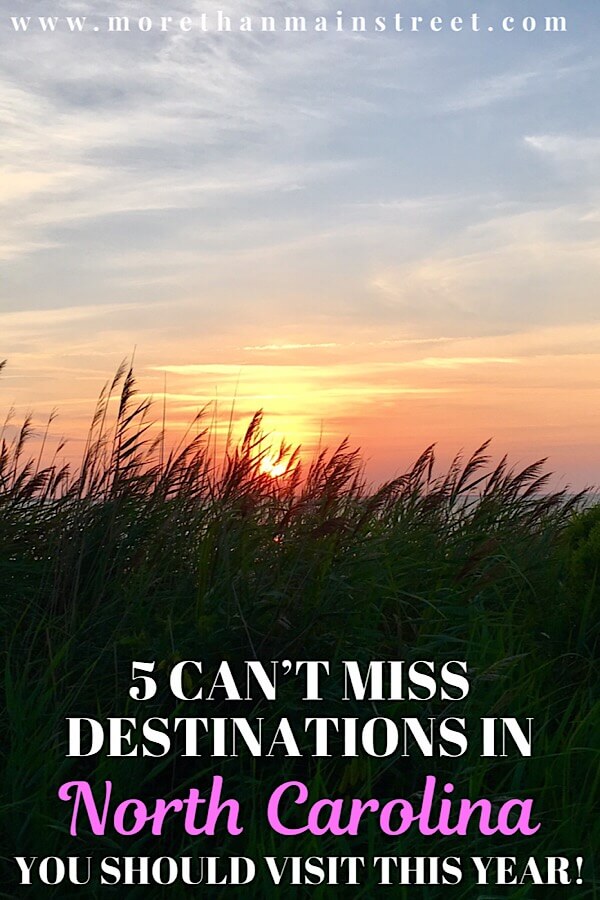 If you found this post helpful, please consider sharing! Save one of the above images to Pinterest, leave me a comment below, or pop on over to another post! Thanks for supporting More than Main Street!